We are excited to premiere the video "What Kind Of Man" by the Zack Walther Band, a song from their upcoming album, The Westerner, set to release October 25th, distributed by TuneCore.
With a soulful and powerhouse voice, Zack and his band perform "What Kind Of Man," a raw, slow rocker with Zack and his band on the edge of darkness. Moody and intense, the video features a blues influenced roots-rock song about love gone wrong and a man with regrets.
It's a scorcher. And Zack delivers straight from his heart, along with his talented trio.
Based in New Braunfels, Texas, the Zack Walther band is equally at home performing country, blues, R&B and rock. Zack titled the new CD The Westerner because he set out to create an album that is different than anything he and his band has released before. It embodies his journey from the Texas music scene to the roots-rock and Americana landscape and the outskirts of rhythm and blues. It combines all of Zack's musical influences and all he's learned over 15 years performing in the Texas music scene.
When asked for his favorite song on The Westerner, Zack says it's one called "What Kind of Man." He says, "My mentor Rodney Crowell heard me sing about eight years ago, and he told me then that I have a great voice but I should go home and listen to blues singers and R&B singers and learn from them. In short, he told me to figure out who I am."
"What Kind of Man" came out of a dream Zack had one night, and he woke up and wrote the song in 30 minutes. "I was influenced by Otis Redding's song, 'These Arms of Mine,' and 'What Kind of Man' has a power that people identify with the blues when I perform it," Zack says.
In fact, Zack says the overall theme of The Westerner is soul. He says, "I have never sung like this on an album, and I reached out to places in my soul that I didn't think I could get to and I captured it. I have to say that singing with soul and with heart – and with meaning – is something I hadn't done before." He adds, "Some of that comes from my musical influencers, but some comes with things that happened in my life – personal tragedy – and dealing with that pain. That pain has given me a lot more to sing about and to sing for."
The Zack Walther Band features Zack Walther on lead vocals and guitars, Matthew Briggs on drums, keys and vocals, and Tyler Cannon on bass and vocals.
Zack's musical influences, and those heard on The Westerner cover a wide-range from Elvis Presley to the Beatles to Bruce Springsteen, but just like those iconic artists, Zack says, "Everyone's musical roots go back to R&B and the blues – even those artists from the so-called British Invasion in the 1960s – we all can trace our music back to the Mississippi Delta."
Although Zack led the creative effort for The Westerner, Zack credits Matthew Briggs, his drummer, and Mike Atkins, who plays piano, organ, and keys in addition to singing, for helping him make sure The Westerner got done. "What helped immensely is that Matt has a studio so we could record at our own pace without a deadline or a meter running. We could go into the studio a couple of times a week and work at our own pace." Well known Austin-area guitarist David Grissom (Joe Ely, John Mellencamp) also played on four tracks.
Typically, people write an entire album before they start recording," he explains, "but The Westerner was not done that way. We recorded it in parts – for example, we have two songs with a horn section which we brought in when we were ready for it.  Some of the songs were written, and some songs had music but no lyrics. Another song, 'Casualty,' is one we perform at our live shows all the time and we knew our long-time fans would be expecting to find that on this CD"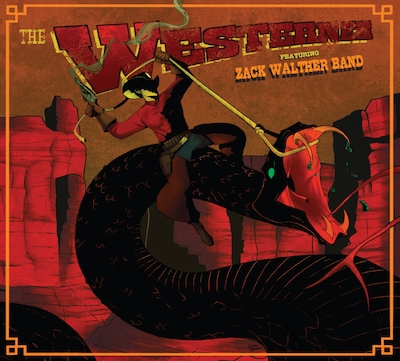 For more information about the Zack Walther Band and The Westerner: