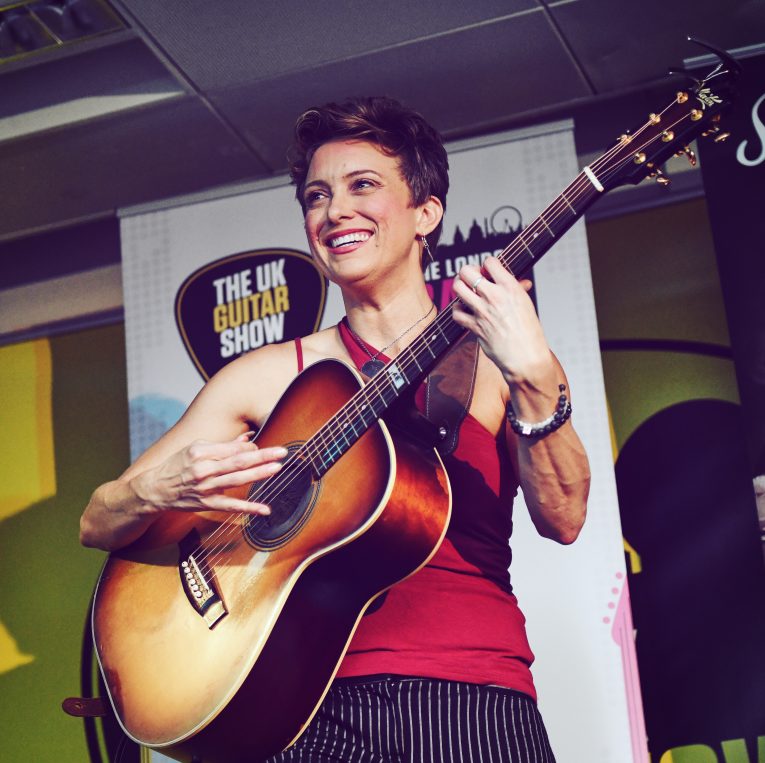 CHRISTIE LENÉE
WINS ACOUSTIC GUITARIST OF THE YEAR IN LONDON
ANNOUNCES NEW ALBUM 
'CIRCLES 'ROUND THE SUN (BEST OF CHRISTIE LENÉE)'
IS DUE OUT OCTOBER 25
 TOURING EUROPE THIS FALL WITH HEADLINING SHOWS, FESTIVAL APPEARANCES AND SUPPORTING DATES WITH TOMMY EMMANUEL
The acclaimed singer-songwriter and celebrated instrumentalist Christie Lenée has added another accomplishment to her career winning the title of "Acoustic Guitarist of The Year" presented by Takamine and Music Radar–this past week in London at the U.K. Guitar Show. The competition was judged by a panel of guitar experts including John Jorgeson, Andy McKee and Molly Tuttle, along with editors of Guitarist and Total Guitar.
Watch the video for her winning performance.
Lenée, who was also crowned the 
"International Fingerstyle Guitar Champion" 
in 2017, today (10/8), has announced she'll release her new album, 
Circles 'Round The Sun
(Best of Christie Lenée)
, on 
Friday, October 25
. Fans can pre-save and pre-order the 15-track album 
here
. The new collection includes new unreleased live recordings, all of the digital singles released in the last year and choice selections from her past albums.
This fall, Lenée will head overseas for a tour of Europe where she'll be sure to bring "an array of virtuosic overhand tapping, harmonic slapping, and classically inspired fingerstyle techniques," as Guitar Player's Jimmy Leslie noted when he caught her show last year. The 25-date trek will be filled with headlining shows, festival appearances and supporting dates with Tommy Emmanuel. The routing will be highlighted to include dates with the powerful MusiSHEans trio  (Lenée, Karlijn Langendijk and Judith Beckedorf) as well. To see the full list of tour dates and to purchase tickets, click here.
In late December, Lenée will begin tracking a new album with legendary producer/engineer Steven Miller who's known for his iconic work with artists such as Dave Matthews Band, Michael Hedges, George Winston and Don Felder, among many others.
Track listing for Circles 'Round The Sun:
"Call My Heart Back Home"
"Chasing Infinity"
"Free World Citizen"
"Before I Go"
"Sweet Little Piece"
"Castle On The Hill" (Live at Nashville YouTube Sessions)
"Sterling Highway"
"Stay"
"Ivory Coast"
"Send It To The Sky"
"Sunset Rebirth"
"River" (Live at the Vilar Performing Arts Center)
"Graceland" (Live at the Vilar Performing Arts Center)
"Golden Doors"
"Soaring Over Glacier Bay"
"Christie Lenée is a wonderful spirit making beautiful music on the guitar. She has epic compositions that take one on a journey through time." –Tim Reynolds, Guitarist for Dave Matthews Band
"Christie Lenée is a fine young guitar player, composer and singer whose depth is surprising in our age!"–Tommy Emmanuel, CGP
"Christie Lenée is a very creative and skilled musician!" –Andy McKee
"… One of the most shockingly moving interludes we've ever had. It was more than the fluid, neck-tapping virtuosity. She seemed to radiate joy."–Craig Havighurst, Music City Roots
ABOUT CHRISTIE LENÉE:
2017 International Fingerstyle Guitar Champion Christie Lenée is a captivating performer with a devoted following among instrumental, folk-pop and rock band audiences. Combining guitar mastery, contemporary singer/songwriter and a passion for storytelling, she thrives on bringing people together through the language of music. Christie's unique guitar work and profound instrumental compositions are well described as 'Michael Hedges meets Joni Mitchell and Dave Matthews.' Among the vast community of fingerstyle and tapping guitarists, her niche is the integration of melodic pop lyricism with catchy hooks that excite both modern commercial listeners and classic purists. With a menu of percussive and sonic effects, and larger than life sounding instruments, her solo shows embody layers of orchestral elements with a wide array of dynamics and harmonic textures.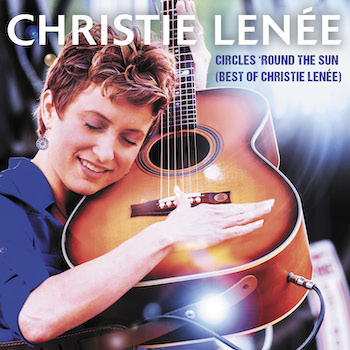 For more info about Christie Lenée's upcoming album, Circles 'Round The Sun: