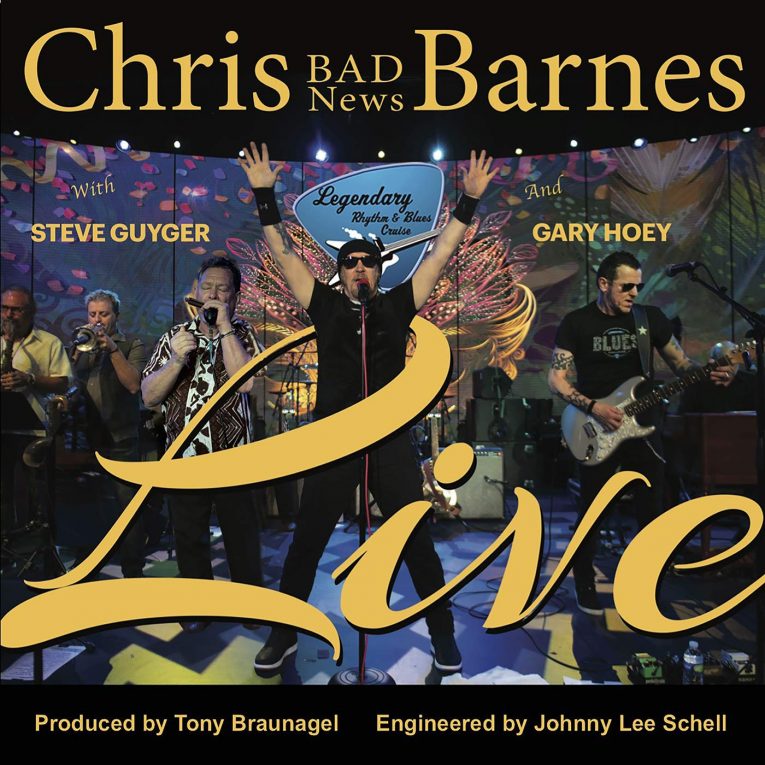 By Tom O'Connor
With the October 4th release of Chris 'Bad News' Barnes Live, the Vizztone Label Group has managed to capture a party on tape. Listen in and get down.
Credit is also due to Grammy Award-winning producer Tony Braunagel and engineer Johnny Lee Shell of Ultratone Studios. They were also playing on board the same "Legendary Rhythm & Blues Cruise" and were able to record and capture the good-time energy of Barnes' shows. After listening, you'll want to send them a thank you email because the recording, while not pristine, expertly captures both the musicianship of all the players and the electricity of the night.
Kicking the party off with a big bang of horns and harmonica, Barnes and the crew start off with a raucous version of "Back in a Cadillac" that immediately connects them with the crowd and gives listeners their first taste of Gary Hoey's lead guitar prowess. The band keeps the full-speed jump blues coming with "You Can't Judge a Book by its Cover," causing any hips that weren't already shaking after the opener to surrender to the rhythm. We also get our first taste of what harmonica ace Steve Guyger will be bringing to the blues party, and it is plenty. Showing little mercy, they then roll into a caffeinated version of Little Walter's classic "Boom Boom" giving the guest musicians their first chance to really cut loose, starting with Steve Guyger trading sweet and fuzzy harmonica with some hot saxophone measures that then lead into some dizzying guitar work by Hoey.
There are more classics on tap as the band uncorks their version of Willie Dixon's classic "Hoochie Coochie Man," featuring an especially patient and astute harmonica break from Guyger in the midst of the full-throttle mayhem. Some big fat horns power "Going Down" while the piano offers a trebly counterpoint and sets up another guitar lesson from Gary Hoey.
What comes next is "What Comes Next," a flat-out harmonica showcase from Guyger that could inspire, or demoralize, the next generation of harp players. The band then stays tight as spandex on the loose hoodoo groove of Big Bill Broonzy's "It's Tight Like That," powered by some interesting slide guitar work. The roadhouse blues of "It Hurts Me Too" are as close as you're going to come to a ballad in this party set, and it is not ballad. Driven by some almost barrelhouse piano and a double dose of Guyger's harmonica to sweeten the deal, it'll still keep heads bobbin' and hips shakin.'
Chris 'Bad News' Barnes and the band know it isn't really a party without a little George Thorogood, and their version of "I Drink Alone" doesn't disappoint. They tear into this one with the horns sounding their fattest and the harmonica bubbling non-stop under the surface, with plenty of room for some soaring saxophone work. Next up is, believe it or not, a dance-y version of the Allmans' "Whipping Post," and why not? It is a party after all. Once again, the horns are exemplary here (congrats to the producers for capturing their power on this one) and the slide guitar keeps it authentic. Encoring out with Steve Cropper's "Raise Your Hand" is a pro move that sends the surely exhausted party people back out into the world with a smile on their faces and some hope in their hearts… and isn't that the whole point of a blues party?
In these are strange times nothing lifts the spirit and makes folks come together like good-time music played with abandon and joy. Lean into it.
For more information on Chris 'Bad News' Barnes Live: