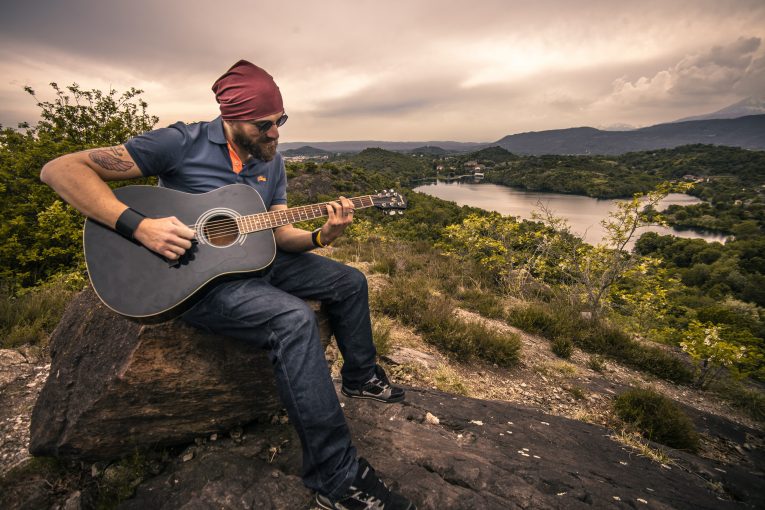 By Mike O'Cull
We often love the flash and fire of the electric guitar so much that we forget how important acoustic guitars are to the blues and rock and roll. Blues music was going down long before Muddy Waters electrified the world and it was happening on acoustics. Robert Johnson, Skip James, Leadbelly, and others made magic with their acoustic music and every guitarist out there should take a shot at doing the same.
Today, we're examining what we feel are the five best acoustic guitars for the blues under $1000. Please remember that any guitar can be a blues guitar if the person holding it can feel the music so try to keep it together if you feel we've crossed your personal line in the sand by not recommending your favorite instrument. These are just opinions and we all know what those are like. We welcome yours. Post your comments in the comment section below. 
Anyway, here come some guitars. Let's play the blues!
Epiphone Hummingbird Acoustic Guitar, Heritage Cherryburst

The Epiphone Hummingbird Acoustic Guitar is a fine choice for acoustic blues and rock playing for anyone influenced by the tremendous impact Gibson and Epi electrics have had on the world. It's a dreadnought with Mahogany back and sides and a solid Spruce top, which is a time-honored recipe for great steel-string tone. It also has a Mahogany neck, a Rosewood fingerboard, and gorgeous split parallelogram inlays just like a vintage Gibson. All of this wonderful wood is wrapped up in a stunning Heritage Cherryburst finish and capped off with the intricate floral Hummingbird pickguard generations of guitarists have come to know and love.
The Epiphone Hummingbird nicely captures the essence of one of the 20th Century's most famous flat tops and projects a warm, natural sound perfect for acoustic blues playing. It's the type of traditional steel-string guitar that delivers the vibe and tone many guitarists are seeking and does so at a price that won't make you feel any more low down than you already do. Get one of these and take your blues to the world!
PROS:
Classic 20th Century style!
Solid spruce top!
Mahogany back and sides!
CONS:
It might be too flashy for some.
The Loar LH-204-BR Brownstone Small Body Acoustic Guitar

The Loar LH-204-BR Brownstone will get you down into that pre-war sold-your-soul vintage blues tone like nobody's business. It's a small-bodied instrument with a true Depression-era minimalist look and a dark, full-sounding tone ideal for slide or fingerstyle blues. It's built with a solid Sitka Spruce top and Mahogany back and sides, which is what you'd expect from this sort of old-school ride, but features some modern niceties including TonePros TPKR3-N tuners on top of the Mahogany neck. The 204 wears a brown satin finish for fingerprint-free living and also sports an attractive bound soundhole.
The Brownstone rocks for anyone wanting to look and sound like they just stepped out of an old photograph and onto the stage. It's a small, comfortable guitar that will make you want to play it. It's a first-class front porch picker and songwriting partner that'll keep you inspired and creative. It's a sleeper pick and a super value.
PROS:
Warm vintage tone!
Pre-war styling!
Sitka Spruce top!
CONS:
A little plain-looking for some folks.
The small body isn't as loud as a dreadnought.
Martin 000X1AE – Natural

It's impossible to talk about steel-string acoustics without talking about a Martin. Martin is the only choice for some players and the iconic brand has been part of American music for generations. The Martin 000X1AE is an updated and sustainably-made take on the company's longtime 000-sized small-body guitar that combines Martin's plain-spoken elegance with some modern sensibilities that'll appeal to the forward-thinkers of the blues community. It has a solid Sitka Spruce top connected to high-pressure laminate (HPL) back and sides. HPL is becoming increasingly common in acoustic guitar construction in our wood-challenged world and makes for a fine, affordable instrument. In keeping with this theme, the Martin's neck and fingerboard are made from synthetic Stratabond and Richlite, respectively.
Another modern touch most players will appreciate is the inclusion of Fishman Sonitone Electronics. Fishman is one of the best makers of pickups for acoustic instruments of all kinds and having their Sonitone model onboard makes the 000 a gigging and recording dynamo. It's a great model that blends traditional non-cutaway looks with the creature comforts and sustainable construction methods today's players desire.
PROS:
It's a Martin!
Fishman electronics are stock!
Beautiful natural finish!
CONS:
Purists may balk at the HPL construction.
Regal RC-51 Metal Body Tricone Resophonic Guitar

Nothing sounds, feels, or looks like a metal-body resonator guitar and the Regal RC-51 Tricone will inspire any guitarist wanting to explore the ancient world of mechanical amplification. The metal resonator guitars of the 1930s are permanently enshrined in blues lore now but remain an intriguing and workable tool for many players. The Regal sports an authentic Bell Brass tricone body covered in slick nickel plating that produces thick, gnarly tones. The Mahogany neck meets the body at the 12th fret, which makes for true period-correctness, and the headstock is resplendent in its fetching pearloid overlay and 15:1 open-back tuning gears.
The RC-51 Tricone belongs in the hands of those seriously into old blues, ragtime, and early jazz. It evokes a different, vanished era but will always have a place among fans of American music. If you're looking to go hardcore retro, this Regal is hard to beat.
PROS:
Metal tricone resonator body!
12-fret neck!
The ultimate in vintage blues tone!
CONS:
The shorter neck takes some getting used to.
Godin 5th Avenue Archtop Acoustic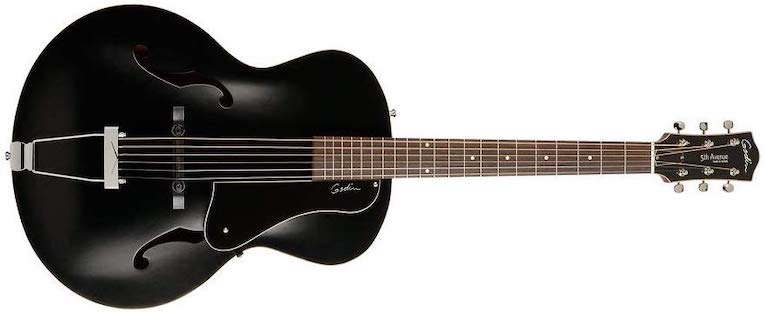 If your acoustic blues have a little uptown swing to them, the Godin 5th Avenue Archtop might just be your next hot date. The 5th Avenue is a fully-acoustic archtop instrument, a type of ax that predates the solidbody guitar by a good bit and offers users a unique sound, look, and feel. The top, back, and sides are made from Canadian Wild Cherry wood and the neck is Silver Leaf Maple with a Rosewood fretboard. It's a North American-made instrument that puts out more volume and low/mids than vintage acoustic archtops and plays like gangbusters thanks to its adjustable Tusq bridge by Graphtech and its 16" fingerboard radius.
Most people these days don't think of archtops when shopping for acoustic guitars but they're a variant with a lot of history that's suitable for blues, jazz, country, and any other type of roots music. If you're feeling like something a little out of the ordinary, a Godin 5th Avenue might be just the thing.
PROS:
Made in Canada!
Jazz Age f-hole coolness!
Adjustable bridge!
CONS:
Mike O'Cull is a contributing writer at Rock and Blues Muse. He has also played and taught guitar professionally for over 20 years, did sales in high-end guitar shops, and has written for Ultimate Guitar, Guitar Geary, and Gear Vault.