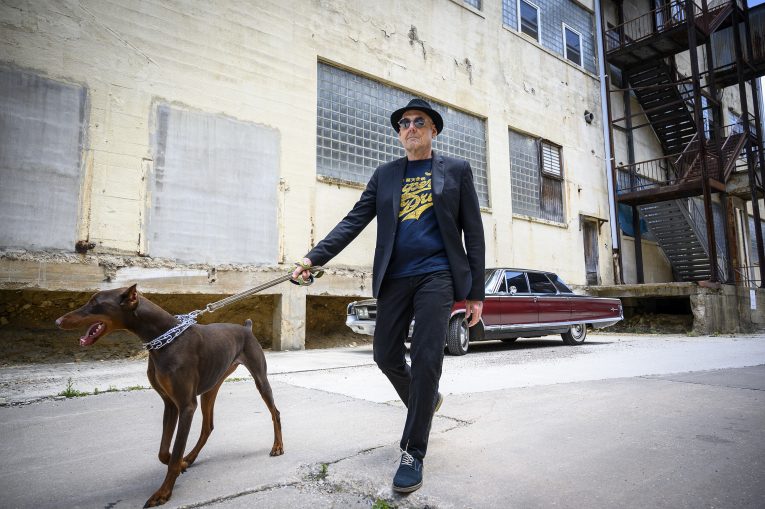 By Martine Ehrenclou
Soul Blues legend, singer-songwriter Billy Price first attracted national attention during his three years with guitarist Roy Buchanan. Price is the vocalist on two of Buchanan's LPs. A Blues Music Award-winner, Price has recorded and released 17 albums and DVDs with the Keystone Rhythm Band, the Billy Price Band and other solo projects. Price recorded and toured with the late Chicago soul singer Otis Clay and his album This Time For Real with Otis Clay, received a 2016 Blues Music Award.
Price's album, Reckoning, produced by Kid Andersen, was nominated for a 2018 Blues Music Award and his new record Dog Eat Dog (2019) also produced by Andersen, will surely pick up awards as it is one of the best soul blues albums of the year.
Currently touring all over the world, the soulful and adept entertainer Billy Price is considered a superstar, particularly on the east coast. Price is a "Legends of Pittsburgh Rock N' Roll" Award recipient. He was kind enough to talk with us by phone.
Martine Ehrenclou: Congratulations on your new album Dog Eat Dog. As you know, I love it.
Billy Price:  Thanks, it was great to read your review.
Martine Ehrenclou:  Can you tell me about how the album came about?
Billy Price:  In 2018, I did an album with Kid Andersen at his Greaseland Studios in San Jose. I had done an album with the late great Otis Clay called This Time For Real and we were nominated for Best Soul Blues Album of 2015 in the 2016 BMA Awards (Blues Music Awards). One of the other albums that was also nominated that year was the Wee Willie Walker album that Kid produced. I absolutely loved it. Kid and I got to know each other at that BMA Awards ceremony and we talked about working together. We picked up that ball again in 2018 and did an album together called Reckoning.
ME: Your previous album.
BP:  Yeah. I'm fortunate enough to be nominated again in that same category. But when I finished Reckoning, I just enjoyed the experience so much that I felt like I wasn't done, like there was more that we could do together. In the next year I worked with the guys that I write songs with and we came up with more material. Kid and I talked about the direction that we wanted to go in. I went back to Greaseland Studios in February of this year and we recorded Dog Eat Dog.
ME:  Can you tell me a little bit about recording Dog Eat Dog? It has some pretty amazing musicians.
BP: Yeah they really are. Just the opportunity to work with those people is just such a thrill for me. I loved every minute of it. We prepared pretty well for both of the albums, Reckoning and Dog Eat Dog. As I wrote songs with my guys, I sent Kid these very rudimentary demos and he gave me the yay or nay. "I like this one or that," he'd say. When he didn't like something, he'd say, "That one didn't kick my ass." (Laughter)
ME: (Laughter) Did you have a different vision for Dog Eat Dog?
BP:  A little bit. One of the things that you say in your review is that you liked the eclectic nature of the choice of material. We  go from straight blues, the Otis Rush cover "My Love Will Never Die," to something like "More Than I Needed" or "Same Old Heartaches," which are pure Philadelphia-style soul. On this one we did want to home in a little more on mainstream blues.
ME:  There's more funk to Dog Eat Dog than I remember on Reckoning. I love "Working on Your Chain Gang" and "All Night Long Café" and "Toxicity." Did you purposely put more of a funk spin on this one?
BP:  I think one of the reasons for that is that we had a conga percussion player on every song. That lent itself to that. But the other thing is the guy I write with, Jimmy Britton, that's really his main interest. I'd say he's a real funk enthusiast as we both are. That's the direction we go in when we write.
ME:  Tell me about your song, "Lose My Number." You wrote that with Britton also. I'm just curious what's behind that song.
BP:  Most people are taking that to be some sort of a male-female breakup situation but that wasn't what I had in mind when I wrote it. I mean it's fine, I'm glad that it works for that. But to me, it was actually about some specific people in the music business who had gotten my goat. So, the song has an edge of anger and resentment in it. And anytime you can tap anger and resentment in a blues song you're probably going to do pretty well. (Laughter.)
ME: (Laughter.) I assume those people in the music business don't know it's about them but it probably feels good to sing it.
BP:  (Laughter.) Yeah. I'll tell you, once Jimmy sent the demo of the music and I thought about this specific situation, I was finished within five minutes. When you have a specific idea in mind, a specific situation, it's very easy to write lyrics. I could have written six more verses in the next 15 minutes if I wanted to.
ME:  How did you initially get into singing Soul, Blues and R&B?
BP:  Really just as a fan. I grew up in northern New Jersey, and the '60s was the heyday for the music that I love. The great soul singers like Jackie Wilson, Sam Cooke, Otis Redding and James Carr, O.V. Wright, Otis Clay, and Al Green–I was just a fanatic for that music. I saw a lot of those people live. And I just figured out that's what I wanted to do once I found out I could sing a little bit.
That was around the time when the Beatles and The Rolling Stones were emerging and all my friends were insane crazy for all that stuff and I was like yeah, okay it's good. But let me listen to this new Bobby Bland album I just got. I mean that was always where I was at. And I appreciate the Rolling Stones a lot now but I think I probably was listening to the same records that they were listening to–Chicago Blues.
ME: I read that you approach your performance and shows in the same vein as Sam Cooke, Otis Redding, James Brown, and Al Green. Can you tell me about that?
BP: I've always tried to have at least one or two horns in my bands because most of those soul singers did that. And my model was always the singer in front of the band, leading the band. James Brown is the paradigmatic example of that. I hope I'm not as big a megalomaniac as James Brown was. (Laughter.)
ME: (Laughter)
BP: (Laughter.) I saw James Brown in 1967 at Madison Square Garden. This was a fairly famous concert because it was his real emergence from the R&B world into the Pop world. You know "Papa's Got A Brand New Bag" and "I Feel Good"– the big hits on the radio. I'm telling you, I've seen sporting events, I've seen lots of concerts, and that was the greatest spectacle I ever attended in my entire life.
ME: I can imagine.
BP:  It was absolutely amazing. I don't have the words to describe what an effect it had on me. And as I said, I could sing a little bit so I wanted to do something like that. And then in later years, I met Otis Clay who also fronted a classic band like that. I learned a lot from singing next to Otis Clay and watching him and how he interacted with his bands. That was always the model of what I do when I perform live.
ME:  Tell me about working with Otis Clay.
BP:  My first album was with my band, Billy Price and the Keystone Rhythm Band and we called the album Is It Over. And we covered an Otis Clay song, "Is It Over" that he recorded with Rick Hall in Muscle Shoals for Cotillion Records. After that album came out, my manager said maybe you could do a show together with Otis Clay. This producer I was working with had sent me the vinyl of Otis Clay Live in Japan. It was a two-record set and it just completely blew my mind. My manager contacted Otis and said, "This guy Billy Price would like to perform with you." Otis was reluctant at first, of course. He sent Otis my album with my cover of "Is It Over" and he liked it and he got interested.
Eventually he came East and we did shows in Washington DC and in Pittsburgh together. I did an album in 1997 called The Soul Collection and Otis and I sang a song together on it. A year or so before we did the album, Otis had just gotten back from the rhythm and blues cruise and he called me and said, "A lot of people are saying we should do a full-length album together. Would you be interested in doing that?" I said, "Of course."
ME:  You said you learned a lot working with Otis Clay.
BP:  Certainly the way he sang and performed and the way he interacted with the audience. But also the way he carried himself as a professional and the way he interacted with people. He was a wonderful guy. He was gracious, funny and kind, and people who worked with him loved him and his bands loved him. I always aspired to be like him. I'm not so sure if I achieved that. (Laughter.)
ME:  (Laughter) I'm going to guess that you did. You also collaborated with Roy Buchanan.
BP:  Yeah I was a kid then. I was like 22, 23 years old in the early '70s. What I just described about the way I approached music and what my models were, that wasn't at all what the Buchanan gig was like. Roy was always a sideman–he was such an amazing guitar player that he was thrust into the spotlight and he never really wanted the spotlight. So, he would often put a singer out in front of his bands. When he sang, he was very sincere but he didn't like to do it. They were on their third album for Polydor Records and they hired me to sing. I almost felt like I was distracting the audience's attention from what they really wanted to listen to, which was him playing guitar, of course. I'd do my two verses and then all eyes would be on him for his solos, which would sometimes last 30 to 45 minutes. Whether I would get a third verse or not would be a crapshoot.
ME:  Wow. (Laughter.)
BP:  I did my best but it wasn't really my kind of gig. I mean I liked him a lot. It was amazing to get to know him. He was also a huge music fan and a student of music. He and I used to go out on the road and bring homemade mixed tapes and we would stay up all night and drink and listen to music. It was a lot of fun.
ME:  Sounds like it.
BP:  Yeah, it was great. Roy was great and he was so knowledgeable and turned me on so many things. I was only with them on and off for three or four years and did the two albums. We did a live album for Polydor, before we moved to Atlantic Records. They brought me back and it was really pretty good. It was called Live Stock and it's considered to be one of his best albums today even though at the time it was almost considered to be a throwaway. You just never know. I mean you put something out into the world and you don't know how it's going to be received.
ME:  Right, and who knows if later on it turns into a beloved album. I haven't seen you perform live but I watched a number of your videos. You seem really at ease on stage, confident. You seem to enjoy interacting with the audience. I wondered if that confidence comes from years of performing or if it stems from a natural ease that you've always had?
BP:  I don't really think of myself as an easygoing person so I think probably the first explanation makes more sense. (Laughter) Many reps, I mean I've done it a lot.
ME:  (Laughter)
BP: You know, I sometimes say it's because of the approach I take to performing that may be different from a lot of musicians. In the land of the blind, the one-eyed man is king. (Laughter) I look at the audience, I try to pick individuals out and I try to sing directly to them and I think that comes across.
ME:  Tell me more about that.
BP:  Well, you know I'm not a musician. I don't play anything, and I have some regrets about that. I wish I did but I never quite got immersed in an instrument the way other people have. Again, with models like James Brown and Wilson Pickett and Otis Clay, I think of what I do as a performance. I had a guy that I worked with for years, a saxophone player, who said that my reputation around town in Pittsburgh was, "That guy will do anything to get over." (Laughter) That guy will do anything to get over and it's kind of true.
ME:  (Laughter) Tell me more.
BP:  Maybe out of some deep sense of insecurity or something, I want to get out there and I want people to leave saying, "We really just saw something, that was really something." I want to make an impression on people.
ME:  And you do. I watched your videos and I thought, this guy really has it down.
BP:  Thank you.
ME:  I just wondered where that came from.
BP:  That's what old gospel singers did right. Like in a big gospel show the idea was to outdo the other gospel act and what they call "wreck the house" or "get the house." So, that's what I'm always trying to do. I'm always trying to wreck the house.
ME: (Laughter) Well, you have the chops to do it so why not.
BP:  (Laughter) Thank you.
ME:  What's coming up for you? You're on a tour and promoting the album.
BP:  Yes, I'm really excited with things coming up. Gulf Coast Records has a review coming up with five of the acts from the label at Knuckleheads in Kansas City. I've actually never been to Kansas City before but I always wanted to go. And I told Mike Zito, "I have to have some of the famous Kansas City barbecue and then everything else is negotiable." (Laughter)
ME: (Laughter) When is that?
BP:  Mike Zito's Gulf Coast Records Fest on October 19th. And then in November, I'm super excited about going to the Lucerne Blues Festival in Lucerne, Switzerland.
ME:  Cool.
BP:  I'm bringing three of the guys I work with here–my drummer and my guitar player from Baltimore and my keyboard player from Pittsburgh, Jimmy Britton. Otis played at Lucerne many times and was very popular over there so I'm looking forward to that.
ME: That sounds like a blast. I think I've taken enough of your time.  It's been a pleasure talking to you.
BP:  It really has been fun. Thank you very much again for your review and for your support. I appreciate it.
For more information on Billy Price: