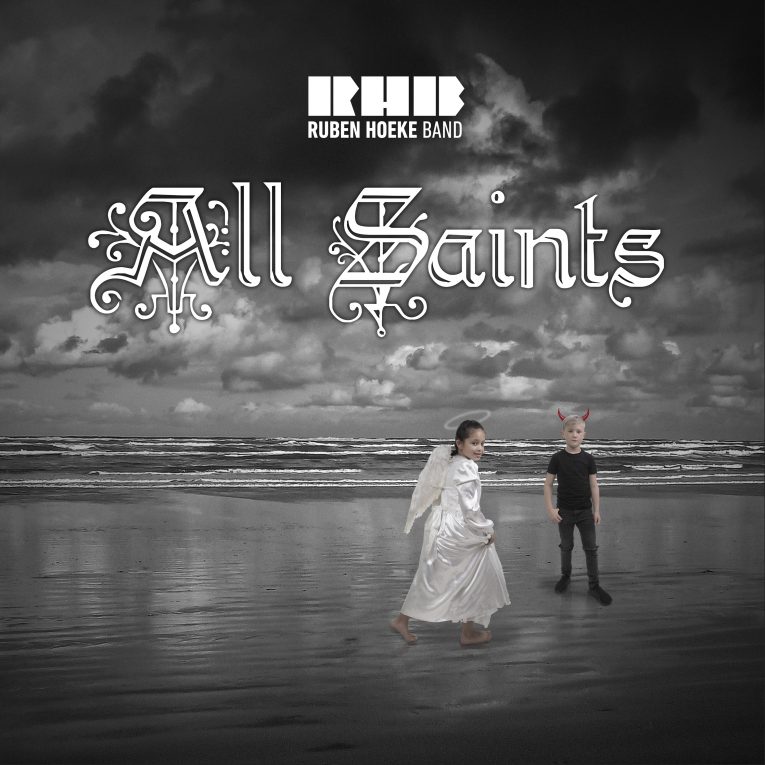 By Mike O'Cull
Dutch blues/rock guitar sensation Ruben Hoeke is a tasteful-yet-incendiary player who is starting to make waves far outside of his native land. The new Ruben Hoeke Band album, All Saints, gains lift off November 1st 2019 on Butler Records and is expected to grab rock fans by the scruff of the neck and get them clued into what they've been missing.
Hoeke is a large talent who would stand just as tall in the 70s and 80s guitar music heyday as he does now and has the classic combination of tone, licks, and songwriting ability firmly in his back pocket. All Saints puts his skills in the perfect context to win over the world at large and become one of the leading artists in the New Classic Rock scene that's been building for the past few years.
All Saints is the sixth Ruben Hoeke Band release and features Hoeke's brother Eric on drums, Mike on bass, and Lucas on vocals. The four players are a formidable musical unit with chops to burn and the wisdom to know when to light them up. The band tracked the new record at Captain Hook Studio in three intense weeks of sessions that wrung the best out of each musician and left them blistered, battered, and fully spent. The result was well worth the pain, however, and All Saints has "breakthrough album" written all over it.
Pieter Bas Borger mixed and mastered All Saints and did a wonderful job of capturing the sound and spirit of Ruben Hoeke and the band. The tracks feel alive and in the moment, as proper rock music should, and the tones are corpulent and immediate. The opening track, "Get Bit," is the kind of strutting, energetic rock and roll that pulls no punches and delivers the delectably dangerous vibe that made Aerosmith into a legend in the 1970s. Lucan and Ruben are ideal foils for each other and they definitely catch lightning in a bottle on this one.
"Easy Does It" rocks hard, building verse tension that explodes into a tight chorus and pushing the whole thing over the cliff during Hoeke's ripping solo. It's a stadium-worthy jam that comes off as genuine and authentic, not just a replication of rock's glorious past. That "true rock believer" realness permeates every track on All Saints and is what makes it such a special record. This isn't wiseacre, ironic hipster music–it's the work of players who know that tough, human-made rock and roll will always be viable.
"Been A Long Time" is a righteous acoustic guitar-driven cut that lets Ruben show off his slide playing over an audience-moving beat. "Forafter Always" is a good, pace-changing ballad that breaks up the rock songs for a moment with a bit of U2-ish radio-friendly goodness. It's nice to see that the band has an actual different gear to switch to and the guys show a pop influence here that totally shifts the mood of the album for a few moments.
The back end of All Saints has a couple more mood swings that show Hoeke's depth and the band's craftiness. "Sally Went To The Shore" is smooth and melodic pop/rock with a twinge of Neil Diamond to the verse vocal melody and some extra-flavorful rhythm and lead work from Mr. Hoeke. The last song is the haunting and delicate "Love Is Blindness," a slow, cinematic track that floats in the nighttime air and contains some of Hoeke's most restrained yet dynamic playing. He goes from soft-spoken, emotive lines to the raging wails of a soul on the edge. It ends back in the shadows where it began and leaves listeners wrapped in its early-morning darkness.
Ruben Hoeke is clearly the real deal and has a super-hot set of music on his hands with All Saints. He's a great player who can write parts and deliver cool guitar work in the context of a group that plays four-minute songs. His band is equally adept and creative. Plan on hearing a lot about this crew in the near future.
Ruben Hoeke Band Online