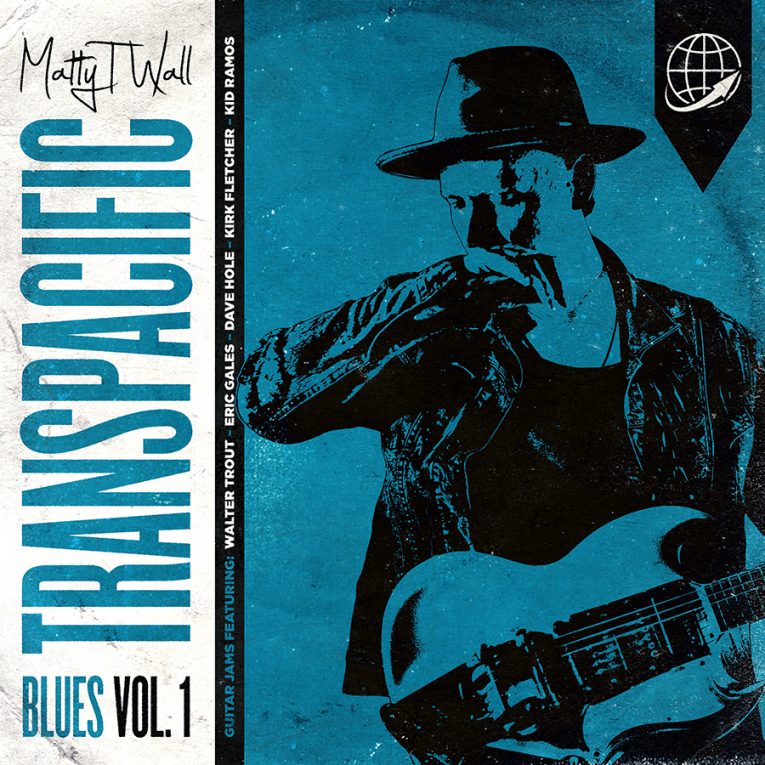 By Martine Ehrenclou
I've been a fan of Australian blues-rock guitar maestro Matty T Wall since his album, Sidewinder. When I heard about Transpacific Blues Vol. 1, I immediately dug in. His new eight-song release out October 18, 2019, features Matty T Wall and some of the finest guitarists on the international music scene, including Eric Gales, Walter Trout, Kirk Fletcher, Dave Hole and Kid Ramos. With traditional blues songs and new approaches to the genre with plenty of creative twists, this is some of the best guitar playing in one place you might hear all year.
Since Wall's 2016 debut release Blue Skies, this five-time Independent Blues Award nominee is gaining ground in his career and being recognized as a fiery and fierce guitarist, singer-songwriter with an inventive flair for infusing blues, rock, jazz, and some funky rhythms into his music.
Transpacific Blues Vol. 1 features incendiary guitar solos and riffs from Matty T. Wall and some of the greatest guitarists in the world. A sure bet for guitar fans and blues lovers. It's off-the-charts-good. Wall's reinterpretations of traditional blues classics are innovative and modern. To be able to enlist guitar players of this caliber says a lot about Wall as a musician.
An album of traditional blues covers isn't always easy to pull off and often a labor of love. Matty T. Wall puts a fresh spin on each track with stunning guitar, contemporary vocals and outstanding musicianship from him and the band–drummer Ric Whittle and bassist Stephen Walker.
A winner of an album opener, "Boom Boom" (John Lee Hooker) features explosive Australian slide blues guitarist Dave Hole. With Wall's rock spin and vocal swagger, the track quickly blasts off and becomes pure blues-rock fire power. The guitar solos are exciting and fresh with monster tone, mastery and plenty of heat.
"Hi Heel Sneakers" (Robert Higginbotham), featuring the great Eric Gales, is a standout and an inspired version of the song. How could it not be with Gales and his incendiary guitar solos combined with Wall's six-string finesse and style. This track is a master guitar lesson on how it's done. Gales' solo is brilliant, as his tone and fretboard mastery. Wall's vocals are smooth with some grit, and he adds in some nice scatting on the guitar melody line, lending a jazzy feel. With great groove and syncopated rhythms, Wall and the band perform a knockout version of the song. It's meant to be played at peak volume.
If you appreciate guitar, and feel that guitar solos are not just intended to mimic vocals or horns but can be appreciated as completely separate sonic feasts, then this song, and the album for that matter, is for you.
"Quicksand" (M. Jackson), featuring Kid Ramos, whose quick-fire guitar style is perfectly matched for this tune, is a fun romp into guitar boogie. "She's Into Something" (Carl Wright) featuring
Walter Trout
, offers a fresh approach to the Rumba blues rhythms. Trout's blues rock solo, complete with his trademark guitar bends and unrestrained style, is searing and intense.
The album also features three standards solely showcasing Wall and his band, namely 'Stormy Monday,' "Tore Down' and 'Crossroads.' "I'm a little bit down the ladder from where the guests are," Wall notes while chuckling, "so I had to keep my head above water for those. But for the ones I did for myself, I just went where the guitar wanted to go – probably more simple than I would normally play."
I wouldn't call Wall's guitar work 'simple' on "Stormy Monday"–I'd call it soulful with beautiful tone, with space between the notes. That's the mark of a true professional. You can't compare this version to T-Bone Walker's original or Clapton/Cream's cover. Wall's is a contemporary rendition and entirely his own. His vocals are featured nicely here and he makes his guitar whine and moan, pulling back to a whisper, and then letting loose but with restraint. Tasteful. Another standout on the record.
All of these renowned guest guitarists on the record have such distinctive styles, and the same is true for Kirk Fletcher on "Born Under A Bad Sign." Right from the first few notes, you hear Fletcher playing guitar—pure magic if you ask me—his tone sweet, smooth, masterful. No surprise there because Fletcher is considered one of the best blues guitarists in the world. Wall reinvents the tune a bit to more of a rolling, contemporary rock-ish song with the aid of steady rhythm guitar in the background.
I suppose it's all in how you hear music but often beautiful guitar solos will move me more than vocals—Fletcher's guitar work is one such example. So soulful with room to breathe between the notes, he creates emotive riffs that fit the tenor of the song. Wall plays some stellar guitar himself, weaving in his own riffs with Fletcher's.
Closing the record, is "Crossroads" (Robert Johnson.) Wall created a heavy bass line with effects backed by a marching style drum shuffle. With such an epic song made even more popular by Eric Clapton and Cream, it's not easy to create a new vision of an already epic song. I miss the upbeat groove of the original version, but that's not to say this rendition doesn't deserve its share of merit. It showcases Wall and his band nicely.
Highly recommended.
For more information on Transpacific Blues Vol. 1 by Matty T. Wall: