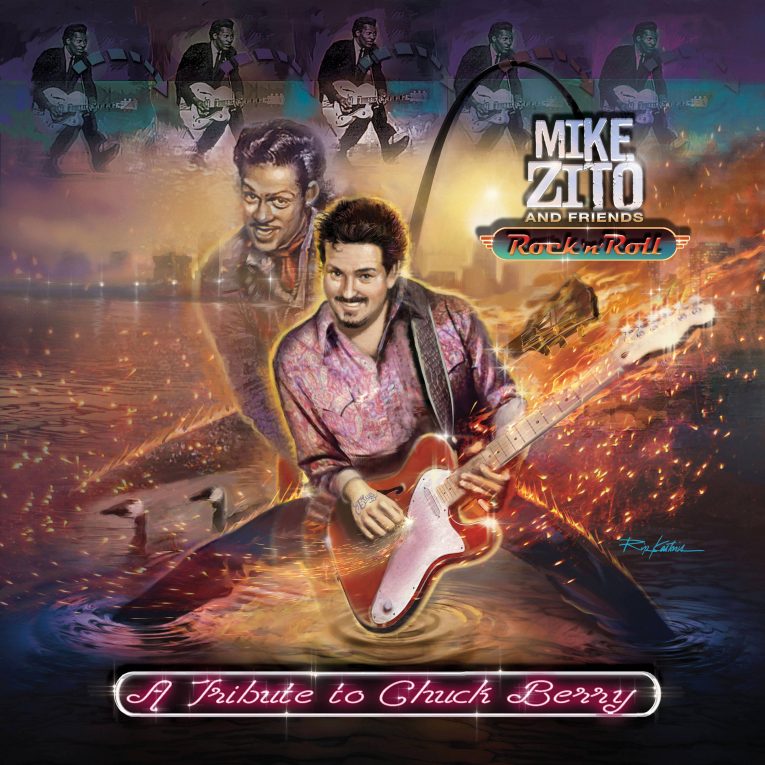 Mike Zito releases the music video for the first single "Johnny B Goode" featuring Walter Trout from his upcoming album Rock N Roll: A Tribute To Chuck Berry out Friday November 1st, via Ruf Records.
Mike Zito says, "The video's a throwback to early MTV kind of vibe. Getting to make this video with my hero, Walter Trout, is pretty much the coolest thing ever."
 The album features an impressive array of 21 guest guitarists, among them Joe Bonamassa, Walter Trout, Eric Gales, Robben Ford, Sonny Landreth, Luther Dickinson, Albert Castiglia, Anders Osborne and, significantly, Chuck's grandson, Charles Berry III.
"This was a very special project for me," Zito says. "I lived in Chuck's hometown of St. Louis for 32 years, and I worked at a small musical instrument store where his drummer also happened to be employed. Chuck's son would drop by on occasion as well. He was an icon, and rightfully so. I've been playing his songs since I was a kid. He was a tremendous influence on my career, and, of course, on many other musicians' as well."
Produced by
Zito
himself, the album was recorded at his own
Marz Studios
and mixed and mastered by
David Farrell.
"We recorded the basic tracks and then sent them to each guest musician," Zito recalls. "They added their contributions and then sent the files back to us. The process took a year to complete."
He began playing guitar at the age of five, and by the time he reached his late teens, he was already a fixture on the local St. Louis music scene. He initially released his music independently and then signed with Eclecto Groove Records in 2008. Pearl River, the title track of his 2009 album for the label, won Song of the Year at the Blues Music Awards and marked his first collaboration with Cyril Nevill, with whom he'd later work in the Royal Southern Brotherhood. A steady succession of critically acclaimed albums followed, culminating in 2011's Greyhound, which was nominated for Best Rock Blues Album at that year's Blue Music Awards ceremony in Memphis. Two years later, he signed with Ruf Records and released Gone to Texas, the story of how he gained his sobriety, offered an emotional homage to the state that left an indelible imprint on his entire life. It also marked the debut of his band, the Wheel.
From 2010 to 2014, Zito also played an integral role in the super group of sorts, Royal Southern Brotherhood. The group released two albums and a DVD, Songs from the Road – Live in Germany, winner of the year's Blues Music Award for Best DVD. He also made his mark behind the boards by producing albums for Samantha Fish, Albert Castiglia, Ally Venable, Jeremiah Johnson, Jimmy Carpenter, and many others.
Now, with Rock N Roll: A Tribute to Chuck Berry, Mike Zito does what he does best, making an album that's humble, heartfelt, skilled and sublime….and, to paraphrase Chuck himself, letting it rock all at the same time.
Musicians
Mike Zito (vocals, guitar on all tracks)
Matthew Johnson (drums, vocals, percussion on all tracks)
Terry Dry (bass, vocals, percussion on all tracks)
Lewis Stephens (piano, organ, Wurlitzer on all tracks)
For more information on Rock N Roll: A Tribute To Chuck Berry by Mike Zito and Friends: