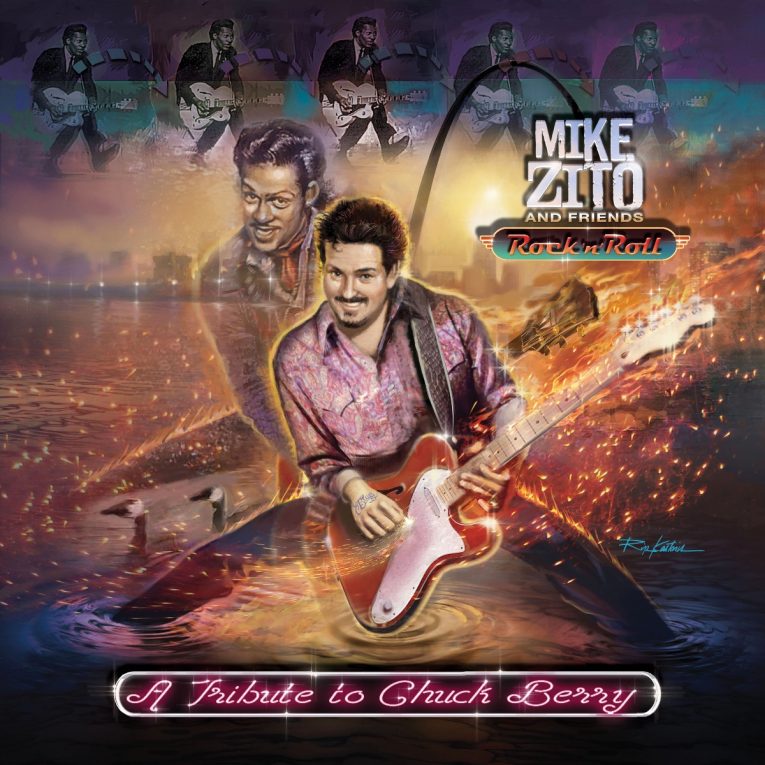 By Tom O'Connor
Mike Zito will be releasing Rock N Roll: A Tribute to Chuck Berry by Mike Zito and Friends on November 1st via Ruf Records. As you would expect, this mammoth 20-track tribute is to one of the prime architects of Rock & Roll, performed by some of today's hottest Rock and Blues guitar players and is chock-full of both homages and flashy highlights. The 21 guest guitar players include Charlie Berry III, Joe Bonamassa, Joanna Connor, Walter Trout, Anders Osborne, Robben Ford, Luther Dickinson, Eric Gales, Sonny Landreth, Jeremiah Johnson, Tinsley Ellis, Kirk Fletcher, Josh Smith, Tommy Castro, Albert Castiglia, Kid Andersen, Ryan Perry, Richard Fortus, Ally Venable, Jimmy Vivino and more.
In what I'm sure was a major logistical challenge, Zito and his usual band of co-conspirators; Terry Dry on bass, Matthew Johnson on drums & percussion and Lewis Stephens handling all keyboard and organ duties laid down many of the studio tracks together then, in many cases, kicked them out to the "special guests" to add their tracks. Each track manages to sound fresh and engaging. I can't imagine how a musician picks which Chuck Berry song they want to or are brave enough to cover but many good decisions were definitely made here.
This project is a loving tribute to the man's music and the first sounds you'll hear at the top of track one is "St. Louis Blues," a straight-up Chuck Berry intro riff as Zito gets some singing and playing assistance from the man's grandson, Chuck Berry III. Guest Joanna Connor then adds some warmth and zip to "Rock and Roll Music" as some fat horn arrangements add to the good-time vibe. Then comes the 800-pound gorilla of the Berry catalog: Who is gonna be brave enough to take a run at "Johnny B. Goode" and survive? How about the always fearless Walter Trout? Without any additional or unnecessary fanfare, Trout positively tears into this one, creating the kind of album highlight you would expect. That leads directly into another highlight of the collection – Joe Bonamassa's high-octane, slow-burn take on "Wee Wee Hours" that builds to an unhinged Bonamassa lead break that leaves no room for doubt.
Anders Osborne sticks closer to the source material on "Memphis" which simply highlights Berry's often overlooked lyrical mastery, and there ain't nothing wrong with that. Always interesting to see what people will do with the more obscure tracks and Ryan Perry doesn't disappoint with his take on "I Want to Be Your Driver," which inhabits a happy zone where the Allman Bros and some good ol' New Orleans hoodoo overlap. Another example, Berry's often charming, and always clockwork-tight lyrics rolls up next with Zito & Robben Ford's loose and relaxed arrangement of "You Never Can Tell." Things get hectic again on the up-tempo and horn-heavy "Back in the USA" that still gives guest Eric Gales enough room to put his stamp on it and downright kill it. Jeremiah Johnson then keeps things simple on "No Particular Place to Go," keeping the original's timeless humor and tone intact. Zito then trades off vocals with Luther Dickinson on a bubbling and buzzy "Too Much Monkey Business." Sonny Landreth adds a layer of sophistication and polish to the truly obscure "Havana Moon."
Zito's duet with Tinsley Ellis on "Promised Land" is another stand-out track. Powered by some full-bore guitar work and fattened up with plenty of horns, this track blasts down the road like a classic V-8. That high-speed jaunt is a great set-up for a gear-switching, dark and moody take on "Down Bound Train." This track is a particularly good fit for guest Alex Skolnick, best known for his thrash metal work… further proving that all Rock & Roll roads eventually lead back to Mr. Berry's source material. After that, it shouldn't be any surprise to hear Guns N' Roses' Richard Fortus making a party out of the timeless "Maybellene" and Ally Venable proving she belongs as one of the (too) few female guests with her dialed-in and delightful take on "School Days."
Kirk Fletcher and Josh Smith trade-off with each other on the popping "Brown Eyed Handsome Man" with the kind of jaunty strut that would make Nick Lowe smile. Likewise Tommy Castro rides high on "Reelin' and Rockin'." Not to be outdone, Jimmy Vivino, taking a break from leading Conan's house band, guides a fully orchestrated version of "Let it Rock" to a realm of rock and roll bliss.
Even after so many great tracks, I wasn't quite prepared for Albert Castiglia's efforts on "Thirty Days." Bursting with joy and catharsis, this track alone is worth the price of admission. I'm just surprised it comes so late in the album, especially when it is immediately followed by album closer "My Ding A Ling" which, let's face it, has always been a pretty goofy "novelty song," but Kid Andersen proves he is game for the challenge and closes out the collection with some tasty guitar work.
As we sit here in the Fall of 2019, some might ask: Does the world really need a new collection of Chuck Berry covers?
My answer: Hell, yes it does. Badly.
Hail! Hail! Rock and Roll!
For more information on Rock N Roll: A Tribute To Chuck Berry by Mike Zito and Friends: