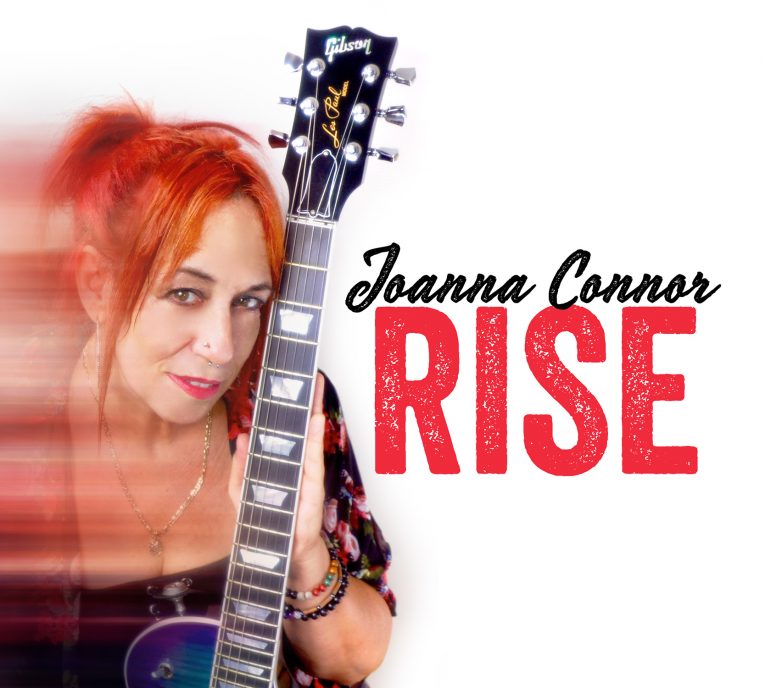 By Martine Ehrenclou
Joanna Connor is known as the Queen of Blues/Rock Guitar, an outrageously talented and original guitar player who many discovered when a video of her performance at the 2014 North Atlantic Blues Festival went viral. Out November 8th via M.C. Records, Rise is a follow up to Connor's 2016 Six String Stories. A 12-song release with two covers, Rise features a wide array of styles with superb musicianship, and above all Joanna Connor's virtuoso guitar skills, strong voice and her gift for songwriting.
With a new backing band that can actually keep up with Joanna Connor and compliment her songs and guitar playing as well, Rise is a blend of jazz fusion, rock, blues, and R&B, a couple of acoustic tracks, and believe it or not a little hip hop. One thing remains constant through the 12 tracks—Joanna's mind blowing guitar chops, over-the-top musicianship by the entire band, and a steady dose of rhythm for each song.
A regular performer at blues clubs in Chicago and music festivals, Connor is known for her incendiary blues-rock slide guitar chops. Connor's new album allows her to stretch out a bit musically, with some stunning jazz numbers, and plenty of tracks that feature her superb guitar skills and feel for rhythm, melody and tone.
The opening number, "Flip," is a funky run with slapping bass by Joewaun "Jay Red" Scott, backing singers and horns. Picture Nile Rodgers-style rhythm guitar and gritty slide guitar riffs by none other than the Slide Guitar Queen, Joanna Connor. She's back with her fabulousness and a new band—Scott on bass, two drummers Tyrone Mitchell and Cameron Lewis and Delby Littlejohn on keys and organ. Joanna's vocals are smooth and soulful over this fresh, contemporary groove-based song. She delivers a whopping slide guitar solo over this rhythmic romp into R&B with jazz overtones, just to remind you, in case you forgot, that she's a total badass musician.
"Bad Hand," featuring a duet with Mike Zito, is a tune from a different musical palette, opening with acoustic guitar and harmonics. It unfolds into a Southern rock anthem of sorts, featuring Zito and Connor trading verses in top form. It has an Allman Brothers-esque rolling feel with piano and Connor's slide guitar highlighted throughout.
Standout track, "Joanna In A" is an original upbeat jazz swing tune. An instrumental, Connor showcases her impressive jazz guitar chops (no slide) and songwriting skills. It's fun, with great rhythm and a zippy feel. Her riffs are lyrical and impressive. You can't say Joanna Connor is just a blues-rock slide guitar player, even given the two jazzy tunes on Six String Stories, because this tune is so much more.
Title track, "Rise" is another standout, jazzy and downright beautiful. And it has groove. Contemporary jazz fusion at its best with Joanna Connor at the helm with her fat guitar tone and melodic riffs. Her guitar playing is sweet, soulful jazz mastery, reminding me a bit of Wes Montgomery. Dazzling yes, moving absolutely. And you'll be tapping your foot throughout the entire track. Her guitar solo is stunning (no slide), as is the keyboard solo by Delby Littlejohn. The whole band with Connor are in full swing, tight and together.
If this doesn't give you a much broader picture of the virtuoso talents of Joanna Connor, I don't know what will.
"My Irish Father" is all acoustic guitar with some harmonics, a Celtic-style song with Connor fingerpicking and playing slide. This song took on special significance in Connor's life. She says, "I did the Ancestry.com thing and found my birth father. It turns out he was an NBA player. I've always loved Irish traditional music, so maybe I have kindred thing for it." This tune is an acoustic instrumental, a moving piece of music.
Joanna roars in with her scorching slide guitar on "Mutha." The main vocal line in the chorus, "She's a bad mutha on the guitar" says it all. It's a ripping track and Joanna's slide guitar playing blasts right into the stratosphere. The track is a rocker and Connor's riffs are superb, just superb. I'd sure like to see her play this live.
One of my favorite songs on the album, is a mind blowing cover of "If You Want Me To Stay" by Sly and the Family Stone. It's one of the best covers I've heard. And it's instrumental. Opening with slapping bass covering the vocal melody, this tune has lost none of the funky rhythm of the original, but Connor has made this fresh, modern and jazzy. Her dirty solo is stunning, with such good tone and melodic guitar prowess, that I played it again and again just to hear all the nuances. The keyboard solo by Littlejohn has shades of Ramsey Lewis on the album Sun Goddess. The snappy bass solo is original, a bit of magic. The band is insane and Joanna Connor rocks it. What a versatile guitar player.
Listen to "I Want You To Stay" by Joanna Connor.
There's something for everyone on Joanna Connor's new album, Rise including blues and some heavy rock. "Dear America" closes the album, a rock tune that began as a rewrite of "When the Levee Breaks" by Led Zeppelin. With social commentary provided by rapper Alphonso BuggZ Dinero, he addresses the current climate in our country and it's intense, powerful and relevant.
Joanna Connor has created a contemporary album with winning tracks and extraordinary musicianship. Is some of it a little uneven? Maybe. But this is Joanna Connor busting out. Rise is awe-inspiring, fresh and contemporary with one of the best guitar players I've heard.
Joanna Connor Online