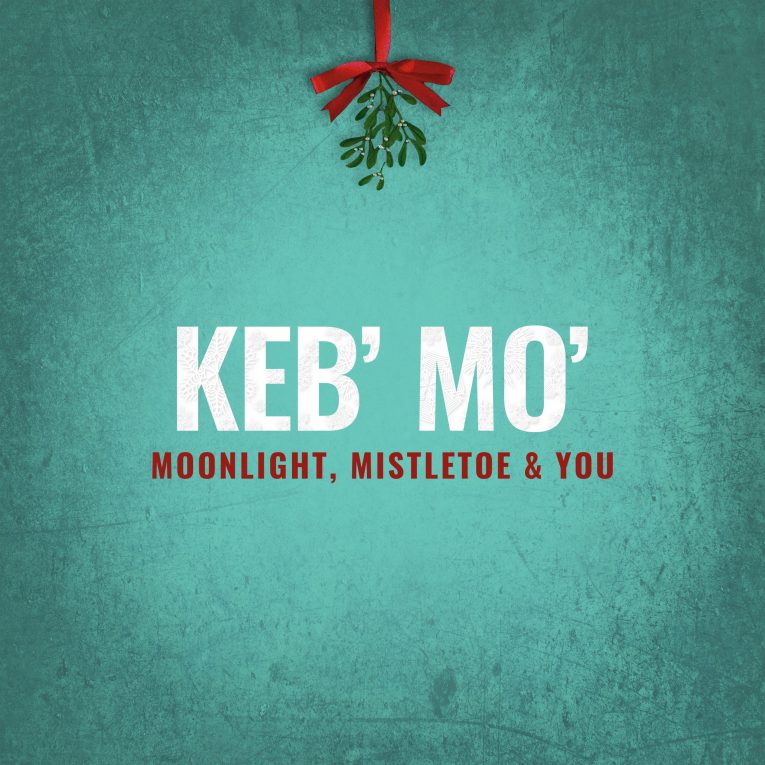 By Martine Ehrenclou
Four-time Grammy Award winner and legendary bluesman, Keb' Mo' releases Moonlight, Mistletoe & You, one of the best, if not the best, holiday album I've heard, out Oct. 18th via Concord Records.
I hesitated to review this record too soon, having heard more than once, "No Christmas music until after Thanksgiving!" I've even felt that way myself. But after listening to the record, I realized right away that Moonlight, Mistletoe & You simply doesn't fit into the usual Christmas music category. It's a timeless record with unique and beautiful feel-good songs that exude warmth and authenticity. Even the three Christmas classics are reinvented with originality.
Produced by Keb' Mo' himself, these 10 tracks will sooth your soul as you skid into the holidays, the usual demands of the holiday season threatening to unseat your untroubled mind. And even if your mind is troubled, this record will thaw the chill, bring a sense of calm, fun and humor to smooth out any rough spots. The album moves effortlessly through R&B, jazz and blues tunes, seven of which are originals.
Beautiful melodies abound on Moonlight, Mistletoe & You. Opening the album, is an uplifting version of the Charles Brown song, "Please Come Home For Christmas." Keb' Mo's warm, soulful voice invites you into the up-tempo beat and before you know it, you're closing your eyes, swept into that Keb' Mo' magic. There's plenty of sweet guitar licks, organ fills, and superb musicianship on this blues tune and on the record as a whole.
"After 25 years of performing without releasing a Christmas album, I felt now was as good time as any to spread some love and compassion," Keb' Mo' says.
The title track, "Moonlight, Mistletoe & You" masquerades as a holiday song but it's really a beautiful love song. Complete with strings, the track has a moving melody, romantic lyrics and soulful chord changes sung by the gifted vocalist, Keb' Mo'.
"Better Day" is another uplifting tune with a delightful melody that includes Keb' Mo' wisdom in the lyrics. The backing singers on the chorus and horn section bring it to life in many ways, in concert with the artist's comforting and expressive vocals. "I just want to be grateful, that's the name of the game." Press play on a snowy, winter morning when you can't get your car started, and I can almost promise you'll feel better.
If you're yearning for more of a gritty blues rocker, "Santa Claus, Santa Claus" blasts away the blues with a modern twist. Tasty guitar riffs, piano, and bluesy vocals from Keb' Mo' make this one fun rockin' number.
For some laugh-out-loud humor, listen to "Christmas Is Annoying." Every adult will relate to this jazz-blues ditty. I sure did. Keb' Mo's deadpan delivery of the lyrics is part of the what makes this song so funny.
Keb' Mo' has an almost childlike innocence and playfulness that permeates much of his music. This album is no exception.
There's a certain freshness to Moonlight, Mistletoe & You—maybe it has to do with Keb' Mo's trademark style, but there's more going on than just great original songs and refreshing covers. It's brilliant, if I can say that about a holiday album.
The same goes for the Mildred Bailey cover, "I've Got My Love To Keep Me Warm," an inventive jazzy rendition with a full string and horn section, and featuring Melissa Manchester's soulful, stirring voice and Keb' Mo's obvious vocal talents. Mo' and Manchester exchange verses, sing harmonies and engage in call and answer. A joyful and jazzy guitar solo gives space before the melody begins again.
"When The Children Sing" is an acoustic original by Keb' Mo' and Mac Davis, about how kids usher in the Christmas spirit. The contrast between Keb' singing solo and playing acoustic guitar and the chorus of children singing in unison, is quite moving and beautiful. Once again, the melody is lyrical and the song hopeful. It's a good reminder that this is what the holiday season is about—"peace on earth and amazing grace."
Closing the record, "One More Year With You" focuses on the end of the holidays and beginning a new year with a loved one. The production on this, and others, is impressive. Kudos to Keb' Mo' on that as well. It starts with jingle bells, accompanied by piano and brass horns, winding up this release on a positive note, "sign me up for one more year with you."
Moonlight, Mistletoe & You is an engaging and unique album. The songs are just so good. Hands down, it's my favorite holiday record, and one that can already be heard in my house. It's a remarkable release. Go listen to it and see if you don't agree.

For more information on Moonlight, Mistletoe & You by Keb' Mo':