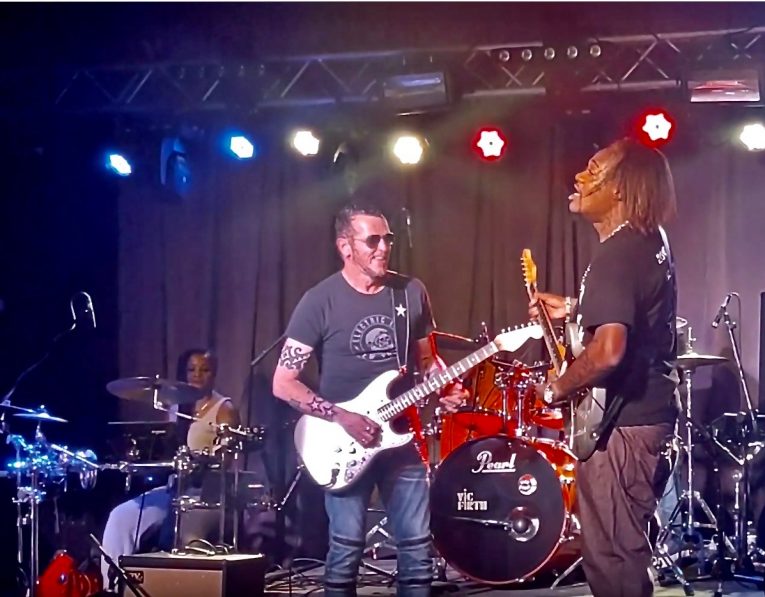 Our Video of the Week is a jam with blues-rock guitar masters, Eric Gales and Gay Hoey performing at a show in SC on November 8,2019. This video was shot by Conrad Sullivan on YouTube.
A myriad of artists performed over two days in SC and this video caught my eye because of the outstanding performance by Eric Gales and Gary Hoey.
Eric Gales is considered one of the best guitar players in the world. An American blues-rock guitarist, singer-songwriter, Gales is from Memphis, TN and plays blues-rock, hard rock, and more. In 2019, Eric Gales won the Blues Music Award for Blues Rock Artist of the Year.
He has 20 albums to his name, the latest being The Bookends released in 2019, and Middle of the Road in 2017. These last two releases featured Gary Clark Jr, Lauryn Hill, Christone Kingfish Ingram.
Eric Gales performed the National Anthem during the Memphis Grizzlies 2019 home opener against the Chicago Bulls.
Gales has toured with Experience Hendrix and toured with Billy Cox, Eric Johnson, Chris Layton, Doyle Bramhall II, Brad Whiteford and more.

Gary Hoey is an American blues rock guitarist, singer, songwriter who is also a stunning guitar player. He has recorded over 20 albums and had five Top 20 Billboard hits. His latest albums are Dust & Bones (2016) and Neon Highway Blues (2019).
Born in Lowell Massachusetts, Hoey became a writer, producer, and guitar player whose clients included Disney, ESPN, and No Fear and has performed the National Anthem for the New England Patriots, San Diego Padres, Boston Red Sox, and the Boston Bruins.
Hoey was featured in VH1 Classic's documentary Aftermath. In addition to touring as a headline act, he has toured and recorded with Brian May of Queen, Ted Nugent, Foreigner, Joe Satriani, The Doobie Brothers, Kenny Wayne Shepherd, Eric Johnson, Steve Vai, Peter Frampton, Rick Derringer, Deep Purple and Lita Ford.
Eric Gales Online
Website
Facebook