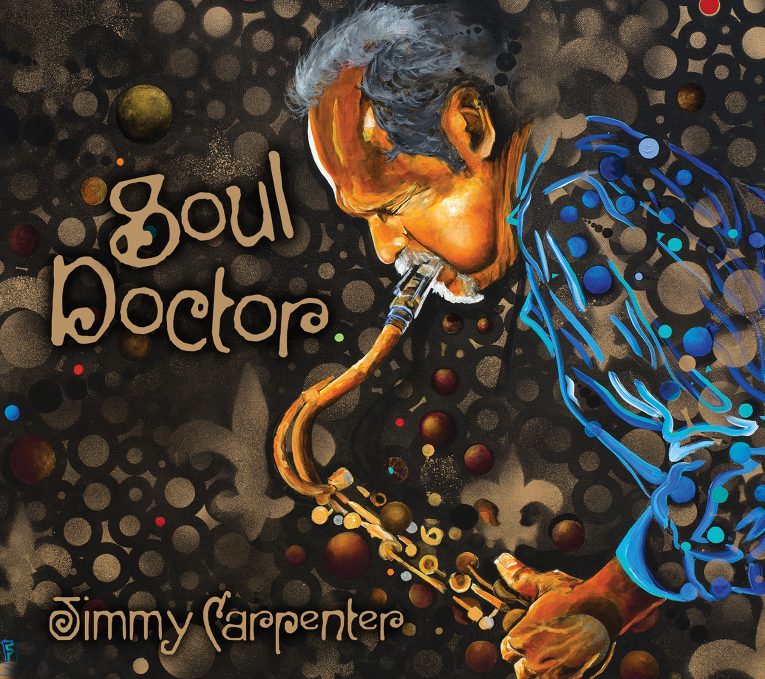 By Tom O'Connor
Singer/songwriter and saxophone genius Jimmy Carpenter released his latest studio album Soul Doctor, on Mike Zito's Gulf Coast Records. To create this bright and buoyant 10 song collection Carpenter brought a who's-who of great players into the studio with him, including drummer Cameron Tyler and bassist Jason Langley. Red Young handles most of the various keyboard duties and Chris Tofield adds some crucial guitar and background vocals. Expect a couple of impressive tracks from some "special guests" as well.
Opener "Soul Doctor" is an upbeat and amiable invitation into this good-time collection. Popping on a solid beat and giving listeners a first taste of the skilled musicianship they can expect throughout; Langley's jumping baseline and Red Young's Hammond B3, powering along and setting the table for Carpenter's vocals and sax breaks, as well as making room for an impressive guitar turn from our first special guest, Nick Schnebelen.
Jimmy and his crew then give the country/bluegrass-tinged "When I Met You" the full Memphis Soul treatment with a walking baseline, some fat organ chords and a special assist from "the Bender Brass" combo of Doug Woolverton on trumpet and Mark Early on the baritone sax. Carpenter's own sax lead break fits like the missing piece of a puzzle. The band gets back to basics with the textbook roadhouse blues of "Wild Streak." As the piano carries the boogie-woogie, expect some impressive slide guitar moves in the break. Mike Zito then joins the band as they go straight down to New Orleans for the zydeco-adjacent "Love It So Much," an ode to the joys of living the life of a traveling musician. In addition to another impressive contribution from Zito, this tune is a chance for those Bender Brass boys to really let go, and they definitely go for it.
The slow-walking Chicago blues of "Need Your Love so Bad" features some soulful vocals from Carpenter on the classic Blues theme of needing to find a true love, along with some especially tasty guitar accompaniment from Tofield. Things definitely get funky on "Wanna Be Right," starting with the syncopated beat and some seriously dialed-up wah-wah on the guitar. Add to that Carpenter's sly vocals and a horn-heavy 'wall of sound' production and this jubilant tune just sounds "big." They keep things funky-as-heck for the nearly five minute long instrumental "One Mint Julep." Carpenter's saxophone is front-and-center in the mix and he takes advantage of every solo bar he is given, as does Red Young on his organ.
Jimmy and the gang then leave the funk behind for some old school stomping Southern Rock on the misspent youth lamentations of "Wrong Turn" which includes some strong guest vocals from song co-writer Guy Hale as Carpenter takes a turn at guitar. The urban funk comes back on "LoFi Roulette." This is another flawless instrumental excursion that'll leave you convinced that lyrics would likely have just ruined it. Carpenter's sax is commanding and confident throughout and once again Chris Tofield's guitar playing is exceptional. If this tune fits as a soundtrack for your day, it'll mean you're having a pretty dang good, possibly even triumphant, day.
I was enjoying this album immensely already, and then Carpenter took it all to another level by closing things out with a loving cover of Eddie Hinton's "Yeah Man." Hinton is one of those shoulda-been-huge legends who is almost like a secret password for some of us folks. It gave me goosebumps to hear a contemporary legend-in-the-making like Jimmy Carpenter having his way with a Hinton tune. You'll get caught up in the emotional moment as the band trades soulful leads between sweetly sung verses. I'm sure Eddie would whole-heartedly approve, not just of Jimmy and the band's sincere approach to this track, but to the whole collection.

Jimmy Carpenter Online