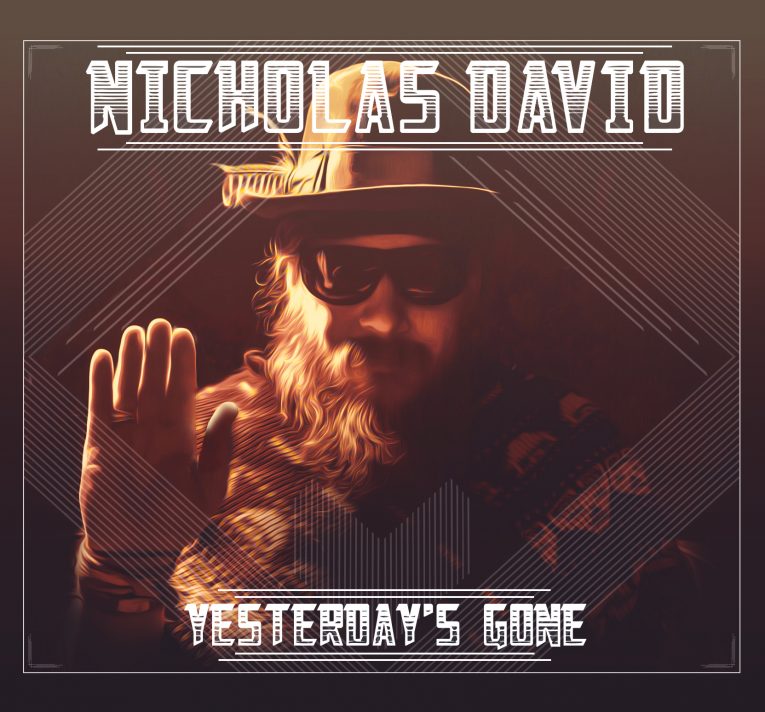 By Tom O'Connor
With the scheduled November 29th release of piano-man Nicholas David's latest Yesterday's Gone on Wild Heart Records, guitarist, Blues chanteuse, producer and record label owner, Samantha Fish proves she doesn't just possess buckets of musical talent, she knows how to spot it in others as well.
After raising his national profile in 2012 with an impressive Top 3 finish on the TV show "The Voice," Nicholas David and his band took to the road and toured extensively, expanding both his audience and his industry contacts. It was during one of those road trips that he crossed paths with Samantha Fish, who had the good sense to invite David onto her new label and into the studio. It was then David's turn to exercise some good sense and bring some rock solid musicians along with him into that studio. Expect to hear subtle but impressive playing from the likes of guitarist Duane Betts, New Orleans' Charlie Wooton on bass and Fish's own drummer Scott Graves behind the kit. They're all given plenty of meaty and heartfelt material to dig into.
Samantha says, "Nicholas is an amazingly talented songwriter and musician. He knows what he wants and when working in the studio, he's full of ideas and inspiration. I had a lot of fun working on this album with him. It's been a musical journey so far, and I can't wait for his fans and new fans as well to connect to this album."
Genre-blending everything from Blues and Soul to hoodoo-hinted Rock, these eleven songs are going to slip stealthily past your emotional defenses and melt your heart. Keep in mind that these songs were written on piano and, given David's mastery of the instrument, both the nuance and occasional complexity shouldn't come as a surprise. It feels clear that these songs were written not as an excuse for a blazing guitar solo, but because he had a feeling he wanted to convey or a story he wanted to tell.
Album opener "Hole in the Bottom" lets you know right away what you're in for. A mid-tempo meditation on nostalgic regret and trying to move on. I say "trying" to move on because if it was easy it wouldn't be the Blues. David's voice is in complete command as he sings about sacrifice and the need to not overdo anything. There's a reason he made it so far on "The Voice"–his vocals are not just soulful, but have beautiful tone with a touch of grit. His piano is equally outstanding on this tune and on others on the album. The soaring lead break adds a taste of classic Southern Rock to the mix.
That Southern Soul DNA is again noticeable on "Heavy Heart" as a counterpoint to a groove that is more upbeat and citified than the title would suggest, but as always Nicholas David's lyrics, channeled through his deep, honey-soaked vocals, are going to break your heart one way or another. Following a fairly Beatles-esque opening, "With or Without" is another showcase for the kind of unvarnished and unapologetically emotional lyrics David is known for. His vocal phrasing just can't be beat.
The tightly orchestrated, urban slow-jam funk of "I'm Interested" wouldn't be out of place on a vintage Al Green album. The instrumental breaks (both the guitar and the keyboards) are not to be missed on this one.  The unabashed melancholy returns, in what sounds almost like Waltz time, on the sadly gorgeous "Peel Back the Leaves." Unfolding slowly, the swelling organ chords lay a strong foundation for some seriously emotional piano-playing. Things cheer up considerably on the bouncy, and strangely Dave Matthews-like "Curious." Some noticeably high-tech guitar tones sneak in to add some extra sonic polish to this one. The upbeat vibes continue on the incredibly catchy and almost tropical "Okay." Blending Blues and Country like it's no big deal, "Let U Go" is a break-up song that could climb more than one Billboard chart.
All this leads to album standout track "Times Turning." With heartfelt playing from all involved, David covers some deeply emotional ground here. I defy anyone to hear him softly crooning such straight-to-the-core lyrics like "Sometimes I'm scared. Come close and hold me with your heart" and not experience some big feels. This is the kind of song every musician hopes they can manage to conjure up just once in their career–with Nicholas David you know he is just getting started.
Rolling up on the last two songs in the collection, I started to get the feeling that maybe the whole album was structured like a Phoenix-rising-from-the-ashes story. The lyrics on Country-ish ballad "Stars" carry the same emotional punch of earlier songs, but there is definitely a stronger undercurrent of hope to match the upbeat tempo. The extended instrumental at the end is there to give your feelings a chance to catch up. Finally, album closer "Little By Little" swerves closest of all the tracks to a New Orleans-flavored funk powered by a bouncing piano-driven rhythm, but as always it's the lyrics and the emotion that'll be bringing you back for repeated listens.
The only thing that might prevent this album from winning some end-of-the-year hardware is people might have some trouble deciding what genre to classify it under, but do expect it to make plenty of Top 10 lists.

For more information on Yesterday's Gone by Nicholas David: