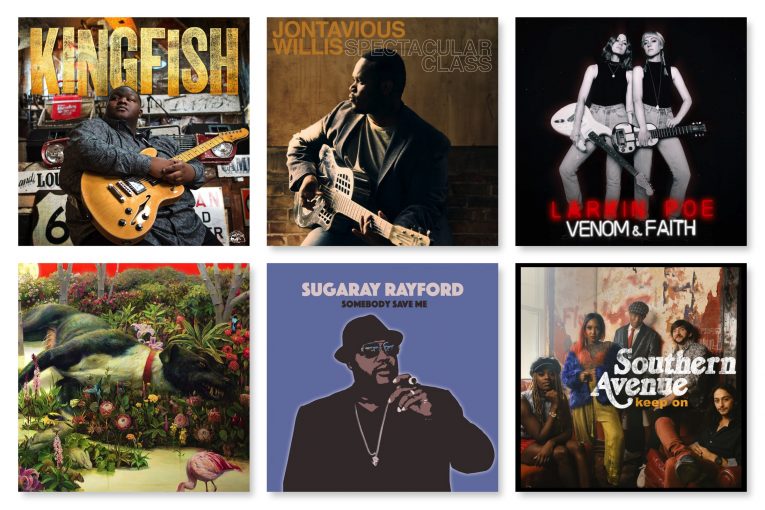 By Martine Ehrenclou
To celebrate the blues, rock and Americana Grammy nominees that were announced November 20th, 2019, here are a few of my favorite songs from their Grammy-nominated albums. Info is provided on each artist, along with songs and videos.
These Grammy-nominated artists are outstanding. Every single one of them deserves to win the award. Each song from their albums is superb.
From Christone "Kingfish" Ingram, Jontavious Willis, Larkin Poe, and Sugaray Rayford, to Southern Avenue, Keb' Mo', Robert Randolph & The Family Band, and others, their music needs to be heard and they deserve to be celebrated for the extraordinary artists they are.
Each nominee, in their own unique way, is completely original and multi-talented. Their music is in a class of its own. A few do more than play instruments, sing, and write songs. Some are producers as well, and produce their own music as well as for other artists. They have carved out niches for themselves in genres that feature real music with real musicians. We want to do our part to support them.
I hope you enjoy.
Grammy Nominees for Best Traditional Blues Album
Kingfish by Christone "Kingfish" Ingram
If you don't know who he is by now, you need to. Christone has been hailed as the future of the blues. A gifted singer and guitar player, he plays blistering, inspired blues and sings beautifully with such soul. Christone is the real deal. Guest appearances by Buddy Guy and Billy Branch.
Info and song
Spectacular Class by Jontavious Willis
One of my favorite acoustic blues albums, Spectacular Class is a breath of fresh air, a warm summer breeze with Willis' rich and soulful voice at the root of acoustic blues. His music is a blend of Delta, Piedmont, and Texas blues with hints of gospel. Taj Mahal and Keb' Mo' produced his album, and Keb' Mo' plays on it as well. You can expect top shelf musicianship on this one and some moving, funny original tunes. This is feel good music by a 22-year-old musician who is as good live as he is on the record.
Info and song
Grammy Nominees for Best Contemporary Blues Album
Venom & Faith by Larkin Poe
Venom and Faith is the 4th album by these incredibly talented sisters who honor their Southern roots music history and hurl it into the present. The Lovell sisters are a knockout duo. They are unique, they've stayed true to their authentic sound, and their music is outstanding. They have a sound all their own–I can't think of any artists out there like them. They write meaningful lyrics and perform inventive covers.
Info and video
Keep On by Southern Avenue
This is one hot band with a unique, soul-blues-R&B sound and a scorching, soulful vocalist, a guitar phenom, and all around outstanding musicians. Grammy winner, William Bell guested on this album that offers distinctive original tunes. Complete with horns and backing singers, there's soul and funk too on this stellar record.
Info and video
Brighter Days by Robert Randolph & The Family Band
One of my favorite bands, these soulful rockers integrate gospel, blues and soul into their music. Led by pedal steel master, singer-songwriter Robert Randolph, the album features blues rocking grooves and plenty of funk. Brighter Days is produced by Dave Cobb.
Info and video
Somebody Save Me by Sugaray Rayford
Blues Music Award winner, Sugaray Rayford is an American soul-blues singer and songwriter with a full-bodied, soulful  voice you won't find anywhere else. Produced by Eric Corne, the album explores themes of darkness and light with inspired arrangements and just downright great songs.
Info and video
Grammy Nominee for Best Rock Album
Feral Roots by Rival Sons
Rival Sons is one of the hottest rock bands out there with a singer, Jay Buchanan, whose voice is just made for rock. Guitarist Scott Holiday (guitarist) and the rest of the band created a modern rock sound. They've carved out their own niche as a genuine rock and roll band with outstanding musicianship.
Info and song
Grammy Nominee for Best Americana Album
Oklahoma by Keb' Mo'
Oklahoma by the legendary blues master and multi-Grammy Award winner, Keb' Mo' is a blend of traditional blues, acoustic blues, soulful roots music/Americana. Keb' Mo' tackled meaningful and important issues and did it with outstanding original tunes and exquisite musicianship. Co-produced by Keb' Mo' and Colin Linden, the album reflects the extraordinary talents of this feel-good, soulful vocalist, songwriter, and guitarist. Guests on the album include Taj Mahal, Robert Randolph, and Robbie Brooks Moore.
Info and video
For a complete list of Grammy nominees see here.