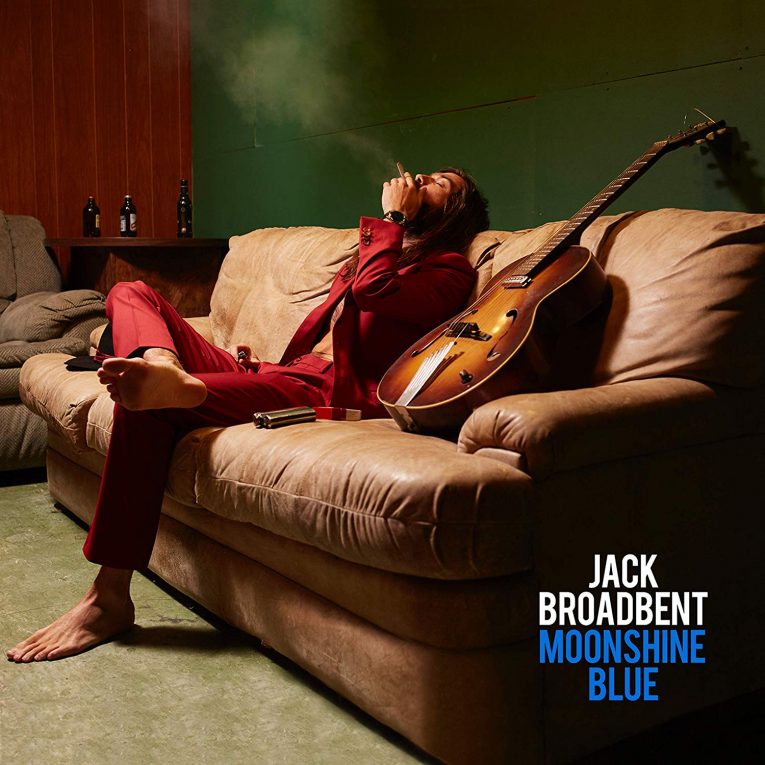 By Mike O'Cull
New-school slide guitar master and songwriter Jack Broadbent blessed us all with a new record called Moonshine Blue that came out November 15th, 2019 on the Crow's Feet imprint. The U.K.-based Broadbent has drawn praise in recent times from the likes of Ron Wood and Bootsy Collins for his eclectic and highly personalized music that encompasses blues, Americana, folk, pop, and alternative rock and has attracted over 130,000 monthly listeners on Spotify, as well. Moonshine Blue is a strong argument that such praise is well-deserved and shows Broadbent to be a truly original character with a sound and vibe that'll both take you by surprise.
No mere guitar jockey, Broadbent does as much with his lyrics and vocals as he does with his guitar skills. His music isn't about the type of wailing slide guitar inspired by Elmore and Allman we hear so often but treats the guitar as just one of the elements in his songs. "For me, it's always about the songwriting," he says, "I try to pay less attention to how it's stylistically based as a record. I want to write songs that find their way to the top of the pile, and that's what I use as the backbone and build from there." The result of this approach is a batch of tunes that stand apart from the rest of the roots music world and never follow the expected formulas that have been overused for so long.
The title cut, "Moonshine Blue," opens the record and shows listeners just how deep his rabbit hole goes. It's a moody, reflective song built on a hypnotic guitar figure that supports lyrics asking, "What should I do about the man I've turned into?" Most artists would open with something more raucous but Broadbent fearlessly uses the track as a statement of individuality and creative intent. Right from Jump Street, he makes it clear that he's unlike the others.
"If" gets deep into the blues in a Delbert McClinton sort of way that lets Broadbent sling some tasty slide licks and uses a song structure other than the 12-bar to get his point across. He is one of those performers who has integrated his influences and his own personality to such a degree that no division exists between them anymore and he makes songs like this feel like the most natural thing in the world. The brilliant "Every Time I Drown" is a hushed acoustic guitar-centered song that features Broadbent's delicate falsetto vocals and feels like a late-night whisper. Broadbent understands the wisdom of getting quiet to pull listeners closer in and leads them to an emotional place where loud sounds just can't go.
"The Lucky Ones" picks up the tempo in a shuffling manner that merges Brit pop, non-traditional slide guitar, and controlled dissonance into something that stretches beyond the sum of those parts. Again, Broadbent takes us along on a trip of his own design that creates its destination as it unfolds. "Tonight" leans into a chilled-out groove that gives us an idea of what a young, 21st Century J.J. Cale might sound like. He's laid back, cool, and confident here, flexing songwriting muscles that are subtle yet innovative. "Wishing Well" is a harder-edged track that pushes boldly forward into an almost psychedelic rock sound. It was previously released as a single earlier in 2019 and is arguably the best song on Moonshine Blue.
Jack Broadbent definitely has his own scene going on and that makes him a treasure in our current world of imitation. Moonshine Blue is soul candy from start to finish and will create its own spot in your record collection if given even half a chance. If you value headspace as much as hot guitar licks, it's a must-hear.
Jack Broadbent Online