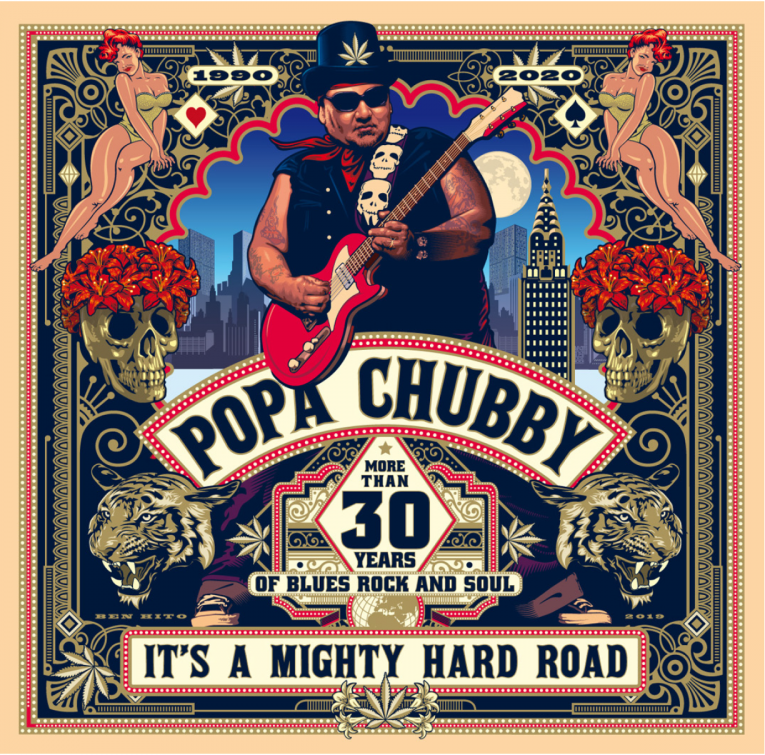 Blues rock guitarist, singer-songwriter Popa Chubby is set to release a new album It's A Mighty Hard Road, on March 1, 2020. With 15 tracks, two covers and 13 originals, the record rocks the blues with plenty soul.
Popa Chubby, born Ted Horowitz, has been playing blues, rock and soul for 30 years. New York city based guitarist, songwriter and singer became a hardcore rocker in the early 90's. He is known for his aggressive style of blues, influenced by Willie Dixon.
Popa Chubby has released a slew of albums over the years, his latest being Prime Choice, out 2019. Popa is a prolific artist and multi-instrumentalist, and never one to conform.
Watch "It's A Mighty Hard Road" below. Thanks to Paul van Druten for the video.

Popa Chubby says,
"You know me? I'm not what you think I am. I'm half human, half beast, 300 pounds of muscle and man, New York born native son. Grew up hard, too big to run. I came up on the streets of the Bronx, Queens and Manhattan. I sought the streets to find the love I could not get at home but all I found was trouble, heartache and despair in the barrel of a gun and the eye of a needle in my vein. Then the music saved me, the guitar saved me and I was no longer fat Teddy from the block. I was a player, a singer, a writer, and I found out people loved me for that.
I was risen from the ashes, made stronger from the fire, I was ready for the trials and the tribulations that would bring me to where I am now! 30 years is a lifetime or a blink of the eye, depends on how you look at it. For me every day, every show, every note, every flight, every story, every hug has been sheer joy. I truly believe this has all manifested for a reason. I shine as an example of the human spirit. What does not kill us surely makes us stronger and the art and music we make bares the power of an uphill climb.
My friends, Brothers, Sisters, Nieces and Nephews. My humble offering to you. 15 tracks of my very bestest. No matter who you are, no matter what you do, no matter what you believe we are all the same and…"
Track Listing for It's a Mighty Hard Road.
1 The Flavor Is in the Fat 2:45
2 It's a Mighty Hard Road 3:03
3 Buyer Beware 3:31
4 It Ain't Nothin' 4:00
5 Let Love Free the Day 3:24
6 If You're Looking for Trouble 3:24
7 The Best Is Yet to Come 4:29
8 I'm the Beast from the East 5:13
9 Gordito 5:50
10 Enough Is Enough 4:34
11 More Time Making Love 3:56
12 Why You Wanna Bite My Bones? 4:17
13 Lost Again 5:17
14 I'd Rather Be Blind 3:52
(Leon Russel, Don Nix, Donald Dunn)
15 Kiss 4:00
(Prince, Nilsen Publishing)
Band Members
Popa Chubby (Ted Horowitz): guitars, background vocals, all percussion, drums, harmonica, bass (on various tracks)
Dave Keyes: Piano and Organ
Steve Holley: Drums (on certain tracks)
Don Castagno: Drums (on certain tracks)
Brett Bass: Bass (on certain tracks)
V.D. King: Bass (on certain tracks)
For more information on Popa Chubby and It's A Might Hard Road: