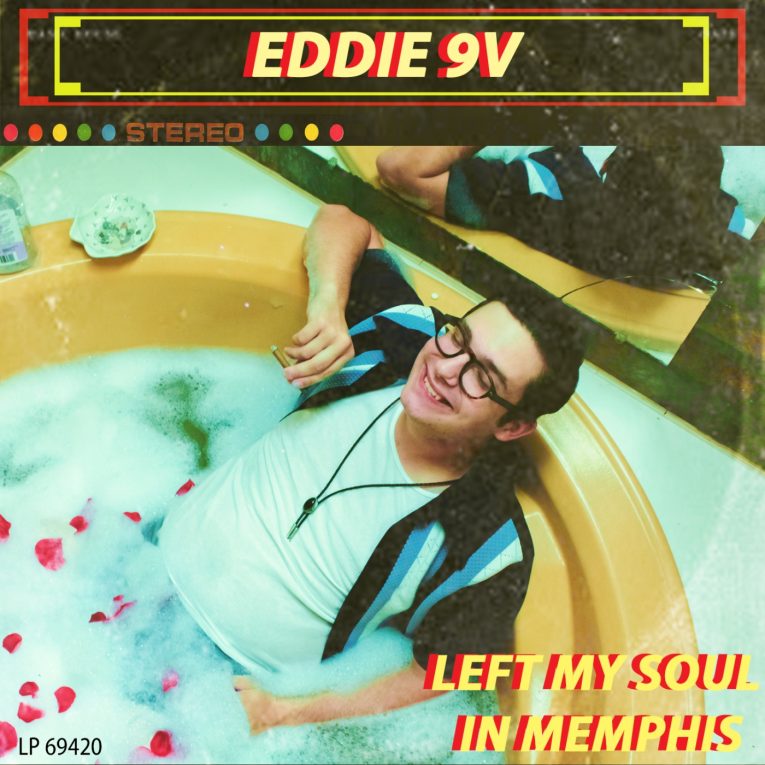 By Tom O'Connor
Multi-instrumentalist outlier Eddie 9V closes out the year on a lo-fidelity high note with his 11 song collection Left My Soul In Memphis.
There is a long tradition of younger people "discovering" the core of the blues and digging deep into it themselves, mixing it with a little bit of humor and a lot of bordering-on-unhinged intensity like the White Stripes, the Violent Femmes and even Mojo Nixon before them. Make no mistake though, having a sense of humor doesn't disqualify a player from having some deep blues of their own and the chops needed to explore them. With this album, Eddie takes listeners along on his journey.
From the false start on the drums and the off-mic "Alright!" that begins opening track "Look Over Yonder Wall," you know what you'll be in for: a lo-fi version of the blues at its most direct. While listening to these songs it is easy to forget that all the layers you're hearing: drums, bass, horns, vocals, and guitar were all generated by Eddie himself. The only other musician you'll be hearing on this album is Rhett Huffman, who Eddie had to bring in to handle keyboard duties. We're treated to some sweet shape-shifting slow funk on title track "Left My Soul in Memphis," which finds our hero exiting Memphis for Georgia, all in the name of love. The groove hangs together while Eddie unspools a story with just the right amount of dirt in the vocals to remind you that this low-budget effort was conjured through passion and problem-solving, and not through the latest gear. It wouldn't be a collection of gut-bucket blues without at least one ode to the bottle, and the moody and atmospheric "Bottle and the Blues" fills the bill. While the piano playing from keyboardist/guest Rhett Huffman provides the stable backbone for this song, we get Eddie's first hardcore guitar breaks to match some vocals that he definitely leans into hard and with plenty of sincerity.
Eddie gets extra funky on the bass and the horns are especially out-front on the bayou-flavored "New Orleans," as Eddie does his own call-and-response with vocals and guitar as he plots a nothing-left-to-lose course for the Crescent City. A brief muffled vocal intro sets up "Bending with the Kings," a guitar-based instrumental that showcases Eddie's extensive guitar chops while undercutting the "importance" of the guitar playing with spoken word observations, some of them pretty humorous, delivered in slightly muffled vocal asides. The vocals, and the entire recording actually, sound a lot cleaner on radio-friendly toe-tapper "Woke Up Sweatin'" as it rolls on an infectious-as-it-is-simple guitar riff and some irrepressible, joyous vocals from a man happy that his baby is comin' on home to him. Eddie shows off some muscular Chicago-style blues on "36th & Main" including a horn chart that adds a special extra dimension to this straight-ahead blues stomper. "People let me tell you, ain't no fun being alone," is about as old-school a sentiment as you're going to find in the blues, and it is as true for Eddie today as it was for Robert Johnson 100+ years ago.
Slowing things down and stripping them back to a more rural blues feel, "Ghosts" rolls by slowly like time, or a certain big river, and you feel the weight of both along with the breath of honesty that Eddie delivers with his emotionally forthright guitar breaks. He might be singing "Although I should be crying I just laugh through the day" but the searing guitar break tells you he's crying more than he's willing to admit. Just like the rest of us. There is some irony in the fact that on a DIY, self-generated album like this one, the song titled "Lo-Fi Love" has some of the highest "fi" in the collection. While taking a decent stab at some falsetto lyrical lines on this one, Eddie also manages to touch on some "Blue-eyed Soul" vibes in this memorable track and album standout. Eddie then takes a sharp turn into full-on Funk with "Don't Test Me" where, once again, the slightly overloaded crackle of the vocal mic is the only real indication that this is a homemade jam. The groove is plenty busy but stays deep in the pocket throughout , which is no mean feat when you're the only guy laying down almost all of the tracks.

Closing track "1945 (Cocaine and Rum) brings us back to the straightest of honky-tonkin' outlaw blues. This upbeat toe-tapper makes no bones about how good some bad decisions can feel …at the time anyway. With this confident track, Eddie 9V closes out the collection just as he started it; proudly pushing his low-fidelity blues at full intensity and at the edge of his ever-expanding abilities. He ends the tune, and the album, with a final, off-mic aside to remind you that this was all created in a shack by a guy with more ideas than money.
With this kind of passion and a songwriting style that is still discovering all of its facets, I can only imagine what Eddie 9V will be able to accomplish going forward with more time and perhaps with an actual budget. This was a good album to discover at the end of a long, long year. It is good, and it is a dose of hope, to be reminded that the next generation is still taking the best of what came before them and reshaping it to fit their reality today, because the themes of loss, loneliness and the search for true love are equally real and challenging for every new generation. Eddie 9V is playing from the heart from start-to-finish here, and the results are both familiar and fresh as well as ultimately life-affirming, which is pretty much the definition of the blues, isn't it?
Eddie 9V Online