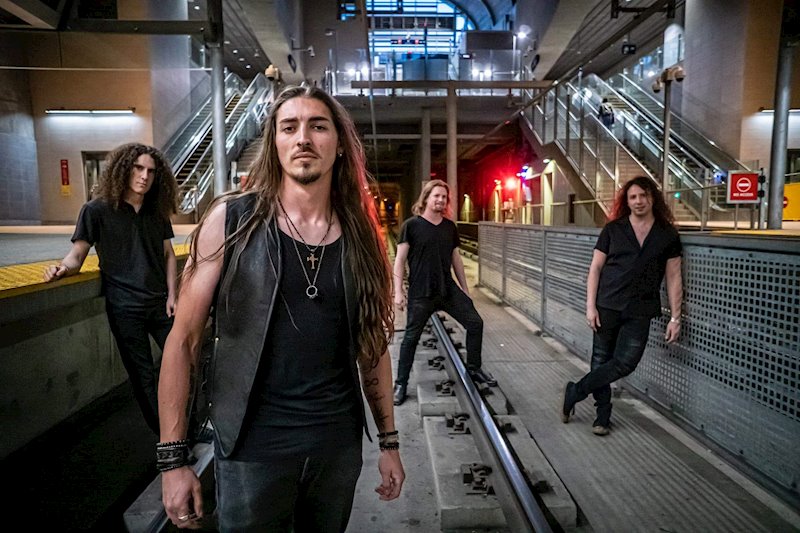 Canadian hard-rockers IN/VERTIGO have signed a worldwide record deal with ROCKSHOTS RECORDS, for the release of their debut EP Sex Love & Chaos," coming out in early 2020.
We love In/Vertigo's single "Bad Enemy." Hard rockin' and smokin'! Not just great vocals by Reed, but an all around gripping sound from this tight, talented rock band. We can't wait for the rest of their upcoming EP, Sex, Love and Chaos. Fresh hard rock with shades of Classic Rock hurled into the 21st century.
Formed in 2016 by local Calgary rock veterans, IN/VERTIGO started right away to create a turbulent force that wreaked havoc throughout Western Canada in the recent past years. The band was able to constantly tour and gig for over two years reaching upwards of 350 shows, even opening for bigger bands such as Diamond Head, Pop Evil, The Wild!, The Lazy's.
In/Vertigo comments on their single, "Bad Enemy": "The first single from Sex, Love & Chaos. We feel this song showcases an all-around view of the band performance wise and musically. This song stemmed from a negative encounter turned humorous and full of karma on one of our tours. This spawned the idea, 'I'm not a good friend, I'm a bad enemy'!"
Watch the video "Bad Enemy" below.

With their revamped and polished debut ep, IN/VERTIGO set out to launch the next great chapter in rock history, making way for most up and coming quintessential Rock 'n' Roll act of this generation. They are hungry, and armed with a sonic Molotov cocktail of sound, aimed at the music world who unapologetically thirsts for classic/hard rock.
In/Vertigo consists of vocalist Reed, guitarist Shaddy Elsaghir, bassist Duncan McCartney, and drummer Keaton Byfield.
'Bad Enemy' is available as digital single on the major online stores:
SPOTIFY ➤ https://spoti.fi/2RiLXaX
iTUNES ➤ https://apple.co/2r97jgk
DEEZER ➤  http://bit.ly/2OMpLVh
For more info on In/Vertigo: