By Martine Ehrenclou
Keb' Mo' is a four-time Grammy Award winner, singer-songwriter, guitarist, producer, and a legendary contemporary bluesman and Americana artist. He is a musical force that defies typical genre labels. With 14 albums, he earned 12 Grammy nominations, 11 Blues Foundation Awards, and six BMI Awards for his work in TV and film. In 2017, he released TajMo, a collaborative album with Taj Mahal, which earned a Grammy Award for Best Contemporary Blues Album. His most recent releases are Moonlight, Mistletoe & You and Oklahoma, which picked up a 2020 Grammy nomination.
Keb' Mo' (Kevin Moore) is known as a modern master of American roots music through his understated excellence in his live and studio performances. The list of artist collaborations is a who's who in music and includes Bonnie Raitt, Taj Mahal, Vince Gill, Amy Grant, Jackson Browne, Natalie Cole, Lyle Lovett, James Cotton, Bobby Rush, Marcus Miller and more. He has been featured in TV and film, playing Robert Johnson in the documentary "Can't You Hear The Wind Howl" and more, and has written music theme songs for major TV shows.
Talking by phone from his home in Nashville, I began the interview by asking Keb' Mo' about his newest release, Moonlight, Mistletoe & You, a feel-good holiday album, that's delightful, original and funny. What I didn't expect, as the conversation progressed, was how honest Keb' was about his music, current issues, and about a turning point in his life when he thought about abandoning his music career. A fascinating and not surprisingly wise, funny and insightful person, Keb' Mo' opened a window into his beliefs and passion for making people feel good.
In answer to my question about how Moonlight, Mistletoe & You came about, Keb' explained that the album began with the last song, "One More Year With You" that he wrote with Beth Nielsen Chapman. To involve the fans, he put a call out on Facebook for requests for Christmas songs for the record. The two picked were "Merry Merry Christmas" (Koko Taylor) and "Santa Claus Blues" (Charley Jordan.)
Martine: Another great song on the album, "Christmas is Annoying" is a crackup. Every adult can relate.
Keb': That was fun. That's an old song. We started digging through the archives and I had "Christmas is Annoying." That's how I was feeling when I was still living in L.A. Like, this Christmas is terrible! (Laughter)
Martine: (Laughter) You have a song "Better Every Day" on the album. It's uplifting and has what I think of as your Keb' Mo' wisdom in it. You end the song with, "I just want to be grateful, that's the name of the game." A number of your songs have a certain wisdom and sincerity. Is that your intention with this song and others on your albums? I've seen you live and the same thing comes through.
Keb': That's all in my intention. My hope is that people, when they encounter either a show or a recording, feel just a little bit better. I want to be a part of the feel good team in their life. "Better Everyday" was really a fluke. That was a big inspiration because it wasn't written for the Christmas record. I thought even though it's not a traditional Christmas song, it has a Christmassy feeling to it and there's no denominational kind of a slant to it, no sleigh bells and snow.
Martine: It's uplifting. Many people need that, especially around the holidays.
Keb': Especially "when all your credit cards are maxed out. There's no time to relax." (Laughter)
Martine: (Laughter) That's right.
Keb': I got the idea from James Taylor's October Road.
Martine: I read that James Taylor was an inspiration for you with your guitar playing.
Keb': Yeah, I love James Taylor. A couple of times I've been around him, there's these couple of signature harmonic licks that he does and I told him, "Whatever you do, don't show me that." (Laughter)
Martine: Are you afraid you're going to copy it and do it all the time? (Laughter)
Keb': Cause I'll do it. (Laughter) Cause if I know it, I'll do it because I love it so much. So, don't show me how to do that.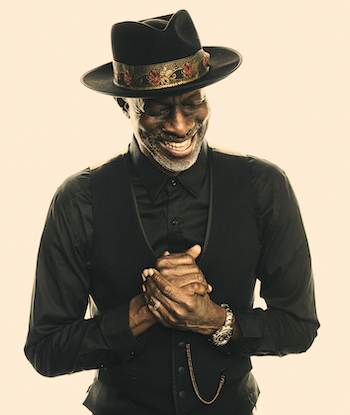 Martine: (Laughter) He's a great songwriter.
Keb': Great guitar player, great singer as well. I listened to him so much in my 20s, 30s, 40s, 50s, 60s, I always felt like if Taj Mahal is my mom and dad, James Taylor is my uncle. (Laughter.)
Martine: That's a great line.
Keb': Taj Mahal and James Taylor influenced me the most in my musical upbringing and made me feel the best.
Martine: I think a lot of people, millions really, think about you in that way. Many of your fans say it's your storytelling, the sincerity in your voice, your guitar chops, obviously. But your storytelling makes people feel good. Listening to your albums, it's a feel good thing. With Oklahoma–that album is so powerful and personal, you deliver the message, but it's with an upbeat, moving approach. I don't really know of anyone else who does that.
Keb': When you tell a sad story you have to stay away from the minor chords. (Laughter)
Martine: Oh, is that true? (Laughter.) So, you deliver the message with a little sweetness?
Keb': You stay in the major. If it's funny, you can do minor. Sometimes, people do protest songs in these minor, kind of angry tones.
Martine: I'd never thought about it in terms of key.
Keb': I mean, like "Oklahoma," that's the angriest song on the record (Oklahoma.) There's anger in that song. Only one person has told me that they recognize that the bridge was a reference to Black Wall Street. "And over on Greenwood, Archer and Pine, lives an elevated state of mind." That's a state of mind for that neighborhood.
Martine: Right.
Keb': In the immigration song, "This is My Home," it's a love song. When you make stories, real people become real. You bring the story alive, brings someone's life alive and then it sheds a different light on the situation rather than having an argument about it.
Martine: In your storytelling there's also respect for others. And that is so apparent in "This is My Home."
Keb': It's just a trilogy with three people. The last one, being myself. I was writing the song with John Parker and we're like, that just came out of the blue. I said, "Whoa, why don't I jump in here? I got a story." All of a sudden, my story became relevant for the first time, that part of my story, my heritage. I could really showcase that in a safe way without going into the hole and where I would run around with a Black Lives Matters T-shirt on. You know?
Martine: Yeah, I do.
Keb': So, it softens everything and makes it human. When you think about the border and all those people that walked through Mexico from Central America. I mean, some of them probably just picked up along the way, but some of those people walked all the way through Mexico.
Martine: Yes.
Keb': How can you just take their children when they get here? You didn't take the children. Come on.
Martine: I know. Tragic.
Keb': That's just the cruelest, most cruelest thing you could do to anybody.
Martine: I'm with you 100%.
Keb': Everyone knows this story. They already know these things and I just point a finger at it. Over time, and time being circular and a cycle, hopefully, these issues come up over and over again. I hope as long as people are listening to these songs, they can be relevant in a sense and they have some kind of way of enlightening people, but quietly to help move the needle.
Martine: What made you decide to release this kind of album (Oklahoma) that addresses environmental issues and immigration? What was your vision for it?
Keb': Well, it's never like "I'm going to do this kind of album." So, Martine, what happens is, if I'm writing things that are true to me, I'm living in the world. I don't have to really conceptualize a record. Because when you put it all together, it kind of organically just comes together because I think if I tried to write an album with a theme, there would be too much similarity in each song.
Martine: I see.
Keb': Every song is about truth and I live there basically. As far as that song, "Don't Throw it Away," it's about a serious issue of plastic pollution. That was just on my mind. So, let me write something that maybe Dianna Cohen can use for her Plastic Pollution Coalition.
Martine: Tell me about your song "Put a Woman in Charge," on Oklahoma. You wrote, "the time has come, we've got to turn this world around, call the mothers, the daughters, we need the sisters of mercy, raise the vibration."
Keb': John Parker and I started writing that song and when it got to the hook, "put a woman in charge," we could not in good conscience not have a woman come help us write that. I called Beth Nielsen Chapman, who came over and helped us finish it. We could have finished it but she came in and she said, "call the mothers, call the daughters, we need the sisters"–that was her. That's why we call Beth because she was going to bring something in there that neither of us knucklehead dudes had. (Laughter)
Martine: (Laughter) You also said 'raise the vibration.'
Keb': Raise the vibration of the planet, the consciousness of humanity, by focusing on the women by letting the women lead. The women have more the nurturing nature that we need right now in a male kind of dominated world. If we listen to the women–that doesn't mean that men just lay down and don't say anything–we bring everybody–women and the children to the party. We're going to feel the magic when the girls take over. (Laughter)
Martine: (Laughter) I hope so.
Keb': Women can be just as knuckleheaded as the guys. We don't own crazy. (Laughter)
Martine: (Laughter) That is truth.
Keb': That's what makes the song fun. It's kind of over the top. (Laughter) It kind of hits you over the head.
Martine: There's a lot of energy to it. It's like an anthem.
Keb': We started with the minor because we're marching down the street. You have to march down the street in a minor key, you can't march down the street in a major key (Laughter.)
Martine: (Laughter)
Keb': We're talking about the feminine energy. In life we need more of that, we need a little love. There's this one story that impressed me about people going to Africa trying to save the Africans. Europeans tore it apart years ago and there was nothing wrong with it. Now people are going to save them. But this is the profound thing–when they went over and they went to this village that was in the desert, people were dying from not having water.
The men were looking to hunt. This woman said that the women knew where the water was, that the women could find the well. But the men were not listening to the women. She just talked the men into letting the women go look, and the women got their intuitive thing together. You know what I mean?
Martine: Yes I do.
Keb': And they found the water, they found the well. Because they think differently. So, we need the women, we need the men, the children, we need everybody. We need the old people, the people who can't walk, the people that can't see. That's the bigger thing about women in charge– everybody's voice counts and at some point everyone needs to do something useful.
Martine: You have that thread of inclusiveness in your music. I think that's part of the appeal because it has respect for everybody.
Keb': I remember the day that I decided to stay in music. I was on a crossroad and I was trying to figure out whether I should move forward in music or whether I should just try something else because time is up and I was too old to really make it. I spent all my time trying to build success and I was deciding whether to just throw in the towel and do something else or just go forward. In that conversation I was having with myself, I looked back and I took stock of everything that had happened. No job I'd ever had, I'd never gotten a raise or promotion. I'd never been looked at on any kind of job at all. But musically I had been looked at a lot of times, musically I had a lot of opportunities, a lot of chances. Like I said, everything in my life pointed me towards music.
Now, I'm deciding whether to move forward. And in that moment, I told myself, I must be relevant still because I think, and this is going to sound morbid, if I wasn't relevant, God would have killed me by now. (Laughter) Really, I mean, I would be gone. It's pretty harsh. But I figured if I had no purpose, then I didn't belong in the world, then I would have died. Does that make sense?
Martine: Do you mean because you loved music so much that if you couldn't do it, you would have died?
Keb': No, it was my relationship with the world. Do I fit? Do I matter? I decided, well, I'm still here after all this. Poverty didn't kill me–I must matter. So, let's see if I matter once I do music. I just decided that I must matter. I'm still here because nature kind of takes things away that it doesn't need any more.
Martine: It kind of falls away.
Keb': Or if you've evolved to the point where you've done what you needed to do. I look at the assassination of Martin Luther King. I look at that and I go, okay, Martin Luther King is one of the most significant people ever lived. Why was he assassinated? And then when I listened to the "I Have a Dream" speech, that is such a profound oratory, when I listened to that close, I go like, Holy shit, he achieved in life some kind of enlightenment. He saw something, and he graduated to the next level. The bullet was his ticket out to the next realm, whatever that is. I just figured, well, I'm still here. I got more shit to do. (Laughter)
Martine: (Laughter) Yes, you do.
Keb': (Laughter) I must have shit to do because I'm still here.
Martine: You have a lot more shit to do, and a lot more to say.
Keb': That's why we need everybody because I felt like I was needed and I didn't think I was anybody.
Martine: That's a meaningful statement.
Keb': I just surrendered, and low and behold, in that moment, Martine, literally, everything changed.
Martine: Tell me about that.
Keb': The next day I got a steady job in a nightclub.
Martine: Tell me more.
Keb': From that point on, I was never without work ever again.
Martine: That's amazing.
Keb': I mean never.
Martine: Do you think that it's because you aligned with your purpose?
Keb': I aligned with my purpose and I got out of my own way. This wasn't a great gig. It was just like a gig in a club down in South Central (Los Angeles), 40 bucks a night, I made it on 40 bucks a night. Maybe it was 50. It was 200 bucks a week, not much.
Martine: But you did it.
Keb': I did it.
Martine: That takes such courage to make that kind of evaluation that you described, but also then to commit to it. It takes so much courage to do that. I think that's hard for a lot of people to do.
Keb': It is because there's fear of being homeless. Fear of being laughed at, fear of being … I don't know just fear.
Martine: Fear of failure maybe.
Keb': I just figured I had fears already and it didn't kill me. (Laughter) So I'll just keep going.
Martine: (Laughter) Well, I'm sure glad you did. You have and do make such an impact on the world, not just with your music but with all the things you do.
Keb': Thank you.
Martine: I think I've taken enough of your time today. Thank you so much talking with me. It's been such a pleasure. I really enjoyed it.
Keb': This has been really great, I've really enjoyed talking with you. Thank you for taking the time to do this.
For more information on Keb' Mo', his two recent albums Moonlight, Mistletoe & You, and Oklahoma: