By Martine Ehrenclou
It was a chilly night, cold for L.A. anyway, when I stepped into the Maui Sugar Mill in Tarzana, CA on Monday, December 9th to see the great Guy King perform his brand of contemporary jazz infused blues. Inside the intimate venue, not unlike someone's living room with a 70's feel, there was electricity in the air, anticipation to see such an outstanding guitarist, singer-songwriter perform up close and personal.
The shows that Cadillac Zack puts on are almost like a secret handshake among music connoisseurs, blues fans in particular. They are one of a kind, extraordinary events with some of the best, and I do mean best, blues artists from all over the world.
Blues Music Award nominee Guy King is no exception. A Chicago native, originally from Israel, and with four albums to his name, he's considered one of the greatest contemporary blues musicians today, with one foot in the roots of traditional blues. I'd watched a number of King's videos but seeing him live was something else altogether.
Seated a few feet from the stage, Guy King appeared with a beautiful Gibson 335 in hand. Dressed in a sport coat, jeans, and scarf around his neck, King looked as buttoned up as Ray Charles in his prime. King greeted the crowd with confidence, secure in his place on the stage. Bass player Mike Merritt (Conan, The Basic Cable Band) followed, along with Vince Fossett Jr. (Natalie Cole, Sleepy Brown) and keyboardist Larry "Big House" David (Keb' Mo', Bo Diddley, Roy Gaines).
After welcoming the fans who had come to see him, Guy King and the band kicked off the 2 ½ hour set with the up-tempo "Go Out And Get It" a funky, R&B groove tune from his album, Living It. Right from the start, King blew everyone away with his guitar chops—a mix of melodic, blues and jazz riffs. Then he let it rip with his soulful voice.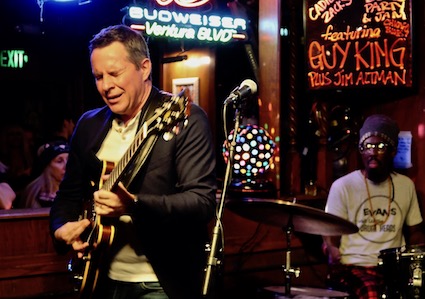 By the time King and his band of top shelf musicians launched into a Ray Charles cover, "Mr. Charles Blues," scatting along with his guitar solo, King had the audience in his grip. With an enviable vocal range packed with power and soulfulness that runs deep, he owned that stage. Larry "Big House" David performed a beautiful solo on piano/keys, followed by King's jazzy blues guitar solo. This nearly brought the house down. On their feet now, the crowd leaned in toward the stage.
A knockout up-tempo version of "Come Back Baby (Let's Talk It Over)" shifted this party into high gear with the power of a V-8 hot rod engine. This was some version of the blues song. Guy King hit his stride with this one, the rhythm infectious. Fully into the song, King worked his magic on that Gibson 335. He and the band were so immersed in the music, it was a thrill to watch. King's mastery of guitar and vocals peaked as he let loose and dug into the groove, Mike Merritt at his side.
You can't buy that can't kind of passion for performing music the way King and the band did that night. The musicianship was so outstanding, it drove intense energy in the room.
After a few rip roaring blues covers "Sweet Home Chicago" "Red Hot Mama" among them, plus a couple of originals off Guy King's CDs, he and the band whipped out a stunning version of the hit soul song, "Sunny" with a bluesy jazz sheen. King scatted along with his guitar riffs and to say his voice was stunning on this tune, is an understatement. Such a dynamic, soulful singer with his own unique vocal phrasing. Throw in some influence from Ray Charles and Albert King, maybe some BB, with his original guitar playing and vocal style, and you have a master musician with the kind of stage presence necessary to pull it all together.
Fully energized by now, the crowd greeted Brazilian guitarist, singer-songwriter Artur Menezes with clapping and hollering as he was called up to the stage to join King and the band for "Kind Hearted Woman Blues." Menezes didn't win the Gibson/Albert King Award for Best Guitarist for nothing. With his distinct guitar tone and style, Menezes killed it, adding sparkle and shine to the evening. He and King have some kind of musical chemistry.

That's how the evening went. One firecracker song after the next, with Guy King at the helm, dazzling the crowd. Drummer Vince Fossett Jr. had his turn in the spotlight with one helluva drum solo, inventive and sophisticated, to say the least. And Mike Merritt took his turn to solo on bass, an elegant, simmering start that ramped up to a fever pitch of masterful playing. These musicians, I tell you—stunning.
Nearing the end of the show, as you might expect, some of the crowd had imbibed. Glasses clinked and chatter littered the back of the club. King took charge of that audience and in the midst of a song said, "Wait a minute, listen." And then played that Gibson 335 with such a soft touch, all tone and feel, sweet riffs that reminded me of BB King. The crowd fell silent, King's soulful playing the only voice in the room.
Guy King is the real deal. That 2 ½ hour performance went by like five minutes. I left there as if I didn't have a care in the world, vowing to return to one of Cadillac Zack's blues shows the following week.
For more information on Guy King: