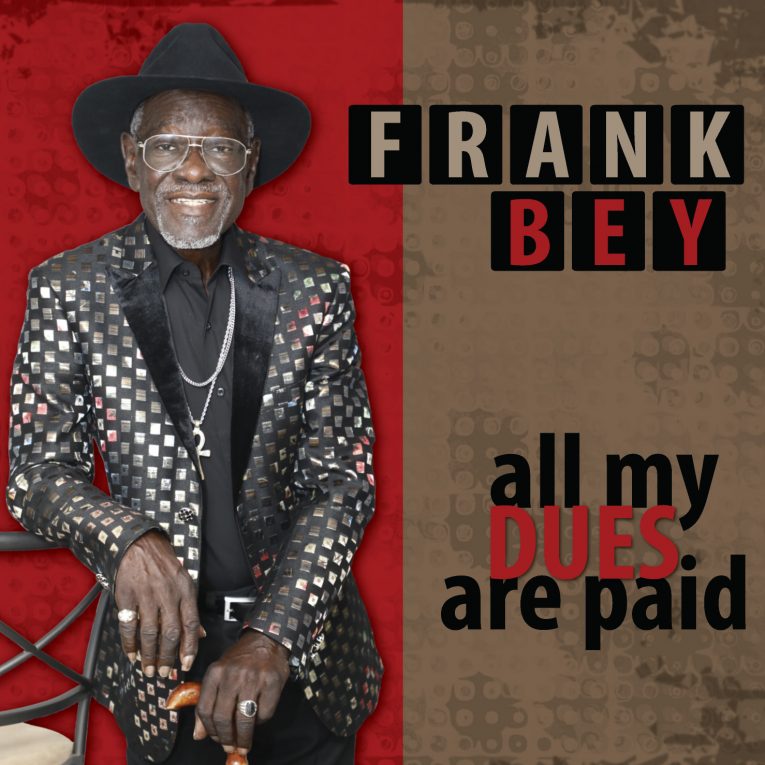 By Tom O'Connor
Nola Blue Records starts your new year off right with the January 17th release of soul-blues crooner Frank Bey's much anticipated and accurately titled All My Dues Are Paid. This collection of covers is a showcase for Bey's heartfelt, sincerely delivered vocals and a reminder that you have to be brave enough to fight for your dreams. Collaborating with Kid Andersen and Rick Estrin at Greaseland Studios, along with an all-star cast of multi-Grammy winning musicians, Bey's seventh album is one of his best, if not his best. All My Dues Are Paid is an 11-song collection of glorious blues, funk and soul and a follow-up to his critically acclaimed Back In Business.
After starting out in Georgia as a gospel-singing child and later fronting some Soul/Blues '70s bands that should have found bigger audiences, Frank Bey's story became a series of near-misses and bad experiences with the music business. How bad? Bad enough to quit the game for nearly two decades, before coming back strong around 2008. This new, re-born, stage of his career has finally brought Frank Bey some critical recognition and more-than-a-few Blues Music Award nominations for "Soul Blues Artist of the Year" and "Soul Blues Album of the Year."
When your dues are paid, as Bey's are, you have no trouble rounding up all the elite musicians you could possibly need. This album features so much casually brilliant and in-the-pocket playing from a revolving cast of players, that I'm bound to forget a few. What is clear though, is that everyone involved plays their turn with confidence, simplicity and a singular focus on the song, giving Bey all the room he needs to warm your heart and soothe your tired soul with his masterful vocals.
The dirty wah-wah guitar bouncing off the baseline in opening track "Idle Hands" clues you that you're in for as much Soul as you are Blues on this record and that it'll also be carrying some heavy themes. In this case, Bey focuses his attention on the seemingly eternal struggle for civil rights. He then turns his honey-smooth vocals to the easy groove of the Billy T Band's break-up classic "One of These Days." Don't miss the ethereal backing vocals from Lisa Leuschner Andersen, offering a perfect counterpoint to Bey's baritone.
Title track "All My Dues Are Paid" is a popping, Memphis-Blues style autobiography as defiant and proud-stepping as any song as you're likely to hear this (new) year, right down to the burbling B3 organ and the razor-sharp horn lines. Speaking of horns, multi-Blues Music Award nominee Nancy Wright's prodigious sax talents add a shimmering extra layer of cool to the noir-blues of the Nightcats' "I Bet I Never Cross Your Mind."
Bey pays special attention to "poet laureate of the blues," Percy Mayfield, with two covers; the hot-like-fire jump blues of "Never No More" featuring Paul Olguin's bass, Paul ravel on drums and Kid Andersen's always tasteful guitar work. This is immediately followed by the slow-swingin' and dazzlingly precise "Ha Ha in the Daytime."
Showing no fear, Bey also sets his sights on some more iconic songs and manages to make them his own. Showing he knows his way around Country music, he effortlessly breathes fresh pain into George Jones'  classic heartbreaker "He Stopped Loving Her Today." He later stunningly reimagines Lou Reed's "Perfect Day" with a heavy gospel feel and a slow build that feels just about right. He then closes the collection out with a barn-burning version of John Lennon's "Imagine." At 6:39 mins, it is the longest track on the album and Bey and company pull out all the stops on this one. Reaching what would be the emotional peak for anyone else at just three and a half minutes in, Bey and the band then deconstruct and pull the song in every possible direction before building it up one more time for a grand climax.
It is a new year and a new decade. As we look out at the hazy vista of what might or might not be in store for us down the road, it is important and timely, to be reminded that no matter what year it is, some things are always important: heart, commitment, and sincerity. After a lifetime of commitment to his dreams and a desire to deliver his sincerely held message of hope and perseverance for all,  at 70+ years old, Frank Bey is one of the greatest voices in soul-blues and one we need for this new decade.

For more information on All My Dues Are Paid by Frank Bey: