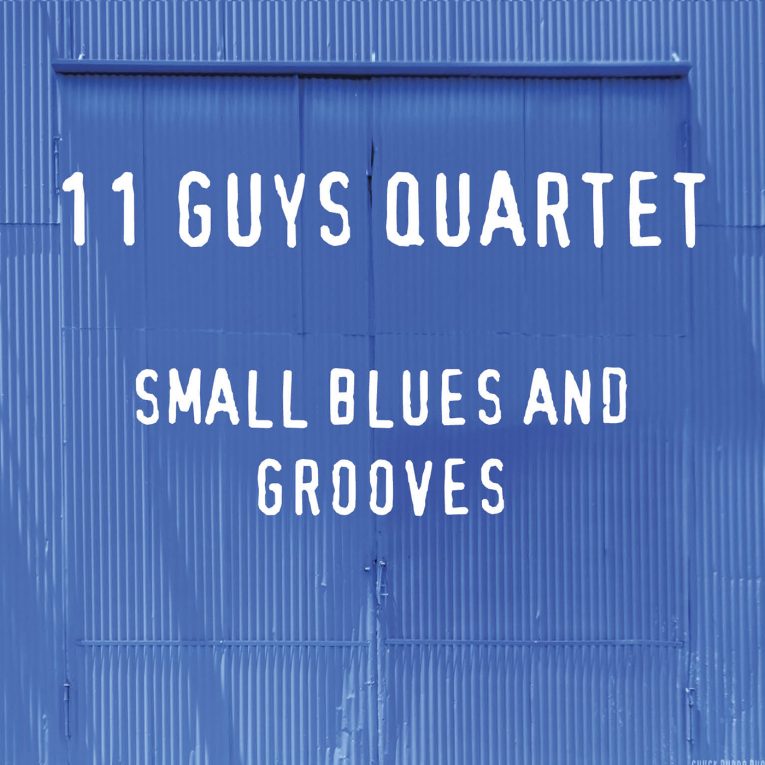 By Mike O'Cull
The 11 Guys Quartet delivers a vocal-free treat with its new record Small Blues and Grooves. Set to be released January 10th, 2020 by the VizzTone Label Group, Small Blues and Grooves is an exceptionally listenable 14-song set of blues instrumentals that shows the band to have a masterful, nuanced touch with any style of blues music it takes on. The record was tracked live in the studio in 2008 and each cut is an unaltered document of what happened when the Quartet set up and started to play. We get straight-ahead blues, mood pieces, and creative variations that are all done just right, with no grandstanding or overplaying. Taken as a whole, Small Blues and Grooves is a strong statement of how viable the classic guitar/bass/drums/harmonica format will always be.
The history of the 11 Guys Quartet goes back to the Boston club scene of the early 1980s. Known as The 11th Hour Band back then, the enduring lineup of Paul Lenart on guitar, Bill "Coach" Mather on bass, Chuck Purro on drums, and Richard Rosenblatt on harmonica, kicked up more than a little dust with their brand of rockin' blues. The band put out an amazing album called Hot Time In The City Tonight on the fledgling Tone-Cool Records imprint and continued to generate heat for the next number of decades. The original four members reconvened for this project in 2008 and quickly demonstrated that not one step had been lost over the years. Small Blues and Grooves is a tight, understated record full of deep pockets, sublime phrasing, and an energetic understanding of true blues playing that will delight roots music fans around the world.
The record opens with "Road Trippin'," a brilliant Freddie King-style shuffle custom-made for dancing and carrying on. Rosenblatt's harp work drips with the gritty tone and articulate phrasing of the Old Masters, and along with Lenart's guitar playing, kicks the party off in fine style. The four players lock in so well together that every moment of the track is a hip-shaking delight. "Jackrabbit" takes the band's kinetic energy up a few ticks by driving a high-test "Mojo Working" groove underneath the iconic "My Babe" form and putting a brick on the gas pedal. It's a super-hot track that showcases the Quartet's house-rocking power.
"Doggin' It" gets down into some mid-tempo fatback funkiness that lets the entire group shine. The rhythm section of Mather and Purro keeps everything rocking steadily along and gives the harp and guitar parts an ample platform to build upon. "Speakeasy Serenade" is a chilled-out selection with a late-night vibe that will keep listeners hanging on each new note. Lenart drops some extra-tasty guitar here that shows off his extensive blues vocabulary and control.
"Swing Low" is moody, brisk, and muted all at once. It's a simmering pot of blues goodness that will make you lean forward and listen close to make sure you don't miss anything. The band uses space very well and builds up steam in an organic way as the song progresses without ever boiling over into rock and roll. "Hey Daddyo" hits its Bo Diddley beat right on target and gives Rosenblatt and Lenart plenty of room to roam. "Rhumba Boogaloo" works its magic by employing the often-overlooked blues rhumba feel in a cool, low-down way and brings us the more outside parts of Lenart's guitar style. The closer, "Swamp Ride," goes even lower and leaves you in a tremolo-shaking state of soulful, three-chord bliss that'll make you want to start the album over again from the top.
The 11 Guys Quartet gets high marks for taste and authenticity all the way through Small Blues and Grooves and has the skills needed to lively up any stage out there. Don't let this one get by you.

For more information on Small Blues and Grooves by 11 Guys Quartet: