By Martine Ehrenclou
The long awaited third studio album Peace in Pieces by powerhouse, blues and roots singer-songwriter Betty Fox, is released January 10th, and produced by Fox, John Nelms and Barry Williams. Recorded at FAME Recording Studios in Muscle Shoals, AL, this 14-track album includes 13 originals and one spiritual. It's a blend of Southern soul, blues, gospel and funk with one tremendous vocalist at the helm.
Featuring Rock and Roll Hall of Fame pianist/organist Spooner Oldham as well as the highly acclaimed FAME horn section, the Betty Fox Band includes Betty Fox on vocals and guitar, Josh Nelms on electric guitar, Barry Williams on bass, Chris Peet on drums, Clayton Ivey on organ and grand piano, Brad Guin on sax, Ken Watters on trumpet, and Cindy Walker, Marie Lewey and Betty Fox singing backup.
One click on Southern soul/rock and roll opening track, "Green Light," and Betty Fox's soulful, bluesy and gospel vocals flood the room. You might find it hard to believe that Fox is 27 years old as she seems to draw from old-soul spirit with dazzling vocal swagger. With a voice like hers, there's only great things in store.
With the highly acclaimed FAME horn section, "Winter's Cold" welcomes you into Fox's lifelong passion for soul music. She comes by that rightly as she was raised by a family of musicians who would all gather around the piano and sing four and five part harmonies on gospel classics. The horn section couldn't be better on this up-tempo love song.
With an insane vocal range, Betty Fox glides through soul, R&B/gospel tunes, some up-tempo and catchy like the title track, "Peace in Pieces." A fun, rhythmic stomper, this tune also features a delightful guitar solo by Josh Nelms, adding to the sparkle. A standout.
"Let Go or Be Dragged" slows things down a bit and hurls the willing listener into a neo soul burner with Fox modulating her voice to deliver a fiery seduction. Her voice has hints of some of the great R&B singers with gospel roots such as Chaka Khan and Patti Labelle. There's a little Etta James sprinkled around the edges but Fox's voice is uniquely her own. The entire band is outstanding.
The autobiographical "Sweet Goodnight" was written by Fox with help from her stepmother in the face of Fox's late father who died of Lou Gehrig's disease. This song and the way Fox so soulfully sings it, raised the hair on my arms as well as brought tears to my eyes. If you've lost a parent to a tragic disease, grab the Kleenex—that's how moving this tune is, and how expertly Fox delivers.
Diving into a jazzy, jump blues number with great groove, "Rising Strong" makes good use of the horn section and band—they are tight, smooth, and connected. Nelms ads another elegant guitar solo to an already great tune. Fox stretches into a number of vocal growls—her voice is intense, raw. Perhaps as this young singer matures, she might draw back from her enviable vocal gymnastics in service of the song.
The album closes with "'Til The Storm Passes," a gospel spiritual with elegant piano and organ. Fox's vocals prove to be another hair raiser with brilliant vocal power and control. She seems right at home on this standout song that offers hope and strength to face challenges. A beautiful ending to a solid album from Betty Fox and her band. I look forward to what will surely be a fast-moving music career for this incredibly talented artist.
Betty Fox is a force.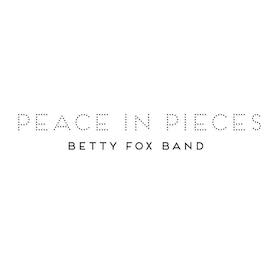 For more information on Peace in Pieces by the Betty Fox Band: