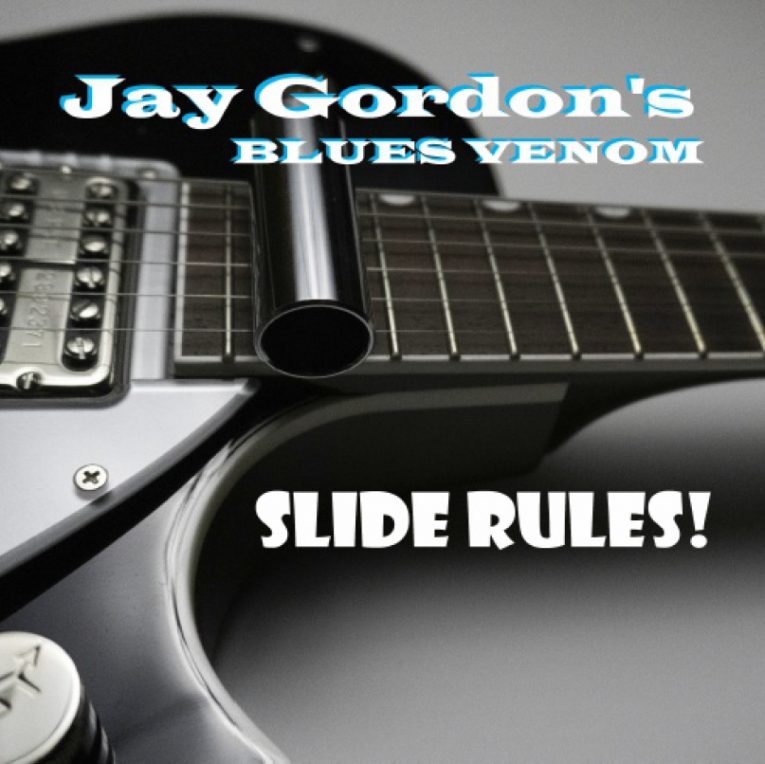 By Mike O'Cull
Jay Gordon and Blues Venom continue and expand upon their lifelong love for the raw, real blues on a blazing new album called Slide Rules. Released in November of 2019 by Shuttle Music, Slide Rules is a masterful set of rough-edged, roadhouse-style blues/rock that leans more than a little toward a sound Gordon himself, calls "extremely dangerous." Gordon is a ferocious slide guitarist and singer with a live, in-the-moment style that's impossible to ignore. He effortlessly generates that delicious ragged-edge feeling of someone going so hard that you expect him to crash and burn at any moment but never does. His sound is informed by players including Johnny Winter, Buddy Guy, and Stevie Ray Vaughan but isn't imitative in the least. Like all true legends, Gordon puts his blues down his own way.
Originally from Chicago, Gordon developed his slashing manner and overwhelming presence over the course of 15 albums and countless nights on the road. He was selected by Eric Clapton to perform at the 2004 Crossroads Guitar Festival and has played with or opened for a slew of A-List artists that includes Johnny Winter, ZZ Top, Lynyrd Skynyrd, Paul Rogers and Bad Co., .38 Special, B.B. King, Def Leppard, Buddy Guy, Albert Collins, and Montgomery Gentry. He's won a trophy case full of awards and has had his music used on TV and in a major motion picture. He's an entertaining and engaging musician who makes records that sound like he's playing in the same room with you.
Slide Rules kicks off with slow and intense "Dripping Blues." Gordon's bold guitar tone and loud-and-proud vocals fill in all the air inherent in the trio format he employs and go down like brown liquor in a dirty glass. Gordon is instantly hypnotic, fearless, and larger-than-life. His slide guitar vocabulary is expressive and unending and Gordon relentlessly drops new ideas in much the same way Johnny Winter did. "Pain" follows at a similar low-down tempo but hits even harder and displays more melodic inventiveness. You can feel Gordon building up steam from track to track and it's a soul-cleansing experience. Bassist Sharon Butcher is the perfect foil to Gordon's wildman style, laying down a huge, steady pocket that gives him all the support he needs to burn the house down.
"Lucky 13" is an invigorating blast of upbeat boogie full of blues attitude and rock energy. Gordon comes on strong and plays with a sense of wild abandon that's refreshing and real. "Voodoo Boogie" ups the ante even further with an audaciously overdriven guitar sound that drives Gordon to new, soul-drenched heights. Gordon has given his life to the blues and that fact is more than evident in moments like this. "El Diablo Blues" borders on lo-fi garage rock like The White Stripes and washes over you like a tidal wave of pounding drums and tough slide guitar. "Six String Outlaw" is more straight-on rock and roll that features Gordon riffing hard and shouting with the fervor of a barroom preacher.
Every second of Slide Rules explodes with a sense of life lived for adventure and Gordon's brand of modern primitive blues/rock is captivating and authentic. He's the kind of player who reminds people that they're still alive and there's still real music out there to jam to. If you haven't heard Jay Gordon, cue this platter up and make your own day. If you have, you already understand.
Jay Gordon and Blues Venom Online