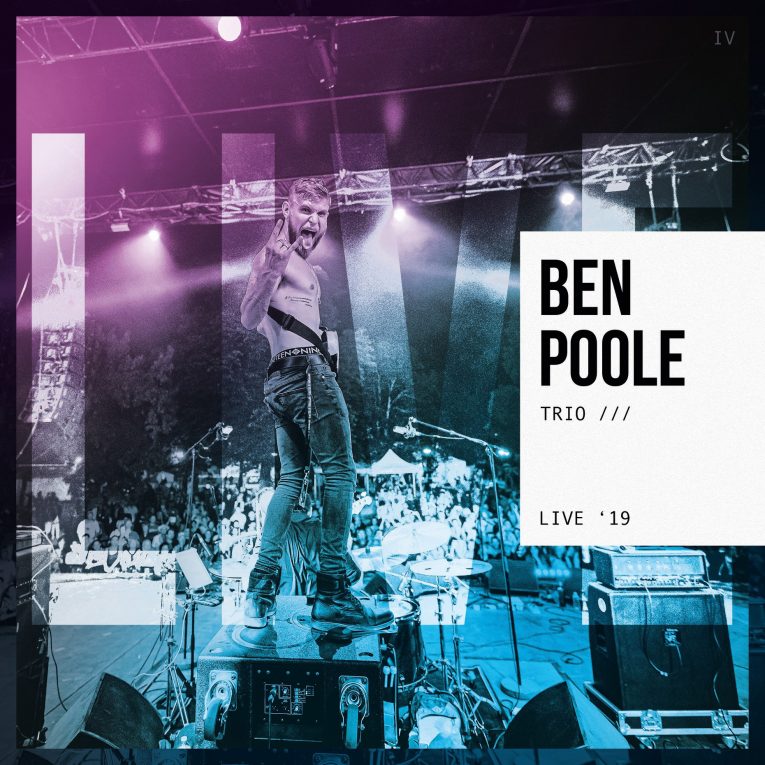 By Tom O'Connor
Start your new year with a blast of new generation blues/rock power with the January 31st release of Ben Poole Trio Live '19. In the classic tradition of "double live" albums, this 2-CD collection of live tracks, recorded over three nights, includes highlights from previous studio albums and does double duty as both a gift to ardent fans already in-the-know and an introduction to the uninitiated.
While still young and on the rise, singer/guitarist Ben Poole has been climbing the competitive rock ladder in a big hurry with stand-out albums including Let's Go Upstairs (2012) and Time Has Come (2016) and the instant classic Live At The Royal Albert Hall that was released… could it really be five years ago already?
The years of touring and recording have further tightened up an already mind-melding trio. Steve Amadeo's bass and Wayne Proctor's drumming are rock-solid whether the groove is loose or tight, fast or slow, leaving Poole all the territory he needs to dazzle on guitar whether finding just the right ringing note to hold or going all-out on an unhinged, distortion soaked jag. There's a reason Jeff Beck has described Poole as "F—ing Amazing."
The first CD opens with a standout track from 2016's Anytime You Need Me. "Take It No More," with its grinding mid-slow tempo blues groove is a good intro, but it only hints at what you're in for. A few tracks later "Start the Car" gives you your first real taste of Poole's solo prowess, but even that is left in the dust by the epic 11 minute tour de force of "Have You Ever Loved A Woman" which opens with three minutes of Poole's fretboard jumping blues riffs before the first lyric, and then another two minutes of just guitar and vocals before the rest of the band joins in. After that, the trio seems intent on seeing just how far they can take the song, and the audience. Hint: pretty damn far. This track is as much a showcase as it is a challenge to any guitar player who thinks they can hold your attention as well, and as long, as Poole can. Turning on a stylistic dime, "The Question Why" then shimmers with a Robert Cray-adjacent groove that morphs into another wide-ranging guitar exploration.
Disc two opens with "Lying To Me" a casually dazzling clinic in syncopated groove creation which is soon followed by the slow-walking "Found Out The Hard Way" which is pretty much as close as the band has come to a ballad so far in this collection, but even this potential tear-jerker slowly but surely revs up to a blistering finish.
The collection closes out with not one, but two more extended mini-epics that combine for 30 minutes of multi-directional sonic exploration. "Anytime You Need Me" is basically a groovy love song that might or might not be about a healthy kind of love, depending on what section of the song you're in. Ben Poole and the band play with the dynamics in every imaginable way on this track, building up one moment then dropping down to just a kick drum the next, while the audience, clearly on board even in the quiet parts, patiently awaits whatever might come next as this power blues/rock trio teeters on the brink of 'Jam Band' status. Of course they end with a raved up groove and an unhinged solo break from Poole.
Album closer "Time Might Never Come" comes at you moody, heavy and slow, with Poole taking a less-is-more approach to his guitar work in the early sections of this heavy-hearted ballad. I was again impressed by the patience on display here, by the band and the audience, as Poole's guitar, and the song itself, break off in several different directions before finally being unleashed like a screaming banshee of cathartic emotion. The mellower, but still dazzling, coda at the end eases you back into reality… until you hit 'play' on the whole thing again, and it is very likely you will.
Just a couple weeks into 2020, Ben Poole Trio Live '19 is already a surefire "Album of the Year" contender.

For more information on Ben Poole Trio Live '19: