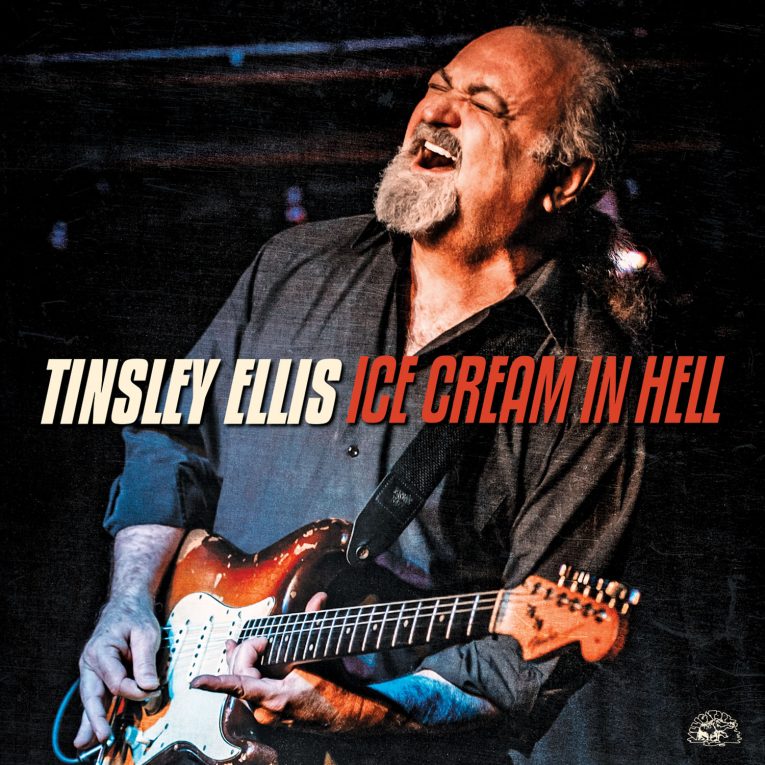 By Mike O'Cull
Guitarist/vocalist/songwriter Tinsley Ellis has been one of the rulers of the blues/rock world for decades and has built his career on a foundation of gruff, emotive vocals, extra-hot guitar skills, and top-notch original songs. His latest release is the album Ice Cream In Hell, which leaps out into the world January 31st, 2020 on Alligator Records. Tracked in Nashville and produced by Ellis and his longtime co-producer Kevin McKendree (John Hiatt, Delbert McClinton), Ice Cream In Hell reinforces Ellis' legend with 11 new songs full of intense, lyrical guitar playing and impassioned vocals. He draws influence from giants like Albert King, Peter Green, and Hound Dog Taylor but always maintains his own sound and space.
The Atlanta-born Ellis first hit the highway 40 years ago and has put out 17 solo albums prior to Ice Cream In Hell. He came up learning the music of The Yardbirds, The Animals, Cream, The Rolling Stones, and The Allman Brothers before discovering the hard blues of B.B. King, Muddy Waters, and Howlin' Wolf. He's grown a global audience one incendiary gig after another and exists at the pinnacle of the 21st Century blues scene. Ellis casually drops the kind of masterful guitar and vocal phrasing that can't be taught on each track of Ice Cream In Hell, demonstrating why he is one of the most famous blues artists working today.
Tinsley Ellis opens the record with the Stax/Volt groove of "Last One To Know," a chugging mid-speed homage to all things Memphis. His love for Albert King is proudly emblazoned on his sleeve here and Ellis goes hard in the paint with the same kind of brawny soloing King added to the blues/R&B lexicon. It's a sound built on purpose and commitment, not flash, and it's more than evident that Ellis means every note.
The title track, "Ice Cream In Hell," goes deeper into the funky, minor key R&B bag and finds a lot to work with inside. The song is a hard-nosed rebuff of an ex who needs to stay gone rendered over a smooth, syncopated pocket. Ellis personally adds sand to the song's message with his curt vocals and soaring, overdriven guitar lines. The track is a strong bit of business and deserves to be the set's namesake.
"Sit Tight Mama" throws "smooth" out the window and fills the gap with the slashing two-guitars-and-a-drum-set barroom boogie style of primordial Alligator artist Hound Dog Taylor. This bass-less approach is the ultimate in old-school street blues cool and Ellis lays it down like he was born to it.
"Evil Til Sunrise" is a hard-driving blues/rock track with a vivid, octave-jumping riff and a percolating soul beat. Ellis wails with authority using a gorgeous vintage Strat tone for both lead and rhythm that's sweet and true. Tinsley is well-known as a guitar aficionado who tends to lean towards the Gibson side of things but he rocks Leo's triple-pickup masterpiece on this one like a boss.
The seven-minute closing song "Your Love's Like Heroin" digs down to the essence of the blues. It's the whispered prayers of an addict who knows he's in a live-or-die situation with someone he just can't seem to quit. The track is mournful and somber but ends the record on an unforgettably powerful emotional moment. Ellis is still very much firing on all eight cylinders on these sessions and the passage of time has only enhanced his taste and touch. Ice Cream In Hell is yet another fine effort from one of blues music's prime movers who still has a lot to say.

For more information on Ice Cream In Hell by Tinsley Ellis: