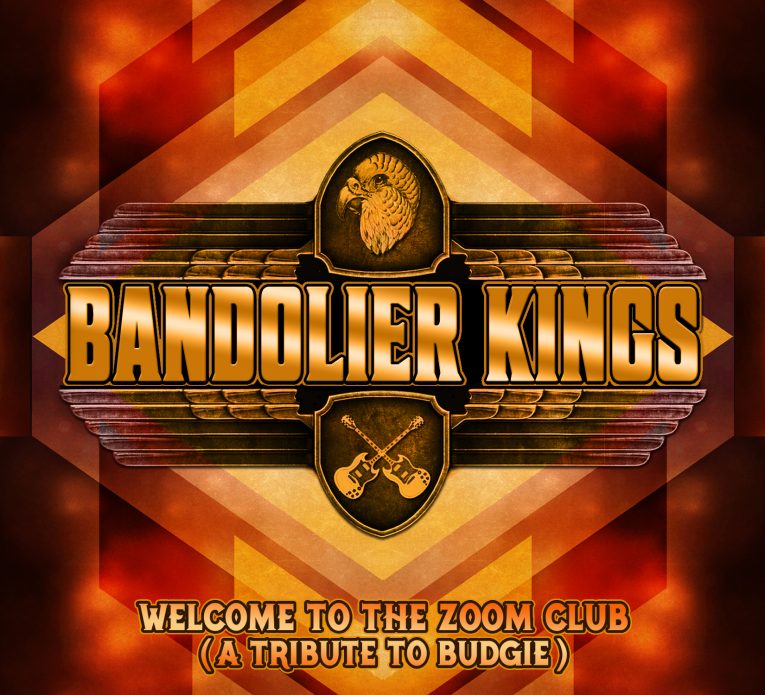 By Mike O'Cull
Bandolier Kings is an inspired and hard-rocking tribute project dedicated to the seminal Welsh power trio Budgie. The album is called Welcome To The Zoom Club (A Tribute To Budgie) and was released in the USA December 12th, 2019 on Grooveyard Records. The European release is set for January 24th, 2020. Bandolier Kings was launched by Swedish guitarist Janne Stark (Overdrive, Mountain of Power, Grand Design, Constancia, Merryweather) and Grooveyard manager Joe Romagnola. Original Budgie members Tony Bourge (guitar) and Steve Williams (drums) appear on the record as part of a distinguished supporting cast that features drummer Ian Haugland (Europe), vocalist/guitarist Tony Spinner (Toto, Paul Gilbert), and drummer Peter Hermansson (220 Volt, Talisman, John Norum).
Budgie was one of the first bands to play heavy metal back in 1971 and has been a deep but under-appreciated influence on many artists who came after them, including Iron Maiden, Metallica, Megadeth, Van Halen, The Melvins, Queens of the Stone Age, Alice in Chains, and Soundgarden. Budgie's sound was often described as a cross between Rush and Black Sabbath because of its riff rock foundation and bassist/vocalist Burke Shelley's Geddy Lee-ish high tenor voice. The band's legacy has remained somewhat obscure in the modern era despite inspiring so many high-profile bands and Bandolier Kings offer a long overdue tip of the hat to one of the original progenitors of rock and metal.
"Breadfan (Rocking Man)" is the first jam on deck and Stark and friends power it up in a way that highlights why Budgie drew comparisons to early Rush. It's heavy, bluesy, and technical in that same way, built on a fast rock ostinato played in lockstep by the guitar and bass. Tony Spinner does a fine job here and throughout the set tackling Burke Shelley's unique singing style and channels the proper vibe for this sort of pumped up 70s rock. "Crash Course In Brain Surgery" skews more to the Sabbath side and lets the guitars and drums run free. It's an energized and well-executed take on Budgie's 1971 single, a proto-metal track with a sound that's still part of the rock vocabulary today. The more you listen, the better you understand why Budgie matters.
"Napoleon Bona Part 1 & 2" foreshadows modern prog-metal in a major way. Budgie's light-to-heavy dynamics, long non-pop song structure, and intelligent grit are timeless under Stark's direction and he again shows us how innovative the group was in its original period. "You're The Biggest Thing Since Powdered Milk" is lusty, harder-than-Zeppelin blues/rock with hints of chops-laden stoner metal. It's one of the best songs on the album, especially for guitar fans, and demonstrates the high level of musicianship that Bandolier Kings bring to this material.
"Rolling Home Again" shifts gears into a jangling acoustic sound that, while certainly tuneful, still contains some dissonance and some uncommon chord changes that conspire to give the song a strong identity. It's a smooth and breezy ride on a summer day and makes a perfect transition away from the aggressive tracks that precede it. "Zoom Club" gets back on the prog-rock track with long guitar breaks, a well-conceived arrangement, and a run time of nearly ten minutes. Still, it's hard rock at its core, eschewing the delicate touch of progressive icons like Yes and Genesis for a much more glandular approach.
Welcome To The Zoom Club (A Tribute To Budgie) is very much a passion project for Stark and everyone else involved and they all bring their A-Game to these sessions. Budgie should get more respect and remembrance than it typically receives and Bandolier Kings deserve mad love for shining a light on this important band that helped create much of the sound of heavy music. Put this one through your ears and let the Kings take you to school.

For more information on the Bandolier Kings 'Welcome To The Zoom Club (A Tribute To Budgie)