By Kevin Porter
Legendary Texas blues guitarist, singer-songwriter Jimmie Vaughan is considered Blues royalty, known as one of the leading guitarists who was responsible for opening the national market for roadhouse blues and R&B. He first came into prominence as a founding member of The Fabulous Thunderbirds with vocalist Kim Wilson, which released seven albums until Vaughan departed in 1990. That same year, Vaughan collaborated with his brother, Stevie Ray Vaughan, on the album Family Style. Influenced by guitarists like Freddie King, B.B. King and Albert King, Vaughan developed a tough, lean sound that  became one of the most recognizable sounds of blues-rock.
Vaughan's seventh solo album, Baby, Please Come Home is nominated for a 2020 Grammy Award. He has won four Grammys, and received eight Grammy nominations.
Based in Austin, Texas, Jimmie Vaughan has played and recorded with Eric Clapton, Robert Cray, BB King, Hubert Sumlin, John Lee Hooker, Delbert McClinton, Steve Miller, Sue Foley, and others. He has also performed on the TV show Conan, on PBS' Austin City Limits with the Foo Fighters. Vaughan kindly talked to us by phone.
Kevin Porter: Thanks for taking the time to talk to me. All of us at Rock and Blues Muse love your new record, Baby, Please Come Home. You received a Grammy nomination for that. Congratulations.
Jimmie Vaughan: Thank you. It's very exciting.
KP: Tell me more about the record. It's a collection of covers of blues, country and R&B. What inspired you to do it?
JV: It's just what I do, and I do it because I enjoy it. I also sort of ignore the music business and do whatever I want. (Laughs.) Obviously, I'm not trending with what's happening these days. When we started out making records with The Fabulous Thunderbirds, we did the same thing. We just did what we enjoyed and hopefully that comes through, and people like it. It's the same thing now.
KP: How did you pick the songs that you recorded?
JV: I have a lot of records, and I'm always looking for some song that I can sing. I pretend that I'm making 45s, so that I don't have to worry about making a whole album at once because that can be a little daunting. I make two, three or four songs at a time, and then next thing you know, you got an album.
KP: One thing I really love about your guitar playing is that there's never a wasted note. How would you describe your guitar playing?
JV: Maybe I can explain it this way. When I started playing, I had B.B. King, Buddy Guy and my uncles. My uncles on both sides of the family played guitar too. They were more like Merle Travis and they liked Chet Atkins and country music. When I first started playing though, I just thought it was all cool music. I didn't really understand that it was different. It's not different, though—it is all American music. You can find Lefty Frizzell records that sound like rock and roll records or that sound like blues records. It's all the same; it was just a way to market it to different groups, I guess. On my new album, the "No One To Talk To (But The Blues,)" that's a Lefty Frizzell song.  It's very slick, with almost jazzy chord changes, but it's the blues. I just enjoy painting a picture the way I like it.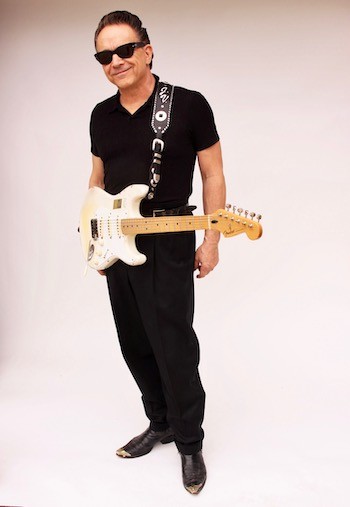 KP: When you record a track and you're going to do a solo, I assume you map out at least something ahead of time.
JV: A lot of it is 12-bar or versions of that. That's the part that's ad lib. You just play what you feel for a minute, and you try to get excited about it. It can get a little crazy or nuts, or it can be mellow – that's the ad lib part. I do better with my band in the studio playing live. Most of the stuff is live. There are occasions when I'll over-dub the rhythm guitar, or when I play guitar or sing, I'll harmonize with myself but it's basically live because that's how you get that feeling. It's hard to manufacture that.
KP: You recorded Baby, Please Come Home as well as some others at the Texas Fire Station in San Marcus.  Why that particular studio?
JV: It's an old fire station, so it's got big rooms.  I like to have a lot of room because I like to use room sounds. If you go to school to learn recording, they show you how to put the microphone up to the speaker and how to use this digital echo and all this stuff. I don't do any of that. I record with room mics and I hope that I'm going to have a good accident.
(Both laugh.)
KP: You mentioned Chet Atkins and Lefty Frizzell earlier as influences.  Who were some other influences?
JV: I always liked Chuck Berry, and [growing up] I would save my lunch money and go buy Chuck Berry's new single. I had One Dozen Berrys, the greatest hits of Chuck Berry. Growing up in Dallas, there was a blues radio station – KNOK had a show called Kat's Karavan that played Lightnin' Hopkins and Jimmy Reed every night. Wolfman Jack was on the radio at midnight on XERF in Coahuila, Mexico. After that, you'd switch the radio over to WOAC in Nashville.
KP: Who are some of your favorite blues performers now?
JV: Sue Foley's cool and there is a guy in California named Junior Watson. He's got a brand new album out called Nothing To Do But Do It. He's a terrific guitar player.
KP: They both are great. How did the album you did with Stevie, Family Style, come about?
JV: Tony Martell, this record executive at Epic, said, "I want you guys to make an album together." When we made the record, we wanted to do a bunch of stuff that we weren't expected to do, kind of stretch out and go off the rails a little bit. We had Nile Rodgers, who is a fabulous producer. He egged us on and told us, "Try this and try this." We had a ball. Three months before it came out was when Stevie got killed. We didn't know whether to put the record out because what happened was so awful. I didn't even know what to think about things—I just wanted to go hide. I didn't know what to do, to be honest. Ultimately, the record company wanted to put it out, so we did.
KP: How did you start singing?
JV:  We got together for a meeting and I had all of these instrumentals and Nile says, "Stevie is going to sing this and this and what are you going to sing?" And I was like: "Whaaaaaat?????" I really wanted to sing anyway, I just had not been used to it. When you're a kid and you're listening to Muddy Waters, B.B. King, and Bobby "Blue" Bland and all these great singers, then you try to sing when you're 13 or 14, and your voice is like this (speaks in high pitch). I just had to get over the hump and sing anyway. It was one of the best things that ever happened to me because I just had to get over it, and I'm thankful that I did. Nile was a great influence who pushed me and Stevie too. Stevie started singing the same way. He was like 17, and he didn't want to but they didn't have a singer, and he had to do it. That's really the best way to do it. If you're going to play an instrument, you need to sing too.
KP: Especially when you're younger because you don't know any better. You're not as fearful.
JV: Exactly. I was 40, so I was all worried I would sound like shit. Once I started going, though it was fun. it really gives you a feeling of expressing yourself when you can both play an instrument and sing.
KP: This is something I have wondered about for a long time.  Stevie had a very different guitar playing style than you did, and I always wondered how that kind of materialized. Was that the result of a sort of brotherly competition?
JV: When I was 13 or something, all this great stuff was coming out. You know, there was Lonnie Mack, I mean, there were guitar heroes before the English guys came out. When Hendrix came out, I was in a band that played covers and we played Hendrix songs and we got hired because we could play stuff like that. I think Stevie tried harder because he was younger and he could play a lot of stuff. There was a point that I could play Hendrix, but I went my own way before I got known for that. I've slowed down in recent years, and I just sort of play. I like horn players. I listen to Gene Ammons play saxophone and he doesn't play a lot of stuff. I don't know what to say, I'm not comparing myself to Stevie. He made some great records, some fabulous records with incredible guitar playing and he did all that Hendrix and Albert King stuff.
2020 will mark 30 years of Stevie's passing, and I miss my little brother. A lot of people loved his music and his guitar playing, and so did I. I don't even know what to say about it. I still can't believe that it happened. But you know, we're here and we have to carry on. I have a wonderful life. I have a beautiful wife and I have children – I have teenage daughters and grown kids. I get to play the guitar every night and make records, which is what I always dreamed of. So, I'm living my dream.
KP: You get paid for doing what you love to do. How many people can say that?
JV: That's right and if you want to do that, you have to go do it. You gotta say, "No, I'm not going to do that, I'm going to do this." It's a choice.  It's a lot of fun. I'm so thankful that I get to play guitar every day and I get to play with my band, which is what I've always loved to do since I was 12.
KP: I understand you are writing some new songs. Is that true?
JV: Yes, and they should come out in 2020 or 2021. My new label, which is called The Last Music Company, will be putting out a box set with a lot of stuff that's never been released, so we're having a good time with that.
KP:  I'll look forward to hearing it. Thanks for taking the time to talk to us.
JV:  Thanks, I appreciate it.
For more information on Jimmie Vaughan and his new album Baby, Please Come Home: