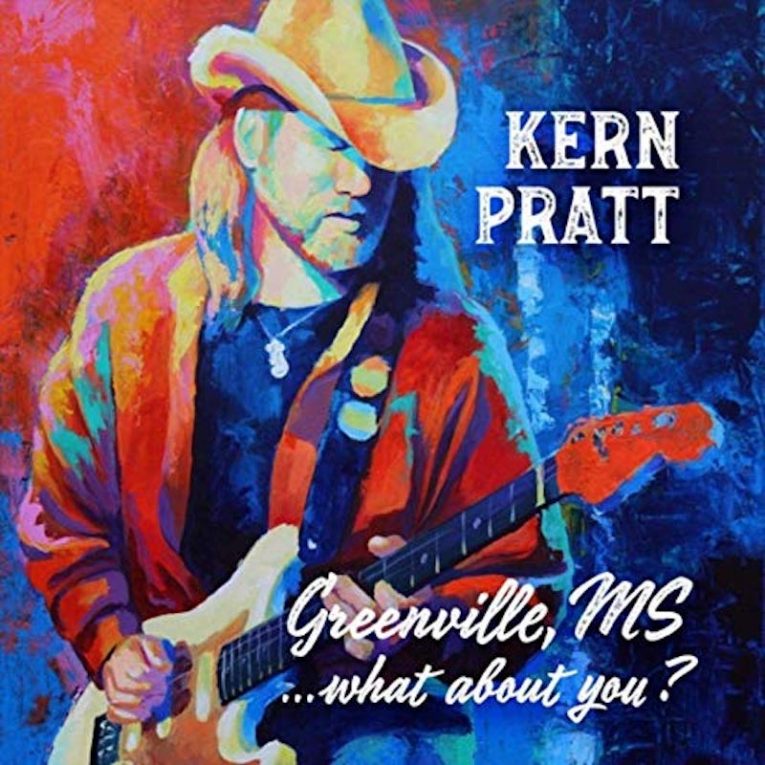 By Mike O'Cull
Kern Pratt is a riveting and soulful guitarist and songwriter from the great state of Mississippi who is currently making outstanding blues music that the world needs to hear. His latest album, Greenville, MS…What About You?, came out November 15th, 2019 on the Endless Blues Records imprint and is as fine a record as you're likely to encounter this year. The set features Pratt and a top-flight group of musicians laying down three originals and seven covers that show Pratt to be an understated-yet-powerful talent capable of playing smooth, swampy blues a la J.J. Cale full of engaging vocals and exceptionally well-phrased guitar parts. Rather than host one more overdone head-cutting session, Pratt uses dynamics, tone, and an intuitive melodicism to keep us listening closely.
Pratt does, in fact, hail from Greenville, Mississippi, a place that's central to the evolution of music and art in America. Many writers, poets, artists and musicians have called Greenville home and Pratt was fortunate to be born into such a creative environment. He first saw local legends like Willie Foster, Caleb Emphrey, Eddie Shaw, and Little Milton practicing their craft before discovering giants like Johnny Winter, Muddy Waters and Sam Chapman. He knew he had to contribute a verse to the culture of the blues and has since developed his own style that's respectful to the music's originators but allows him to fully express his own ideas.
A Pratt original, "Loving That Feeling," gets things off to a funky start and puts down the kind of vibe that makes you want to stick around and see what comes next. Guitarist Chris Gill adds some extra-sweet slide licks that stack another level of cool on an already happening song about one particularly good day. Mick Kolassa's "Baby's Got Another Lover" is as lowdown and smoldering as slow blues gets and Pratt brings the band down to a hush while he whispers his pain into your ear. His clean guitar tones are slinky and gorgeous, just like the lines he plays through them. The entire group uses space well here and leaves plenty of air in the arrangement, a tactic that plays up the heartbreak factor in this tale of love gone wrong.
"Torn Between Love and Hate" is another of Pratt's original songs that tells another hard love story about a "no-good wife" who had to go. His clean-tone, funky blues playing is reminiscent of ultimate smooth operator Robert Cray yet demarcates its own territory and maintains a strong identity. "Rita" shifts gears entirely into a jazz/soul sort of ballad about addiction and its consequences. Imagine a more Southern-sounding Steely Dan and you'll start to catch this one's vibe. Written by Larry van Loon, "Rita" is a pleasant deep-cut surprise that harkens back to the heyday of FM radio and belongs in every late-night DJ's regular rotation.
Pratt keeps the funk going all the way to the record's end, going out with a cover of Grammy-winning bluesman Bobby Rush's "Chicken Heads." He does it with the help of fellow Endless Blues recording artist Jeff Jensen and his band and together they throw down the kind of wide-open-but-heavy groove that could only come from Mississippi. It's one of the album's best moments and you definitely need to hang out for it. Kern Pratt is one cool cat with a beautiful tone and a pocket as deep as the bottom of the sea. Hopefully, Greenville, MS…What About You? will get around and get him the notice he deserves. Make no mistake: this is the good stuff.
Watch "Baby's Got Another Lover"

Kern Pratt Online