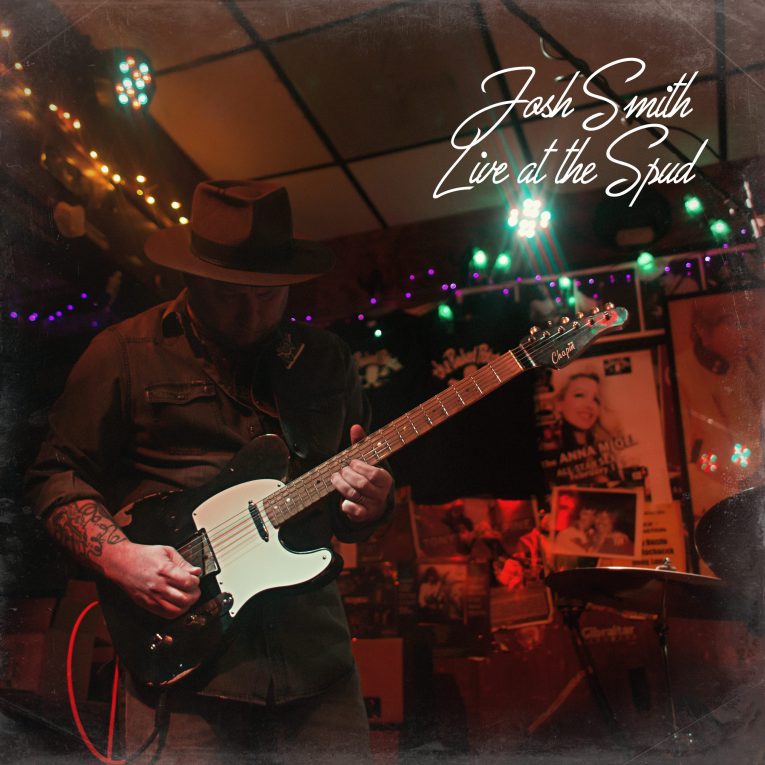 By Mike O'Cull
Roots guitar virtuoso Josh Smith and his boss power trio dish out an amazing take on American music on their first-ever live album Live at the Spud. Released by Flat V Music on January 8th, 2020, the record contains nine tracks recorded live at the Legendary Baked Potato music club in Studio City, California over the course of two nights in December of 2018.
Josh Smith is an extraordinary guitarist by any measure and has developed a unique, mature, and expressive style of playing and writing songs that mixes rock, blues, and jazz into a captivating sound that has kept him in the spotlight since he was 12 years old. He's appeared and recorded with major artists including B.B. King, Mick Jagger, Elton John, Joe Bonamassa, Jimmy Thackery, Tinsley Ellis, Kenny Neal, Lucky Peterson, Matt "Guitar" Murphy, Johnny "Clyde" Copeland, Double Trouble, Joanna Connor, Kim Simmonds, and more. This set of live performances is a culmination of the last decade of his career and a launching pad into the next one, which looks bright, indeed.
Smith picked up the guitar at the tender age of six and released his first album at 14. By 1998, he'd already done four national tours with his own band and was well on his way to becoming the pro's pro he is today. He's a powerfully creative player, writer, singer, and producer who displays an intimate understanding of the blues. Along with his superb rhythm section that features Gary Novak on drums and Travis Carlton on bass, Smith bends his songs and audience to his will on these recordings and will make you regret not being there to be a part of it all.
Josh opens with the swinging blues/rock dirge "How Long" and immediately goes for it all with a fat, reverb-soaked tone and a fiery attitude. He summons the spirits of Band of Gypsys-era Hendrix, Led Zeppelin, and Bitches Brew all at once and tops it all off with his own soloing style that shows true individuality and purpose. The following track, "Pusher," is 13 minutes of funky brilliance and dynamic interplay that shows off the abilities of all three musicians on stage. The version captured here makes it easy to see why "Pusher" is one of Smith's most-requested songs. Travis Carlton's extended bass solo is articulate and amazing, especially his use of an envelope filter-type effect to produce a synth bass-inspired sound. Smith then solos with only drums behind him but plays through the changes with a jazzman's touch before Carlton's bass re-enters.
"When I Get Mine" is a hard-charging Albert King-influenced number built on a fuzzed-out bassline and filled with the kind of muscled-up guitar playing Mr. King pretty much invented. Smith takes it further, of course, interspersing his own more fluid ideas into the mix as the track builds and expands. Novak and Carlton rise and fall with Smith perfectly and the telepathic connection the three players share is a thing of beauty. All three are fully in the moment, listening to each other, and intuitively responding to where the song goes.
This, my friends, is how it's done.
"Triple J Hoedown" is jaw-dropping display of talent that shows Smith getting country with a univibe-enhanced tone before diving into hard rock, heavy funk, and jazzy improvisations. Smith shows a genre-blurring intersectionality that borders on Danny Gatton-level genius and allows him to soar into fully uncharted territory. You won't really know what to call this one but it's so good you won't care.
Josh shows his SRV love on "The Middle," a soulful ballad that highlights another dimension of this versatile band. The closing song, "Where's My Baby," is a super-cool shuffle that emphasizes the fun and danceable nature at the core of the blues and even quotes The Chordettes' "Mr. Sandman" before boiling over into guitar heaven. Live at the Spud is an indescribable blast of roots music that needs to be experienced to be completely appreciated. Smith and his cohorts are one of the best bands in the world right now. Without a doubt, this is the guitar record you've been waiting for, so turn it up and jam.

Live At The Spud order link
Josh Smith Online