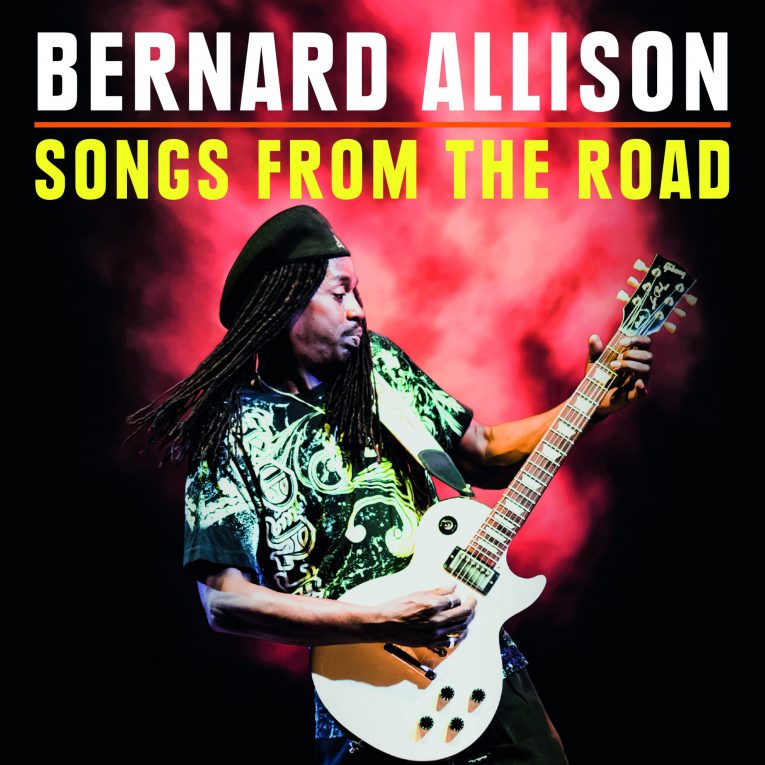 By Martine Ehrenclou
The ferociously talented Bernard Allison, guitarist, singer-songwriter and son of the great Chicago bluesman Luther Allison, releases Songs From The Road on January 31st via Ruf Records. The album is out on CD and DVD. This review is based on the CD.
Captured live at a packed music club in Dortmund, Germany, this live set is so raw and real that contemporary bluesman Bernard Allison and his crack band leap out of your speakers with virtuosic talent and superb, catchy blues mixed with rock, R&B, jazz and funk from Bernard's collection since he began his solo career in the 1990s.
If you haven't heard much of Bernard Allison's music as he was for years based in France, Songs From The Road is a great place to start as it captures some of his best cuts from his latest album, Let It Go, and other releases such as Times Are Changing, Across the Water, Higher Power and Storms Of Life. The interpretations heard here are a result of a band whose chemistry lets them stretch out and shake up the original compositions.
There's so much energy and life to Bernard Allison and his crew of A-list musicians on this record, I almost felt as if I was there at the club, perched on the edge of my seat in awe of Allison and his band. "Night Train" kicks off the CD in typical Bernard fashion, killer blues-rock with jazz and funk at its core. Bernard's virtuoso guitar chops are dynamic and raw with hints of Hendrix and Johnny Winter, with his own unique style at the forefront. His vocals are strong and soulful. You can hear how fully into this live performance he is, fueled by the band, the audience, the energy of the night. Bernard busts out on this album opener and it made me want to see him live even more.
The song's interlude features a beautiful sax solo by José James, and drummer Mario Dawson locks it down with bassist George Moye and Dylan Salfer on guitar.
What a way to open a CD.
"I actually prefer live performances," says Bernard, "because you can communicate and interact with the audience. I basically feed off that energy, combined with my group's talent and personalities."
Hitting the brakes a bit with a slow blues number by Luther Allison, "You're Gonna Need Me," Bernard sings this with such feeling and soul. His sweet guitar riffs are just as soulful and his performance is so front and center, it's as if he's playing for you. It wasn't until Bernard introduced his guitarist Salfer, did I know who was playing a smokin' guitar solo mid-way through the track. Bernard's unmistakable guitar work then takes center stage with the sweetest tone, you'd swear B.B King was looking on. Stunning. Bernard makes his guitar sing, makes it talk with staccato picking. You can hear hoots from the audience in praise of his talent.
And this, my friends, is how Songs From The Road goes. Bernard and his band are at their absolute best.
More blues-rock and R&B gems follow where you can hear that Bernard is in his element on stage performing with the band. "Cruisin for a Bluesin," a funky blues tune with a jazzy flair, horn and guitar fills, just pops with energy and groove. It features another beautiful sax solo by James, and a couple of ripping guitar solos by Bernard. The band is fully in the pocket.
A couple of monster tracks feature Bernard on slide guitar, the last on the record being "Slide Master," an apt title for this player. He earned his chops and developed his individual sound not only by recording, performing and ultimately leading Luther Allison's band, but by nurturing from Johnny Winter and Stevie Ray Vaughan, playing lead guitar for Koko Taylor's Blues Machine for years, and more.
Songs From The Road is fresh and modern with tremendous musicianship by Bernard Allison and the band. It shows exactly why certain performances are meant to be captured live and in the moment.

For more information on Songs From The Road by Bernard Allison: