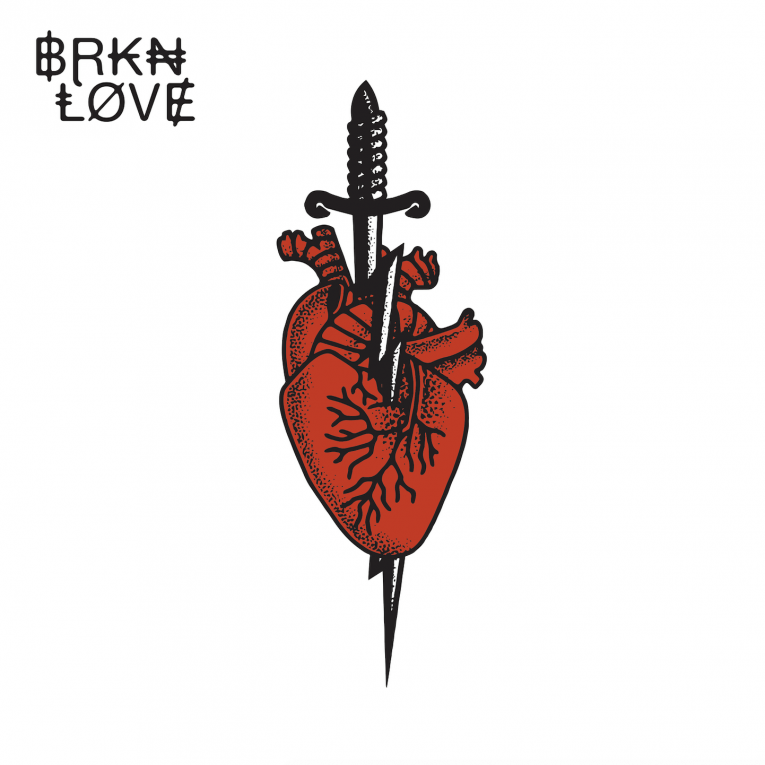 By Mike O'Cull
BRKN Love is the modern rock brainchild of Canadian guitarist/vocalist/songwriter Justin Benlolo. The band's new, self-titled album BRKN LOVE comes out February 14, 2020 on Spinefarm Records and does much to help define what a rock group can be in our present world. BRKN Love is a new breed of band that's at ease with the idea of expressing deep sentiments about love and loss over hard-edged rock music that refuses to flinch. It plays both tough and melodic at once, walking a line between sharing genuine emotions and playing face-melting rock music. It's a type of band that didn't really exist 30 years ago, when most focused on one or the other, and Benlolo brings it to life with style and precision.
The road trip to this album began when Benlolo dropped out of school at the age of 16 to give his life over to the rock and roll dream. He first set up shop in New York City in 2014 but didn't really bond with the eternally-sleepless metropolis. He retreated into his craft, spending thousands of hours developing his chops. Eventually, he relocated to Los Angeles, found it to be a better environment for himself, and started performing relentlessly in the LA rock scene. It was there that Benlolo had the idea of launching the new-style rock band that became BRKN Love. He began writing new songs and picked producer Joel Hamilton (Highly Suspect, Pretty Lights) to help make them a reality. The band recorded 11 tracks at Hamilton's Brooklyn studio live to tape and inked a deal with Spinefarm Records after a NYC showcase.
The first song on BRKN LOVE is "I Can't Lie," a gloriously-snarling mid-tempo rocker that takes aim at the rampant personal fakery of the West Coast. "Can't you see there's a ghost at your door, you ain't you anymore, I can't lie" Benlolo spits into the microphone like a man who means every word he speaks. The intro hook is a winner and is a good contrast to the darkness of the lyrics. The guitar work is sturdy and unique in tone and note choice, delivering just enough kick to lift your lid. "I See Red" follows and pushes harder into a song about anger constructed around an ultra-cool bass and drum figure. Benlolo sings the verses over that sparse figure with an exemplary vocal tone and the quintessential swagger of someone born to do exactly this.
"Flies In The Honey" takes things in a heavier direction that almost makes it to stoner/doom/Sabbath-style metal. Benlolo does this big-riff rock extremely well and also succeeds at channeling the anxiety and frustration of someone living in a society that can't quite get things right and needs to trade pills for thrills. "Toxic Twin" is a gritty rocker with a hard quarter-note pulse that feels like someone talking to the worst part of themselves. It has another great riff at its core and contains one of Benlolo's best vocal takes on the entire set. "Don't Panic" is yet another outstanding rock song with a soaring chorus, a huge middle section, and beautifully-captured fuzztone guitars that dissolve into screaming feedback in its final seconds. Other great moments here include "In Your Hands" and "Seventeen."
BRKN Love has a mighty strong record in this self-titled release that will pull in interest from many different types of rock fans. BRKN LOVE is so good that it makes Benlolo quitting school seem like a good idea. If this was the music lurking in his heart all along, it absolutely had to be given the opportunity to come out of him and be brought to the world. Play this one loud and go where it takes you.
Watch "Flies In The Honey"

BRKN Love Online