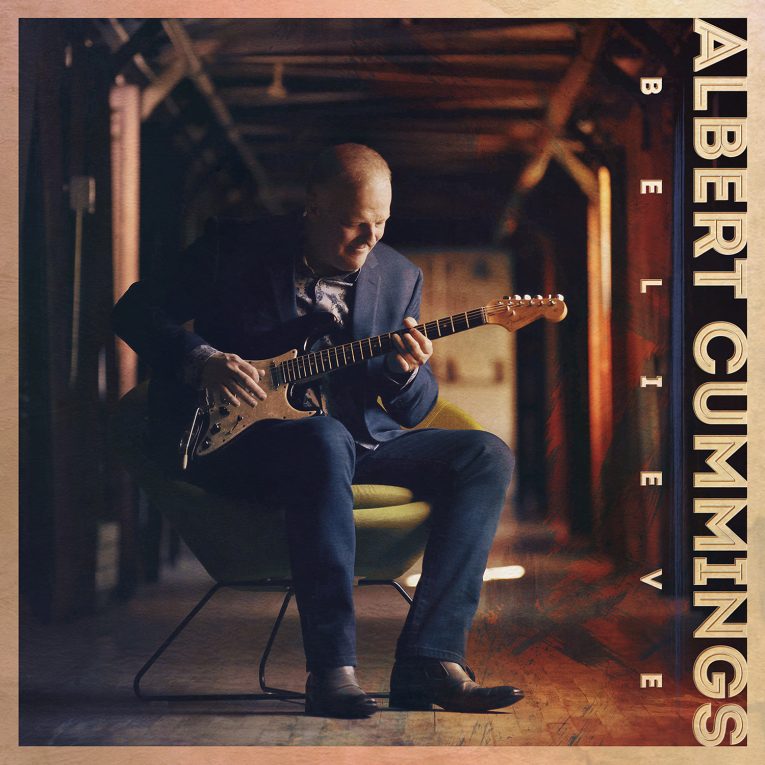 By Mike O'Cull
Hot-handed blues/rock guitarist and vocalist Albert Cummings checks back in with his faithful fans with an outstanding new album, Believe, that comes out February 14th, 2020 via Provogue/Mascot Label Group. Recorded at the legendary FAME Studios in Muscle Shoals, Alabama and produced by Grammy winner Jim Gaines (Stevie Ray Vaughan, Santana), Believe is a winning mix of blues, country, and rock sounds that have been infused with the soul that's simply part of the atmosphere in Muscle Shoals. Tracking in the same room where Aretha Franklin, Duane Allman, and so many others captured their enduring magic had a huge impact on the record and Cummings freely admits that "If I had recorded those same songs anywhere else, then Believe would have sounded like a completely different album."
Albert Cummings has been building his career for close to 20 years now even though he didn't play in public with a band until he was 27. He and his group Swamp Yankee first started blowing up in the Northeast region of the USA and got enough traction to catch the attention of Double Trouble rhythm section Tommy Shannon and Chris Layton. Stevie's guys were so taken with Cummings that they played on and produced his debut solo album From The Heart in 2001. Since then, Cummings has made a name for himself as a dynamic live performer who has been praised by B. B. King and compared to Hendrix and SRV.
Believe opens with Cummings' funky take on Sam & Dave's 1966 soul gem "Hold On," an immortal song that he uses to set the vibe for these sessions. Albert's vocals and guitar stand tall in an environment rife with steady beats, mighty horns, slick backup singers, and an overload of musical chemistry. Cummings stretches the track with a well-phrased solo on the fade out that marks this version as his and his, alone. "Do What Mama Says" digs deeper still into gritty Southern Soul that'll put its hands on your hips and make your backbone slip. It's got that Muscle Shoals sound that can't quite be duplicated anywhere else and becomes part of any musician who plays there.
"Queen Of Mean" is another low-down vintage Southern rock and roll song that puts out a cool, laid-back pocket over which Cummings describes the title character in detail. He delivers a bit of a Jimmie Vaughan feel on this one, playing tight Strat licks with an epic tone. A completely unexpected pleasure on Believe is Albert's heartfelt cover of Van Morrison's "Crazy Love." His vocals are righteous and deep, elevating this already world-class song to a new and personal place. It's a gentle, beautiful moment that fits in perfectly with the more kinetic material on the record.
Albert Cummings gets a little bit country on the honky tonk-ish "It's All Good." It's a definite boot-scooter that walks the line between Alabama and Nashville sounds and demonstrates just how closely they're related. The fatback country keeps coming on "Get Out Of Here," which marries a tough soul groove to storytelling lyrics and some hot guitar. Cummings is exceptionally good at melding these roots styles together into something that feels organic, individual, and is extremely listenable. He intuitively understands the connections and is able to express them at a very high level.
A cover of Freddie King's "Me And My Guitar" is funky blues/rock at its best and Cummings and the band channel a powerful 70s-influenced sound that'll keep any crowd jumping all night long. Cummings' guitar packs major heat and soars over the huge, solid rhythms that support him and drive him onward. Every moment of Believe is to be savored and proves without a doubt that Albert Cummings belongs among the biggest names in blues music today. Listen once and you'll agree.
Watch "Red Rooster"

For more information on Believe by Albert Cummings: