By Martine Ehrenclou
With his soulful and explosive approach to blues and rock, Albert Cummings, guitar virtuoso, expressive singer-songwriter, has built a reputation on his guitar wizardry and thrilling live performance. With a career spanning 20 years, Cummings first garnered attention from Double Trouble (Stevie Ray Vaughan's rhythm section) who produced his first solo record, From The Heart. Blind Pig Records then signed him to a multi-album deal and released several of his albums. Following the success of his first live record, his second Live At The '62 Center was released and nominated for a Blues Music Award. He has shared stages with B.B. King, Buddy Guy, Johnny Winter, Susan Tedeschi and more.
Newly signed to Provogue/Mascot Label Group, Cummings' latest album, Believe comes out on February 14, 2020. A flavorful mix of blues, R&B, Country and rock n' roll, Believe was recorded at the iconic FAME Studios at Muscle Shoals, Alabama and produced by the Grammy Award-winning Jim Gaines (Stevie Ray Vaughan, Santana, Huey Lewis, Buddy Guy, George Thorogood.)
Martine:  Congratulations on your new album, Believe, and signing with Provogue Mascot Label Group. Lots of good stuff happening for you.
Albert:  Thank you. I'm excited, so excited.
Martine:  I love all the mixed flavors, the soul, rock n' roll, and the little bit of Country on Believe. And you still have the blues.
Albert:  It's got everything on there, doesn't it. (Laughter)
Martine: (Laughter) Was recording at FAME Studios in Muscle Shoals and working with Jim Gaines an inspiration for more of the soul, R&B and Country?
Albert: I think it came more from being in Muscle Shoals. I believe if I had made that album in Chicago, I probably would have picked different songs, I would have picked different everything. I never go into a studio knowing what I'm going to do. All my stuff is always born in the studio.
Martine: Really?
Albert: Yeah, I go to the studio with acoustic guitar and my songs that I wrote in my living room and I trust. I've done four or five albums with Jim. I called him and said, "Hey, Jim, I saw this documentary on Muscle Shoals."  He said, "Yeeeah?" I'm like, "Well, I want to do an album. You know anybody down there?" He's like, "Yeeeah, but I'm going to tell you now, they got a certain sound down there. I don't know if that's what you want. I said, "I think I want to experience it, Jim. I want to go to that place and see what happens with my stuff."
I got down there and met the players. I was like, "Wow." This is right in the middle of history. We have a guy named Clayton Ivey—I think he's second-generation Swampers [Muscle Shoals Rhythm Section]. He's sitting at the Wurlitzer. They give two tours while you're working there. The tour comes in and the guide says, "And this is the world-renowned Wurlitzer organ that Aretha used on the song, "I Never Loved A Man." You know that song?
Martine: Sure do.
Albert: Clayton starts playing that lick on that keyboard and I'm like, "Oh my God. I'm in friggen' Muscle Shoals, Alabama." It never even hit me until he did that, that I was in the presence of all these greats. There's pictures of Waylon on the wall and Hank and Merle and all of my influences that were through that studio. I [realized] I wanted to cover what's inspired me because all of these people on the wall inspire me. That's why you hear that Sam and Dave tune on the album. You hear some country stuff, straight blues, right down to Van Morrison.
Martine: Did you pick songs when you were there? You were so inspired by all this.
Albert: Originally, I had this list of 25 cover songs and then I'm like, "Nope."
I then go to work with Clayton. He's done more hits than you can shake a stick at. We'd literally talk about a song, kind of like all my other [recording] experiences, and then go in and cut it. It all just evolved. I didn't try to make a guitar album at all. I actually wanted to make an album of songs and not just rambling guitar solos and stuff.
Martine: (Laughter) I have never thought of your albums that way.
Albert: (Laughter) I could have put a hundred times more guitar on it but I didn't want that. I wanted people who are going on a drive to put Albert's new CD in because they know it's going to get them there.
Martine: I think you accomplished that.
Albert: Jim [Gaines] is a genius. He said, "Albert, I think we should put horns on." And I said, "Okay, Jim, if you think so." I don't know the first thing about horns. He brings in the horn section and says, "Give me this. Give me that. I want to hear this. I want to hear this on the top." He's literally like a commander of the battleship. There's such a Jim stamp on this album and that's what I love about it. I'm reeeally excited about this album.
Martine: The soul and the R&B–is that a completely new direction for you? I don't think I've heard soul or R&B on your albums.
Albert: You haven't. I've got all of these different rooms in my house. I just wanted to bring things out to say, "I'm not just a blues guy. This is me."
Martine: It seems like Jim Gaines helped bring that out.
Albert: Jim Gaines is the most friendly, easygoing guy in the studio but literally, he's got a cattle prod to your rear-end every second like, zzzzz, come on, Albert, you can do better. (Laughter.) Come on, Albert, I've heard you do better than that. (Laughter) He's always pushing in this nice little soft way that you don't even know you're getting pushed. (Laughter.)
Martine: (Laughter) It must be an incredible feeling to be releasing an album that you feel so excited about.
Albert: It is. I think I have matured and have enough experience to realize what I want to do with my music. I've literally been trying to figure it out. I'm still a newcomer. I'm still brand new to all this stuff. I started when most people were giving up.
Martine: When was that?
Albert: I never started playing professionally until I was 29 or 30 and that was gigging around my little area. I don't think I ever toured until 2002. The first time I ever played with a band was when I was 27. I started to fool around a little bit with guitar when I was around 15. I played five-string banjo before that because I couldn't fit my hand around the neck of that guitar.
Martine: Do you still play the banjo?
Albert: I don't because I never have time to practice. It's a fun instrument.  It's a very difficult instrument. I'd love to have a show where somebody brings me out a banjo and I rip off "Foggy Mountain Breakdown" with the band, just to blow people away like, "What the-? I thought we're at a blues show!" and then I rip into some Bluegrass because that's part of me.
Martine: That sounds fun.
Albert: I love the banjo. When I was in Holland, a guy said, "Albert, you're a true gentleman." I asked him, "What do you mean?" He said, "Well, you can play the banjo but you don't." (Laughter.)
Martine: (Laughter) Can you tell me about the album title, Believe?
Albert: Ever since From The Heart, every album that I've done I've named it with some words from the album. I chose that word for the single title because I have never really believed in my music like I do now. There are a lot of people that are encouraging me and making me feel like it's possible. I totally believe in what's about to happen and I can't imagine it's not going to happen because my heart is in it, my mind is in it, I'm focused on it.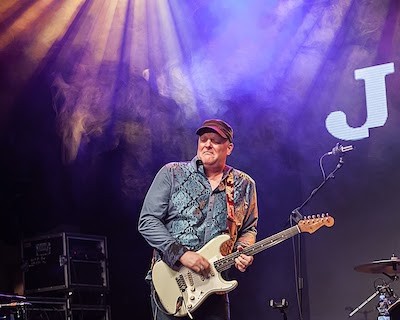 Martine: Nice.
Albert: When I went to Muscle Shoals I didn't have a label. I didn't have anything. I was going down there to do a cover song album just to show people a different side of me. Provogue heard Believe and the next day they're like, "We're in."
Everything happens when it's supposed to happen. I don't know if you ever listen to Earl Nightingale but he was a motivational speaker. The series of recordings that was called Lead The Field. It's just a great positive mindset. Earl says that luck is when opportunity meets preparedness.
Martine: That's profound.
Albert: It is. You can have great things knocking at your door today–you could be invited to bike the Tour de France but if you're not ready, you can't do it. There's an opportunity all the time but you have to be ready and you have to be prepared. I truly believe that this record is like opportunity met preparedness and I'm prepared.
Martine: I really like your version of "Me and My Guitar," the Freddie King tune.
Albert: Good. I put that on the end. I don't know if I did that justice because I love Freddie, Freddie is soooo good.
Martine: You played killer guitar on it. Are you kidding?
Albert: (Laughter) I don't rehearse the song before. In the studio was the first time I ever played that. I get to the edge of the cliff and jump and hope I'm going to be alright. So far, I somehow spread my wings and land safely. Anytime you mess with Freddie King though, you got to be careful because that guy was such a monster.
Martine: That's true. Tell me about the song, "Queen of Mean."
Albert: Everybody knows a Queen of Mean, so hopefully people will do some relating.
Martine: How did you go about writing that one?
Albert: Well, it's not about my wife, put it that way. (Laughter)
Martine: (Laughter) I didn't think so.
Albert: (Laughter) I deal with a lot of different people and some people are really nice and some people are really mean and they get songs written about them.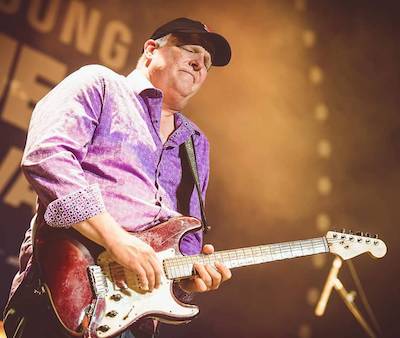 Martine: I wanted to ask you about "Do What Mama Says." Some great groove there.
Albert: It has a good message. I mean, let's not forget that we can still hold the door for somebody, we can still be nice to each other. I think that song came out of raising two boys, my wife and I.
Martine: Tell me how you developed your guitar tone, you're known for that. I know it comes from the hands but how do you get that beautiful tone? Do you always play Strats?
Albert: Gibson makes beautiful instruments but Fender makes beautiful instruments that sound good. I've heard guys that make Gibsons sound good. I'm just not one of them. I think I'm afraid to play a Gibson because I'd probably like it too much and I have to go buy 15 of those stupid things. I just stick with Fender. I love Fenders.
Martine: Tell me about your guitars.
Albert: Well, I've got a bunch of Strats. I'm not a collector or anything like that. I play one guitar usually at a show. I have to change strings before every show because I bust them and I use really heavy ones.
Martine: Do you use 13s?
Albert: Well, they're equivalent of a 13 set. They're actually thicker than 13s but I tune down and that's where your tone really starts to come in. When I hear a standard pitch guitar, it almost shrill to me.
Martine: So, you tune down a half step like Stevie Ray Vaughan?
Albert: Yeah, a half step. I think that makes a big, big difference as far as thick tone, but there are songs that standard tuning sounds better on. I do believe that tone, just like you said, comes from your hands. If you get a good guitar and a good amplifier, you can move your pick position half an inch up the neck, away from the bridge so to speak, and your tone, if you have a good rig, your tone will change completely.
Martine: Didn't know that.
Albert: The little things are what make it. And then not only moving your hand half an inch but now change the position of how you hold the pick. Change the angle you hit the string with the pick and you'll change it. Now, I don't think of that stuff but I believe if someone picked up a guitar and hit it with the same strength that I do, plucked down at the same angle, holding the position of the pick in the same way with his arm in the same position and his palm resting in the exact same spot, they'd sound exactly like me.
The master of that was Stevie Ray Vaughan because Stevie knew how to make his guitar, a Stratocaster, sound exactly like BB King's 335 and he could make his Stratocaster sound exactly like Albert King's Flying V. He could do all of that stuff. Stevie could play exactly like they did and then he could get rid all of that and say, "Okay. Now, I'm going to go back and sound like Stevie." And that's the master. There is not one of us out there that could do that. I don't care who thinks they can.
Martine: I agree with you.
Albert: Stevie could do it and that's because he really had a sensitive ear. I'm trying to develop a better ear to hear that stuff. I'm the type of guy now that if you and I were talking at a restaurant and all of a sudden blues guitar came on, you'd literally be talking to a mannequin. I'd be sitting there, I'd be shaking my head but I wouldn't hear you talking at all. All I could hear would be the radio. I'm obsessed with it. It's almost like a problem. (Laughter)
Martine: (Laughter) You have to have some sort of obsession to be really good, don't you think?
Albert: I think you do. That's how I know how much I love this trade. I love this stuff.
Martine: It was a pleasure talking to you. Thank you for making the time to talking with me and congratulations on your new album.
Albert: Thank you, I really appreciate it.
For more information on Albert Cummings and Believe: