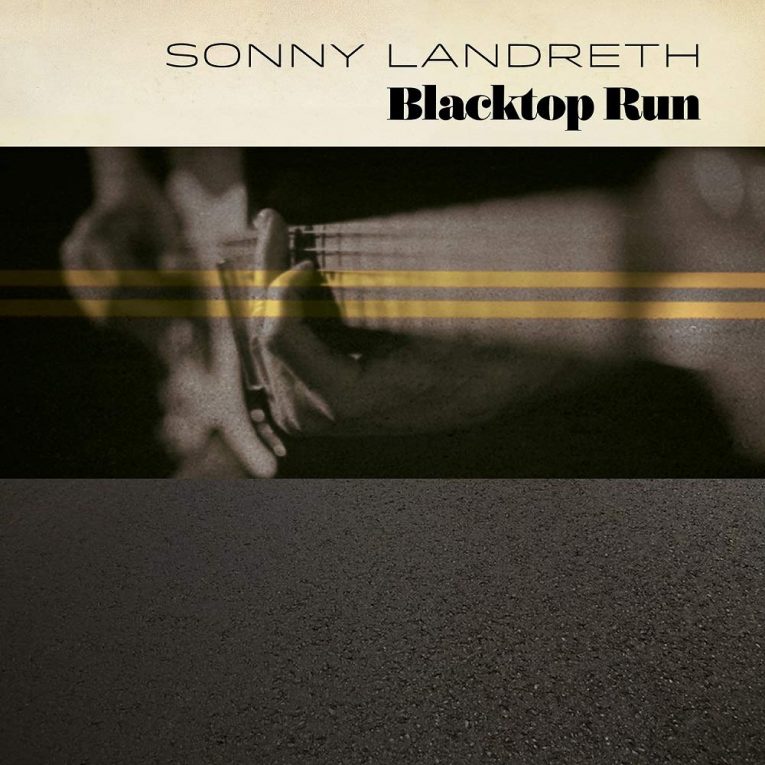 By Mike O'Cull
Louisiana's own slide guitar magician Sonny Landreth will light us up with a new studio album, Black Top Run, on February 21st, 2020 on the Provogue/Mascot Label Group imprint. The set will come out in limited-edition gold vinyl, black vinyl, and CD formats. Long regarded as one of the finest guitarists the USA has ever produced, Landreth is a major talent whose playing style and songwriting chops conspire to give his work the kind of individuality most musicians will never attain. He's been nominated for a Grammy, won two Blues Music Awards, and leaves stunned, happy crowds in his wake wherever he goes. Black Top Run is a ten-song collection of vocal songs and instrumentals that takes his fans along on another ride in this award-winning direction.
The record was mostly tracked at the renowned Dockside Studios on the Vermilion River south of Lafayette, Louisiana and was co-produced by Landreth, RS Field, and Tony Daigleto. Field was behind the desk on three of Landreth's career-making albums and reuniting with him provided a huge boost to these sessions. Backed up by bassist David Ranson, drummer Brian Brignac, and keyboardist/songwriter Steve Conn, Landreth elevated his already-monumental game and captured some of the best music he has ever made. He effortlessly incorporates blues, rock, swamp, and singer-songwriter influences into one of the few truly original styles to be found in roots music.
Sonny gets the journey started with the title track "Black Top Run." The song feels like watching a sunrise through a windshield on the way from "all I left to whatever comes next." Landreth's vocals are uplifting and confident and he also turns in some excellent acoustic slide work. The instrumental "Lover Dance With Me" follows and features Landreth playing through a Leslie rotating speaker over a pulsating, body-moving groove. Here and on the other vocal-free cuts on Black Top Run, Landreth is able to display his unique melodic and rhythmic ideas uninterrupted by the need to sing at the same time and he is even more spellbinding than usual.
"Mule" uses a bouncing "tailgate" beat to let Landreth tell his tale about the difficulties of falling in love with stubborn people and throw down more of his epic slide licks between the verses. It's the kind of dance-party house- rocker Landreth has always done well and he doesn't disappoint. "Groovy Goddess" is a jazz/rock shuffle that Landreth attacks with a rich, overdriven tone and a subtle Eric Johnson inflection. Again vocal-free, Landreth soars over the band with authority and grace.
"Somebody Gotta Make A Move" was written by keyboardist Steve Conn and gets into some low-down breakup blues with a powerfully somber mood. Landreth shines on guitar and vocals while Conn contributes strong performances on electric piano and Hammond organ. "The Wilds of Wonder" is a moving-yet-rocking tribute to the amazing people tasked with the job of directly combating the seemingly endless environmental disasters of our times. It's an emotive track that takes on a subject that's almost too big for words.
Sonny closes Blacktop Run with the delicate "Something Grand." It's the first song Landreth has recorded in a long time that doesn't have a guitar solo in it and takes the album out in an atmospheric and meditative way that leans on his artistry, not his guitar firepower. It's a beautiful moment and it fits perfectly here at the journey's end. Any new Sonny Landreth release is cause for celebration and Black Top Run is no exception. It's another high-water mark by one of the best American musicians of this era or any other.
Watch "The Wilds of Wonder"

Sonny Landreth Online