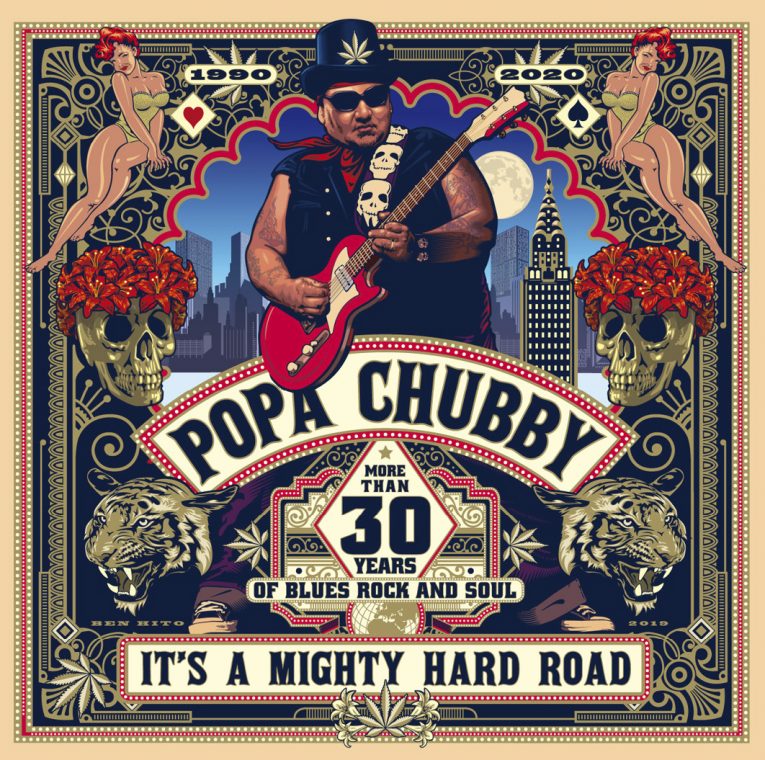 By Mike O'Cull
Turbulent and eclectic New York-style blues guitar legend Popa Chubby digs deep and opens a can on his brand new album It's A Mighty Hard Road. The record hits March 2nd, 2020 in the US and February 14th, 2020 in Europe on Dixiefrog Records, his first for the label after five years elsewhere, and is meant to celebrate Popa's 30th year in the blues business. Popa became an icon in the course of those three decades, forging an outstanding original sound that melds the blues, rock and roll, soul, R&B, and a tough Bronx attitude into an unforgettable body of work. He continues to go hard as a player, vocalist, and songwriter and shows no sign of slowing down or aging out. His vocals and guitar work remain on point and the new material is his best yet.
A true son of the Big Apple, Popa Chubby, a.k.a. Ted Horowitz, was born in New York City in 1960 and began his career playing behind local heroes like punk poet Richard Hell and Irish songwriter Pierce Turner. He wasn't content to be someone else's guitarist, however, and made his major label debut on the O-Keh/ Sony label in 1995. He's been a solo artist ever since and has consistently released original blues music that conforms to no traditions except the ones he creates. He fearlessly mixes jazz, rock, funk, and rap into his blues and soul sounds and is one of the most authentic musicians currently working in any style.
Popa kicks off the party and lays out his philosophy on the opener "The Flavor Is In The Fat." Raucous and corpulent, the tune communicates the truth about music and cooking as he lives it and will likely persuade many blues fans to see things from his point of view. His guitar skills fly high in the instrumental breaks and Popa makes his gift for coherent and creative phrasing instantly known. The track has a hard shuffle feel that'll get people moving but never pushes too hard or loses its rhythmic subtlety.
The title song, "It's A Mighty Hard Road," crosses over into blues/rock territory, straightening out the groove and telling tales of the daily difficulties we all encounter while trying to make a living here on Planet Earth. Popa and the band keep to a tight, mid-tempo feel with just the right amount of dirt to it that's sure to rattle walls anywhere they play it. Popa's sound is far from the meandering jams of most guitar-centric records and his focused, articulate songwriting allows all of his brilliance to shine through.
"Let Love Free The Day" flips the script entirely and finds Popa leading us into a romanticized and soulful vintage R&B number that's silky and smooth. It's a complete shift from the harder-edged first act of the album but works perfectly and displays considerable depth in both writing and guitar skills. "The Best Is Yet To Come" also dips into the more mellow parts of Popa's brand-new bag and speaks an uplifting and inspirational message to all who are struggling in their lives. The Latin-influenced "Gordito" lets us hear yet another of Popa's many facets and is as delicate and melodic as his more rocking songs are powerful.
Popa's cover of Prince's eternal gem "Kiss" is an Easter Egg at the end of the album that rewards long-form listeners and finishes the record with class. His Royal Badness was a major influence on our man Chubby and this cover is a cool and fun show of respect. Every bit of It's A Long Hard Road will make you smile, though, so you can drop the needle anywhere on it with confidence. Popa Chubby shows the world why he's lasted this long with every note he plays. Get this set in your headphones and keep it there.
Watch 'It's A Mighty Hard Road"

Pre-Order It's A Might Hard Road
Popa Chubby Online