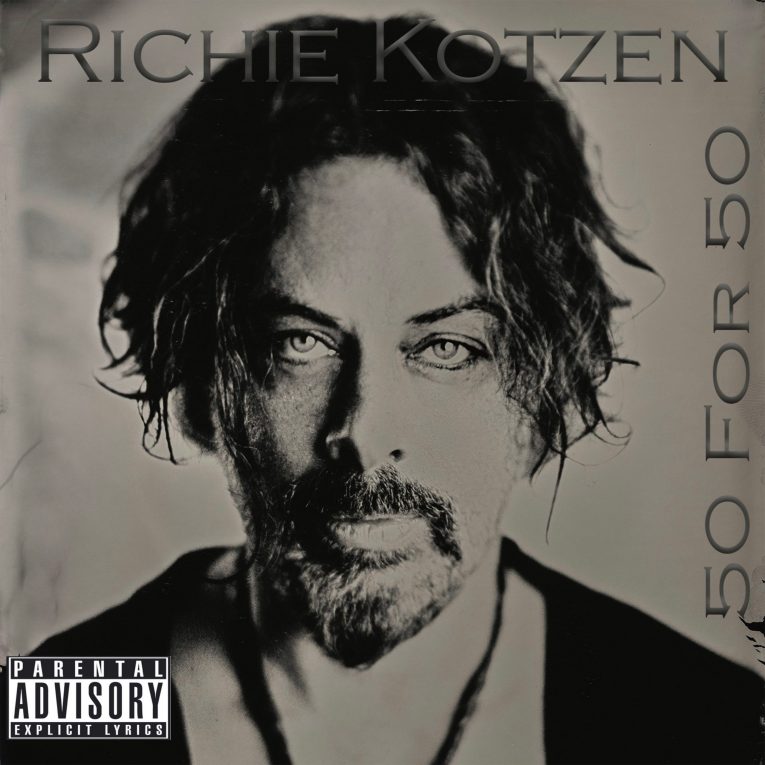 By Mike O'Cull
Guitarist, songwriter, vocalist, multi-instrumentalist, and all-around rock and roll superhero Richie Kotzen delivers the most ambitious project of his career with his new release 50 For 50. It's a three-disc set of 50 new original songs that dropped February 3rd, 2020 on Kotzen's own Headroom-Inc. label that's meant to commemorate his 50th birthday. This is Kotzen's 22nd solo album and proves beyond doubt that his skills and creativity have done nothing but grow with the passing of time. 50 songs is a body of work for most musicians but Kotzen brings that number for a single set with an apparent ease indicative of his monumental talent level.
Besides his extensive solo catalogue, which began in 1989 on Mike Varney's legendary Shrapnel imprint, Richie Kotzen's resume includes stints in mega-bands Poison and Mr. Big. He's also fronted the highly-acclaimed group The Winery Dogs since 2012. Kotzen is one of the most diverse guitarists in rock music and has developed a style influenced by rock, blues, heavy metal, jazz, fusion, and soul music. He's also a phenomenal singer, songwriter, and lyricist. Most chops-heavy guitar types don't have Kotzen's full-bug skill set and are destined to remain the province of hardcore guitar nerds. Kotzen's genius is his ability to write and sing songs that you don't need to be a musician to love and then filling them with the appropriate amount of instrumental firepower. It's an unbeatable combination and Kotzen's touch with it is nothing short of masterful. 50 For 50 is the followup to his critically acclaimed, Salting Earth (2017).
"The idea of a 50-song album came to me while I was on tour sometime last year," Richie Kotzen explains. "I had completed what would have been your typical 10-to-12-song album and was anticipating a 2020 release. Somewhere along the line, I discovered a few completed songs that, for whatever reason, were never released. Along with that, I found a massive collection of material that was in various forms of completion. Some songs had drums, bass, and piano with no vocals, other songs were nothing more than a bass line and a vocal melody and so on. I decided to take that summer and fall, stay in the studio, and see how many of these ideas I could bring to completion." It was a wise decision and resulted in a huge batch of new songs that both stand on their own and make a compelling statement about Kotzen's 50 years and what he's done with them.
The first track, "Stick The Knife," launches with some fleet-fingered rock guitar licks before turning into a melodic vocal song with a memorable chorus. Kotzen brings the heat back in a ferocious solo break in the middle that greatly enhances the song and stamps it as his own. "As You Are" is a chugging mid-speed rocker with an ultra-expressive guitar hook and Kotzen's tough, soulful singing. The track blends hard rock and classic guitar pop in an amazing way that respects each style equally and finds inspiring places to stitch them together.
"Dogs" is an emotional heartbreak ballad stacked with gorgeous clean-tone guitar licks. "I loved you so strong but right now I don't feel you at all" Kotzen sings and you can't help but believe him. He channels genuine pain, not phony sentiments, and lets us all into his vulnerability at that moment. This is the kind of song few guitar stars can pull off but Kotzen makes it soar. "Dirty Tricks" and "Nickel Hustler" dig down into Richie's funk bag and use the magic of the groove to command every bit of your attention. He does this funky stuff especially well and treats it as the ensemble style it is, keeping to a tight, rhythmic role on guitar and singing hard. "Devil's Hand" follows and instantly shifts gears into an introspective vibe that deals with loss, regret, and romanticizing the past. Through all of this, Richie Kotzen never falters and finds endless ways to keep the musical and meaningful aspects of his songs in perfect balance.
Is 50 For 50 overwhelming? Yes, absolutely. There's almost three-and-a-half hours of new music here and every bit of it is worthy of much close listening. What rocks, though, is the fact that each song can stand tall individually and dropping the needle at any random point of this collection will yield an incredible dividend. There aren't many out there who can roll creatively with Richie Kotzen and this set demonstrates that beyond question. Clear out a weekend and absorb every note.

Richie Kotzen Online