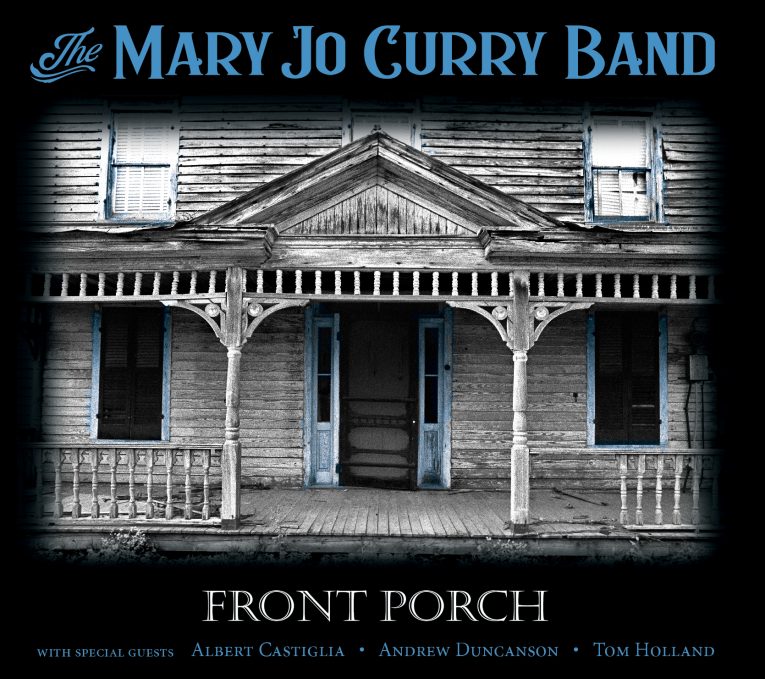 By Martine Ehrenclou
Based in Central Illinois but ready to bust out the world over, The Mary Jo Curry Band is set to release their latest album, Front Porch on February 21st. Front Porch features powerhouse vocalist Mary Jo Curry and her outstanding band. This is blues music with a rock n' roll bite.
Front Porch screams live performance with a sassy, live-wire vocalist with the chops to front a band with top quality musicianship, including guests Albert Castiglia, Andrew Duncanson, and Tom Holland.
This is the kind of singer and band that makes you want to see them live, up close and personal, preferably with a dance floor nearby.
An 11-song set with 10 originals composed by the band, which includes Curry's husband and guitarist Michael Rapier, bassist Chris Rogers, drummer Rick Snow and joined by Brett Donovan on keyboards and Brian Moore on saxophone. This band is tight, the grooves infectious.
Album opener, "Nothing is Easy" kicks off with a slapping, funky bass line, organ fills and Curry's full-bodied vocals. A foot-stomper, this track is a high intensity rock n' roller about hard luck stories and challenging times. It's edgy with tasty guitar riffs, sax, and a drummer who knows exactly how to lock it down. Curry leads the band into a full-on boogie with spunk and grit. Add in horns, delightful piano by Donovan and killer guitar riffs by Rapier, Curry and the band are in full swing.
I can't think of any vocalist who sounds like Mary Jo Curry. She's all gusto and fire with a beautiful instrument with which to spew the blues flames.
You could say that Front Porch is about the blues, rock n' roll and a helluva singer, but there's more to the Mary Jo Curry Band—there's stories, and not bedtime stories either. They're about cheating ex-lovers who are soon to be caught, lying SOBs who aren't about to get the best of this female frontwoman. She spits out accusations and shares plans to make them pay with such vocal power and swagger, you absolutely believe her.
And it's not just about Mary Jo Curry. This band is packed tight with stellar musicians.
Slowing things down a bit, "Explaining the Blues," is about heartbreak and breakup, with organ underpinning the song. Curry's vocal range and power will "wow" even the most discerning listener. Soulful at its best. As a classically trained singer, pianist and actor, it's easy to envision Curry and the band alive as a unit on stage with this tune and others.
A standout is the Edgar Winter Group cover, "We All Had a Real Good Time," featuring beautiful piano, and outstanding guitar work by Albert Castiglia. With Curry on vocals, it's a different take on the original. It's still a Southern Rock anthem but with a blues party spin.
Title track, "Font Porch" is another standout, opening with ominous notes on keys, footsteps and a slamming door. Catchy bass lines lead into Curry singing about sitting on the front porch waiting for her cheating man to come home. She has plans for this slippery, two-timing man. In typical superb Albert Castiglia fashion, he lends smokin' guitar to this kick a** tune. The band hits hard with more of Castiglia's snarling riffs.
Listen to "Front Porch" (feat. Albert Castiglia)

Curry is at her absolute best on "Front Porch." Performed live, I'm certain the crowd would be on their feet, hollering praise for Curry's vocal prowess and the band's solid groove. You believe her as she sings "I'm out on my front porch, waiting for my man to come home. This time, I got my 44 gun. He won't be steppin' out no more."
In 2019, Mary Jo Curry was named Best Female Vocalist of the Year by the Illinois Times, and her band was runner-up as the 2019 Best Original Band.
Front Porch is high energy fun, mixed with thoughtful lyrics and gutsy stories. A very promising album for this vocalist and band and I'm willing to bet that it will be the springboard for much more ahead for The Mary Jo Curry Band.
The Mary Jo Curry Band Online