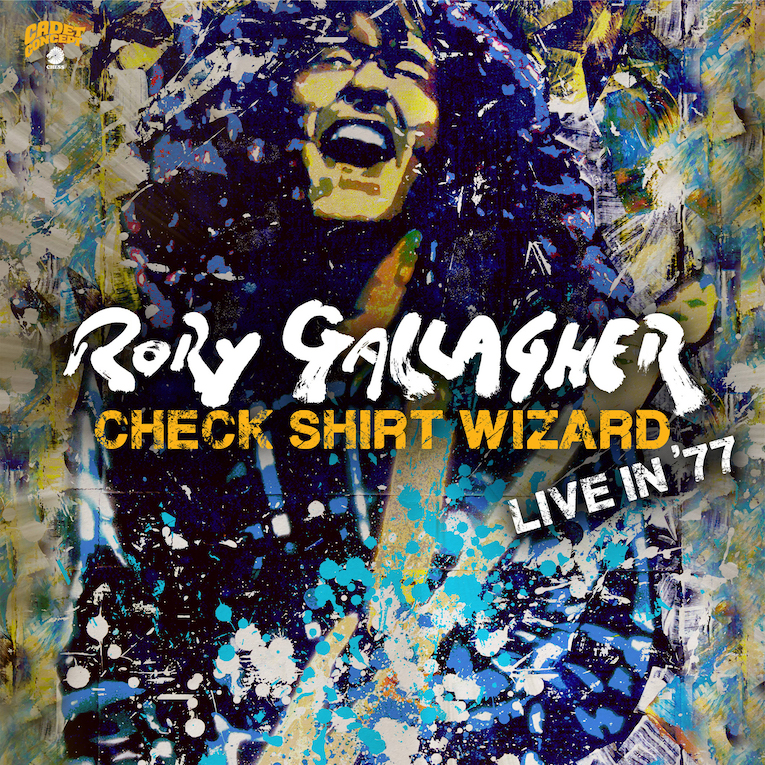 By Mike O'Cull
Irish bluesman Rory Gallagher was always known as a fierce live performer and those not fortunate enough to catch him first-hand can still feel his power on his new posthumous release Check Shirt Wizard – Live In '77. The set comes out March 6th, 2020 via Chess/UMC as two CDs or three vinyl records and contains 20 previously unreleased live recordings from shows in early 1977 in London, Brighton, Sheffield and Newcastle. Many of the selected tracks are from Gallagher's then-current album Calling Card and his 1975 effort Against The Grain. They've all been newly mixed from the original master tapes captured by The Rolling Stones' mobile studio and were mastered at Abbey Road. This new record follows Gallagher's successful Blues album of 2019 and is another tremendous batch of music from a talent who left us far too soon.
Rory Gallagher is arguably the greatest guitarist ever to emerge from Ireland and had a deep, passionate gift for playing the blues. His live performances during his 70s and 80s heyday are the stuff of legend and he was never more in his element than when he was onstage. His playing connected blues and rock influences to form a mighty guitar style that's as relevant now as it was back then and his name is spoken in hushed, respectful tones in the guitar community to this very day. Gallagher died in 1995 at just 47 years old but his reputation has only grown in stature since then. He's also been cited as an important figure in the development of guitar stars including Jimi Hendrix, Eric Clapton, Queen's Brian May, and The Smiths' Johnny Marr. He was a musician's musician who left an empty spot behind him that'll never be filled.
Check Shirt Wizard – Live In '77 begins with an audience chanting Gallagher's name and, after a simple introduction, he goes right to work on the funky rocker "Do You Read Me." Rory wastes no time and gets hot immediately on guitar and vocals. He pushes his battered old Stratocaster into overdrive and skillfully works unique melodic figures in between his blues licks. "Moonchild" follows and raises the tempo and intensity another few levels. Gallagher is bold and expressive, fearlessly taking the blues he loved into a rock environment that still sounds fresh and progressive. His tone and phrasing both shine here and represent a gold standard that emerging guitar heroes must still be judged against.
"Calling Card" is a jazz-tinged shuffle with a jam band flavor to it that gives Gallagher an entirely different context in which to situate his improvisations. The band stretches right along with him and together they touch on an Allman/Santana type of sound that everyone involved wears extremely well. Gallagher's energy is unrelenting and gives this jam a harder edge than Duane or Carlos could, however, and he throws down like a boss.
Gallagher was one of the few blues/rock players who was just as compelling on solo acoustic as he was with an electric band, a fact made clear by tracks like "Barley & Grape Rag" and "Pistol Slapper Blues." His acoustic efforts were always a cut above and he easily expanded to fill the space a solo stage gave him. "Too Much Alcohol" showcases Gallagher's slashing acoustic slide playing and muscular rhythm style. He also engages vocally with his audience and you can tell that those assembled were paying attention to every word he sang.
"Bullfrog Blues" gets into Rory's practically manic electric slide style and he deals out a seemingly endless string of tight bottleneck licks over a fast rock and roll beat. Gallagher never lets the energy lag even a little and keeps driving himself harder and harder. Impressive bass and drum solos complete the live band experience and help push Gallagher into the stratosphere.
Check Shirt Wizard – Live In '77 is a long and wonderful collection that explores a mostly undocumented period of Gallagher's performance history. It shows us Rory at his best, giving his all to crowds that loved this music as much as he did. Gallagher was a house-rocker of the highest order and deserved to be more famous than he ever became. These live takes are treasures that all fans of blues music need to hear.
Listen to "Do You Read Me (Live From The Brighton Dome)"

Pre-order Rory Gallagher Check Shirt Wizard Live In '77 
Rory Gallagher Online