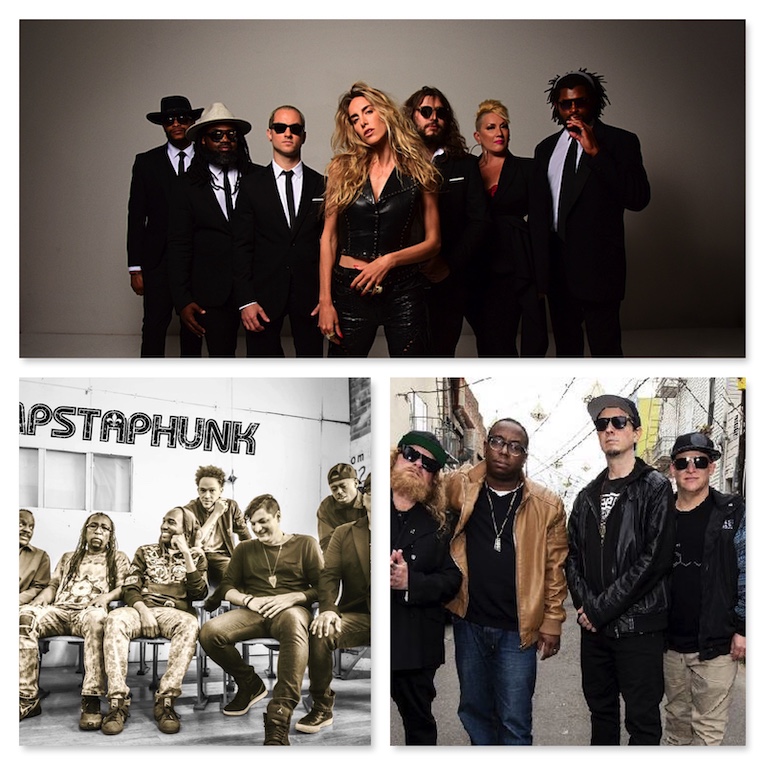 By Martine Ehrenclou
Here's a little something to spice up your day. We all love blues, rock and roots music. I also really enjoy funky groove music. It wasn't until I discovered some of these modern funky/jazz/rock bands, did I get really excited. This is not 70's or even 90's funk but each draws from those eras. This music is a contemporary take on funk mixed with jazz and rock. These bands are some of my favorites, not just because of the rhythm, but because their musicianship is outstanding and their songs are well written and catchy. Each band is on my regular playlists. Some include full horn sections, kick a** bass or guitar players, vocalists, drummers, and more, and all around stellar musicianship.
I thought you might be interested in dipping your toes into some of this fun music.
Many thanks to members of the Rock and Blues Muse Group on Facebook. A couple of these bands were shared in the group and when I heard their music, I raced to YouTube and social media to find out more about them. More than just contemporary funk, they are unique and need to be heard. And they've got the groove.
I hope you enjoy.
Lettuce
A genre busting six-member band formed in 1992 in Boston. Their music is a blend of funk/jazz/soul/jam with four alumni from Berklee College of Music. Brought together by the influence of various funk bands including Herbie Hancock and Earth Wind and Fire, the band got its name by asking club owners and other musicians, if they would "let us play." Band members include drummer Adam Deitch, guitarist Adam Smirnoff, Nigel Hall (keyboards, Hammond B-3 organ, piano, vocals), Erick "Jesus" Coomes (bass), Ryan Zoidis (sax) and trumpeter Eric "Benny" Bloom.
Website


The Motet
The Motet is a modern funk, jazz and soul influenced band based in Denver, Colo. Founded in 1988 by drummer and bandleader Dave Watts, the Motet is drummer Dave Watts, guitarist Ryan Jalbert, bassist Garrett Sayers, keyboardist Joey Porter, trumpeter Parris Fleming, vocalist Lyle Divinsky, and saxophonist Drew Sayers. They have released seven studio albums and are known for their live shows. They call their music badass funk, swaggering soul, and thought provoking pop. Don't freak out—it's not pop that you're thinking.
Website


Phat Phunktion
I discovered Phat Phunktion a few years ago and interviewed the two band leaders Tim Whalen and Al Falaschi who formed the band when they were music students at the University of Wisconsin-Madison. Together they write and arrange all the music. Phat Phunktion is a nine-piece band, complete with full horn section. Their music is a blend of funk, jazz and R&B. Rolling Stone said that Phat Phunktion was "a band on the rise." That same year they won a Wisconsin Area Music Industry Award for "Best R&B Band." A tour de force of outstanding musicianship.
Website


Dumpstaphunk
From New Orleans, Dumpstaphunk was born on the Jazz & Heritage Festival Stage. Their music is about gritty groove, funky slapping bass lines, and ingenious musicianship through a complex blend of funk, rock, and jazz arrangements and soulful four-part melodies. The band is made up of Ivan Neville on keyboards, vocals, Tony Hall on bass/guitar/vocals, Ian Neville on guitar, Nick Daniels III on bass/vocals, Devin Trusclair on drums, Alex Wasily on trombone, and Ryan Nyther on trumpet. Dumpstaphunk has performed at the New Orleans Jazz and Heritage Festival every year since 2003 and tours all over the world. They have four albums and have appeared on five Jazz Fest releases. Rolling Stone stated, "Dumpstaphunk has grown from a small side project into one of New Orleans' most prestigious modern funk ensembles."
Website 


Miss Velvet and The Blue Wolf
A hard-hitting funk-rock band with an absolutely killer vocalist, Miss Velvet. Based in New York, the band are proteges of George Clinton. They released their sophomore album, Feed The Wolf in 2019. Tough guitar rock and deep groove backed with a full horn section, Miss Velvet and the Blue Wolf have the sound and fire of modern rock with tremendous groove. This band is so original, you won't find anything like them out there.
Website 


Deltaphonic
This band's delicious gritty sound exists in a realm of its own. Tearing through hill country blues-influenced rock n' roll, soul and swampadelic funk, Deltaphonic's sound is swaggering funk. This versatile trio is about heavy groove. Band members include Andrew T. Weekes on guitar and vocals, Paul Provosty (formerly of Earphunk) on lead guitar, and alternating drummers Trenton O'Neal and Ciaran Brennan.
The band formed in New Orleans in 2014 and quickly became known for its strong original material and unique fingerpicking guitar and driving percussion that creates a surprisingly big sound.
Their third album, The Funk, The Soul & the Holy Groove is set to release April 2020.
Website

I hope you enjoyed. I welcome your comments.