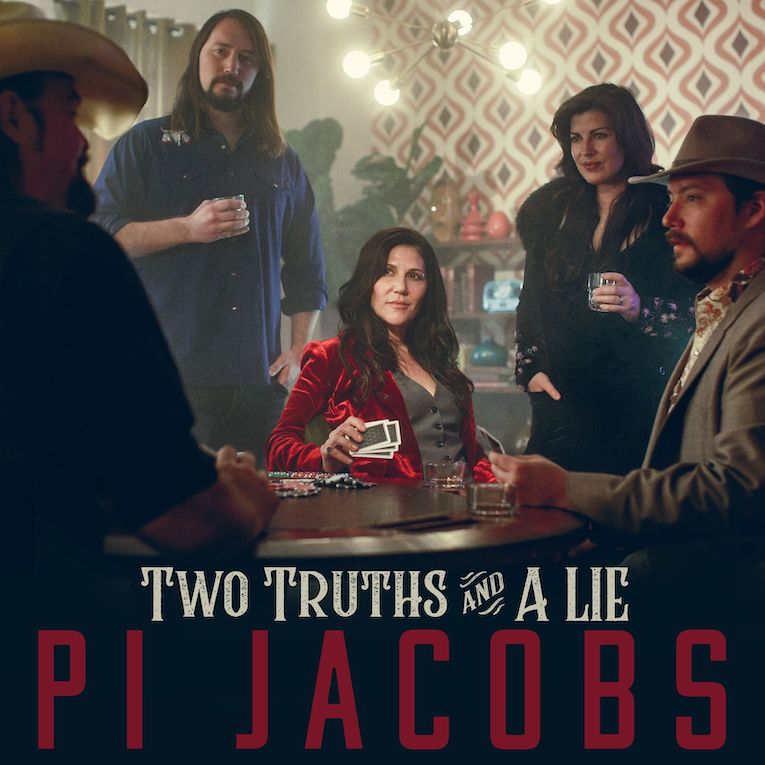 By Mike O'Cull
Southern California-based singer/songwriter Pi Jacobs is a rich and vibrant talent who is going to catch a lot of ears with her new album Two Truths and a Lie. Released February 21st, 2020 on Travianna Records, the record shows Jacobs to be a fine, literate songwriter unafraid to top her blues/Americana cuts with lyrics that speak her personal truth out loud. The songs tell the stories of female characters (both fictional and historic) who have stood up to violence, injustice, and their own human frailties while attempting to improve their worlds. Themes of strength, resilience, and struggle fill the record, supported by the bluegrass-influenced sounds of upright bass, banjo, and dobro.
Jacobs has developed a unique roots style over the course of her eight albums and creates music that's both emotional and observational. She was born in San Francisco's Haight-Ashbury district and spent her childhood in hippie communes. Jacobs has also traveled far and wide in pursuit of these songs of hers, touring regularly in the States and in Europe, and has found a way to use the worldly perspectives she's gained to create these beautiful songs that capture many of life's small moments. Her vocals are intimate and bluesy and allow her to communicate with listeners in an unforced way that's immediately attractive.
Pi's opening cut, "Broken Cup," is a gentle song of romantic gratitude from someone who spent too long exemplifying "what not to do." The track is almost a lullaby and exhibits a downtempo sensibility reminiscent of The Cowboy Junkies' soft-spoken roots magic of the mid-80s. It's a song that pulls you in closer and closer and takes its own sweet time explaining itself. It's a heartfelt and brave way to start an album but succeeds beyond all expectations. Jacobs has the confidence to be immediately vulnerable with strangers and does so without flinching, which at once boosts her to songwriting's elusive next level.
Jacobs gets fearlessly political on "First Thing Tomorrow," which begins with the line "I've been drunk since the election trying to make it not be real." She expresses her dismay at Nazis coming "out in plain sight" and at the situation at the USA's southern border and swears that tomorrow she'll put her bottle down and become part of the solution. The song has a mellow country/soul feel that gets a bit more blues-inflected in the chorus but never explodes into a raging protest piece. Pi's lyrics are the important thing here and she makes sure there's no mistaking her message.
"No Sin To Be Poor" rocks harder and tells the tale of Mary, a single mother with "three jobs and a couple of babies" who has never been lazy but is struggling, just the same. It's the kind of blue-collar statement we are used to hearing from men named Springsteen and Mellencamp but spoken from an empathetic female position we don't often encounter. Jacobs lays it down in a way that'd make Emmylou Harris proud and her band matches her step for step.
"Adelaide Montgomery" is a song of encouragement to the titular character who, while having her own demons and issues, has "a real live feel-good movie" coming to her in the future. It's a beautiful mid-tempo cut that spotlights the softer side of Pi's voice. Jacobs moves in and out of her characters and protagonists with the ease and wisdom of greats like Dolly Parton and Kris Kristofferson, making a strong case that she belongs in their company. Other highlights on Two Truths and a Lie include "Rearview," "Party Girl," and "Waitress Blues."
Pi Jacobs is a criminally underrated artist and songwriter who delivers the narrative goods in a way that few can equal. She's the genuine article who can transfer the details and emotions of human life to her fans without resorting to clichés and phony sentiments. She's likely to be the best lyrical songwriter you hear this year. Give her a chance and she'll open your heart.
Watch "Rearview"

Pi Jacobs Online