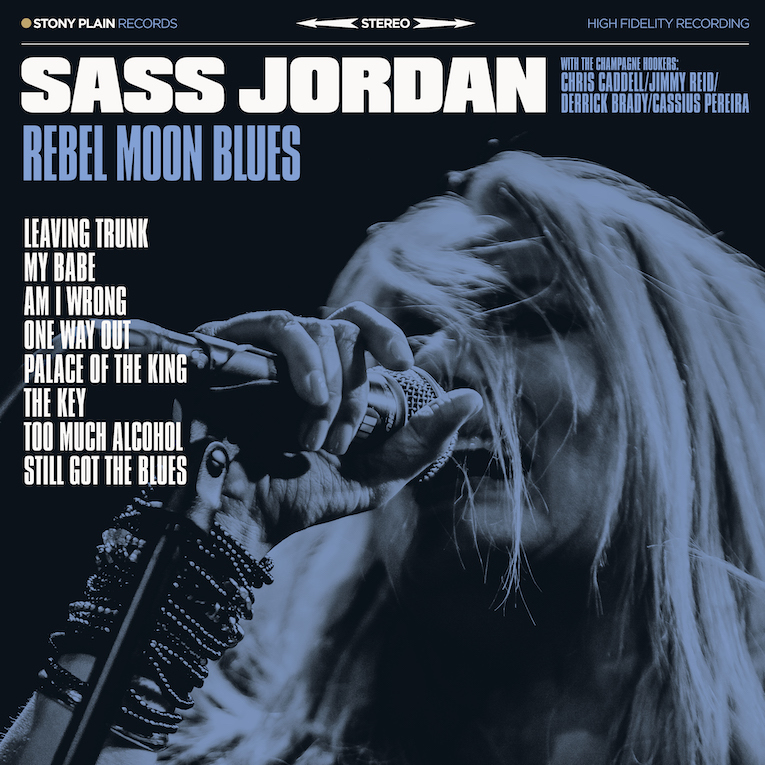 By Mike O'Cull
Canadian rock vocal queen Sass Jordan has a hot one to offer with her new record Rebel Moon Blues. It comes out March 13th, 2020 on Stony Plain Records and features Jordan following her blues inspirations all the way back home to where they impacted her style of award-winning rock music.
Co-produced by Jordan and D#, the eight-song set brings us Jordan working out on seven well-chosen blues covers and one new original song. It's her ninth studio album and her first release in almost ten years. These sessions explore blues standards from genre icons like Willie Dixon, Elmore James, Freddie King, Gary Moore, and Rory Gallagher and also contain a new song, "The Key," that was written in a Tom Petty frame of mind. Through it all, Jordan does a fine job at expanding herself into a new musical realm where her potential is practically limitless.
Jordan is a Juno Award-winner who has been lighting up rooms and blowing minds since her debut album Tell Somebody dropped in 1988. Since those days, Sass has built up a convincing body of work that includes a string of outstanding solo albums, a duet with the legendary Joe Cocker on the soundtrack to the Kevin Costner/Whitney Houston blockbuster The Bodyguard, and six seasons as the sole female judge on Canadian Idol. Her raspy style of blues-inflected singing has definite Janis Joplin overtones and gives any song she takes on a unique personal flavor. She tracked Rebel Moon Blues at Toronto's Canterbury Music Company studio in a mere three days of off-the-cuff work with The Champagne Hookers, her road band made up of guitarists Chris Caddell and Jimmy Reid, bassist Derrick Brady, and drummer Cassius Pereira and augmented by blues harp wizard Steve Marriner and keyboardist Jesse O'Brien. Everyone played in the same room at the same time and their live energy makes every second of the record sizzle.
There are many familiar songs on Rebel Moon Blues and that's a big part of its charm. Most listeners will have their own relationships to these tracks already and that allows Jordan to quickly move their emotions and get people on her side. The album opens with her gritty take on Sleepy John Estes' "Leaving Trunk" and it's immediately clear that this is a real-deal effort. Jordan sings as if her immortal soul is on the line and the band matches her vibe in kind. Marriner's harmonica playing is especially mighty here and his tone is as good as it gets.
Sass also turns in a fine, straight-ahead version of Willie Dixon's "My Babe," which became harp hero Little Walter's signature song. In an interesting twist, Jordan performs this and the other typically male-oriented songs on the record without changing the lyrics to reflect her own gender. Hearing a woman sing these titles as they are is already fresh but doing so in today's social climate makes them relevant, as well. "It's great that we can get away with doing that now," Jordan says and she's right.
Elmore James' timeless "One Way Out" makes an appearance and, while it leans a bit on the famous Allman Brothers' version, Sass and company take full charge of it and bend it to their will. One of Rebel Moon Blues' most stunning moments is Jordan's take on Gary Moore's "Still Got The Blues," a song so identified with Moore that few have the sand to attempt it. Jordan steps up in a big way and scores major points with a powerfully emotive showing on one of the world's most perfect ballads.
Rebel Moon Blues is a house party from beginning to end and Sass Jordan shows herself to be more than up to the task of interpreting some of the blues' most famous songs. Her voice never fails and the band behind her is tough and tight. Let's hope Jordan has another record like this in her. Blues fans are going to jam to this one.
Watch "Am I Wrong"
Sass Jordan Online