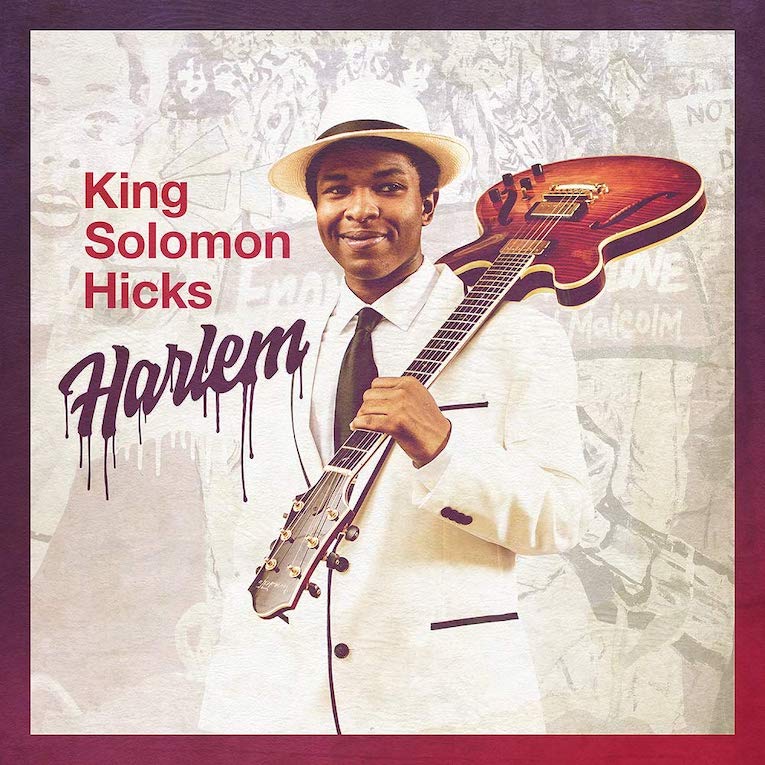 By Mike O'Cull
King Solomon Hicks is a rising star in the blues game whose debut album, Harlem, hit the streets March 13th, 2020 on the Provogue/Mascot Label Group imprint. Only 24 years old, Hicks is already a powerful vocalist, guitarist, songwriter, and interpreter who has developed a unique sound that's both fresh and familiar.
Harlem is a tight 11-song set produced by multiple Grammy Award-winner Kirk Yano (Miles Davis, Public Enemy, Mariah Carey) that presents King Solomon Hicks as a relevant contemporary blues artist who honors the past while creating the future. He's shared stages with Tony Bennett, Beth Hart, George Thorogood & the Destroyers, Mavis Staples, and Paul Shaffer, opened for Jeff Beck and Ringo Starr, and performed on the Joe Bonamassa Keeping the Blues Alive at Sea cruise. The fact that he's received attention from such major artists is a good indication that Hicks is at the beginning of a wildly successful solo career.
Harlem takes its title from the New York neighborhood where Hicks came of age and was inspired to become a musician. He began playing guitar at just six years old and was onstage at the legendary Cotton Club by the time he was 13. His mother also took him around to other local night spots such as the Lennox Lounge and Saint Nick's to witness performances that were hugely inspirational to the young guitarist. Hicks built a reputation in New York and beyond as a quality player and appeared at important venues including The Iridium, The Red Rooster, Ashford & Simpson's Sugar Bar, Terra Blues, and others. This album is a heartfelt salute to Hick's roots and the place that was his launching pad and should elevate him into the ranks of the finest young blues musicians in the world.
Hicks opens Harlem with the slick and upbeat "Rather Be Blind," a straight-up modern blues track in the Robert Cray mood. Like Cray, Hicks leans on his vocal skill and understated guitar phrasing and heats things up nicely without resorting to the unnecessary instrumental firepower lesser players use as cover. Hicks speaks through his axe and plays focused musical ideas that snap and slap. Backed up by a talented crew that includes members of Soulive, Lettuce, Jack White's, and Hank William Jr.'s bands, Hicks wastes no time getting down to business.
Hicks and friends give B.B. King's famous "Every Day I Have the Blues" a funky and energetic reboot that's nothing but cool. Again, Hicks sings and plays like a forty-year veteran and leads his band with an effortless precision. Fred Koller's "What the Devil Loves" slows the pace down and digs deep into a gritty minor blues that only reinforces the song's somber spiritual message. Hicks plays with an especially soft touch here, which fits perfectly into a track of this magnitude. The song also features Foghat/Savoy Brown drummer Roger Earl propelling its late-night R&B feel.
Hicks brings a Latin flavor to Blood, Sweat & Tears' "I Love You More Than You Will Ever Know" that's a mellow change-up from his blues material and finds him using a dark and overdriven guitar tone that compliments the song's arrangement. Another wonderful moment on Harlem is Hick's simmering cover of Sonny Boy Williamson's "Help Me." Hicks takes the song further into R&B than anyone ever has and the change in vibe only underscores the desperation contained in the lyrics. It's a masterful reinvention of an eternal classic and Hicks hits it with everything he's got. He even kicks into the cut's traditional groove at the end just because he can.
Overall, Harlem is an impressive debut from an emerging artist who obviously understands both the past and future of the blues. Fans of either camp are going to want to watch him continue to grow.
Listen to "Every Day I Have the Blues"