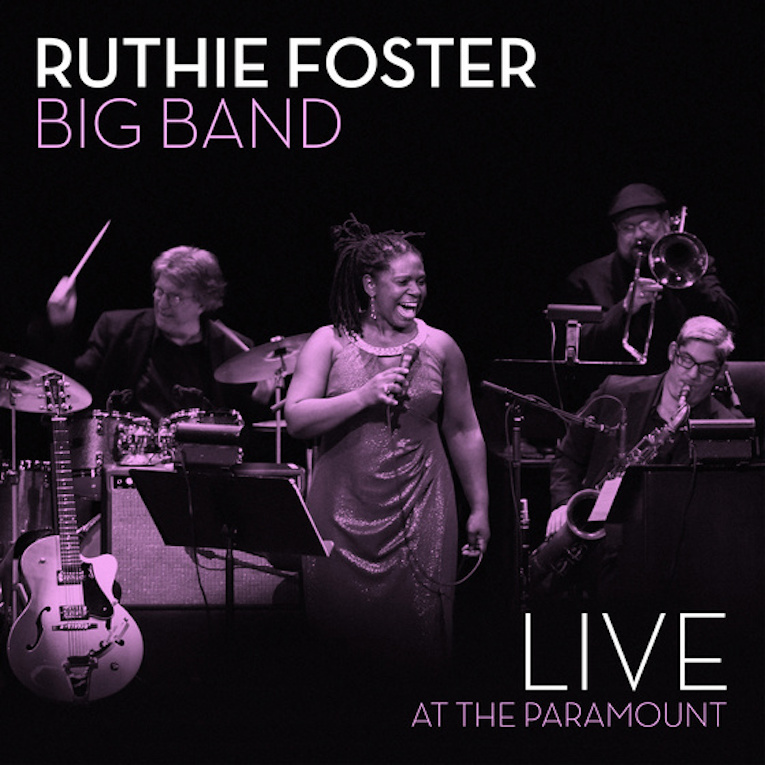 Three-Time Grammy Nominee Ruthie Foster Announces New Album With Her Big Band
Live At The Paramount
Released May 15th via Blue Corn Music
Comfort zones are sweet spots. That's why they're so easy to stay in. But Ruthie Foster refuses to get too cozy; she'd rather plot escapes from hers than dwell there. Breaking out wasn't enough for her latest album, however. This time, she wanted to step out — and on the night of January 26, 2019, she did, right onto the 105-year-old stage of Austin's grand-dame Paramount Theater, where she fronted a guitarist, keyboardist, bassist and drummer, plus 10 horn players, three backing vocalists and one conductor. And one adorable daughter handling the introduction. The recorded result is Live at the Paramount, featuring Ms. Ruthie Foster and the Ruthie Foster Big Band.
For nearly 25 years, Foster has moved us with her powerful blues, soul and gospel vocals and eloquent songwriting, which have earned her accolades including three consecutive Grammy nominations and nine Blues Music Awards, plus fans all over the world. But Foster, it turns out, has harbored a hankering to further explore this long dormant, and little-known, facet of her talent. So she decided her ninth album for the Houston-based Blue Corn Music label would swing back to the days (and nights) when Lady Ella sang Ellington and Sinatra blasted off with Count Basie and Quincy Jones. Live at the Paramount will be released on May 15, 2020.
Those lucky enough to be in the house that night can be heard cheering delightedly as Foster, wearing a sparkly blue gown, starts grooving her way through conductor John Mills' Frank 'n' Quincy-styled arrangement of "Fly Me to the Moon." But then she unleashes an even bigger thrill: a truly stellar "Mack the Knife," also arranged by Mills, who teaches jazz composition at University of Texas-Austin. As Foster joyfully scats and semi-adlibs her way through that legendary murder ballad, she invokes both Fitzgerald and Louis Armstrong — simultaneously — and name-drops the man who made it a No. 1 hit: Bobby Darin. Of course, she tears the house down. But that's hardly her first standing O of the night.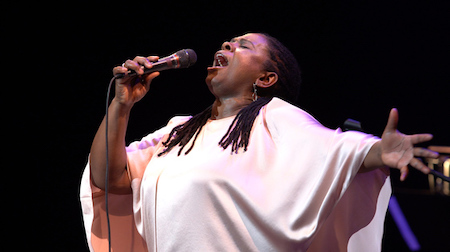 By the time she delivers those encores, Foster has already dazzled the crowd with several originals and striking covers charted by celebrated arranger John Beasley (Miles Davis, Steely Dan, American Idol). Foster says she gave him free rein, with just a few instructions — including one request for the opener, "Brand New Day." That one begins with a ring-shout and swells into full gospel blues, then bursts into a New Orleans strut. That was her idea: Foster wanted to evoke a festive church-meeting vibe "with everybody coming in … the women with hats, everybody clapping."
She heads toward Memphis for the easy soul of her co-write with William Bell, "It Might Not Be Right," then sets up her next one with the line, "This is not your grandfather's 'Ring of Fire.'" No, indeed. This "Fire" has more in common with Roberta Flack or Sadé than Johnny Cash; instead of crackling with danger, it smolders slowly, like warmly glowing embers.
"I love to watch people's faces when they realize that's what's coming off the stage," Foster says. On the track, she jokes afterward, "Well, that was smooth. I was wantin' to sit down and have a drink."
That's how Foster, raised on gospel in tiny Gause, Texas, wound up joining Navy Band Southeast, an umbrella for several smaller bands, in Charleston, South Carolina.
"We all crossed over into each other's bands," she explains. "It was really based on whatever they needed." So Foster learned to sing with big-band and jazz ensembles in addition to her main band, the top-40 pop/rock/funk/urban band Pride.
Before Charleston, she had to spend six months training at the Naval School of Music in Virginia. The school library, she discovered, had archival tapes of every USO tour. "You could hear people like Ella Fitzgerald and Nancy Wilson, all on reel-to-reel tapes," Foster recalls. "I spent a lot of time just listening and studying." She wanted to figure out how to sing around the domineering sound of all that brass.
On Live at the Paramount, Foster and company do the dance expertly. As for why it's happening now, Foster says the desire had been percolating for a while, and after releasing several studio albums that started to feel somewhat similar, she needed to mix it up some.
"To me, it was like this challenge. I just thought it would be fun, too, because it was just so much fun to front a big band," she confesses. "You can't out-sing an 18- to 20-piece band."
This is Ruthie Foster. All she has to do is open her mouth. With Beasley's arrangements pushing new life into the Marcia Ball-inspired "Stone Love," the must-have "bona-fide blues" of "Runaway Soul" and "Singin' the Blues," the sanctified gospel of "Joy Comes Back" and the still-relevant message of "Phenomenal Woman," she could blow the marquee off the building.
For Foster, though, it's also about breathing life into a currently under-exposed style. "I loved Sinatra, the way he would handle a band like that," she says. "It's just a real art form. We need to put it out there in front of people so they realize it. And there's a glamor behind it, too. I got a chance to wear a gown at the end of the night and be a sophisticated lady."
And now that she has these arrangements, she's ready to keep using them. She even mentions booking a Ruthie Foster Big Band New Year's Eve show — and perhaps starting a new annual tradition.
Might as well. She's already got the gown.
Watch "Phenomenal Woman" Live