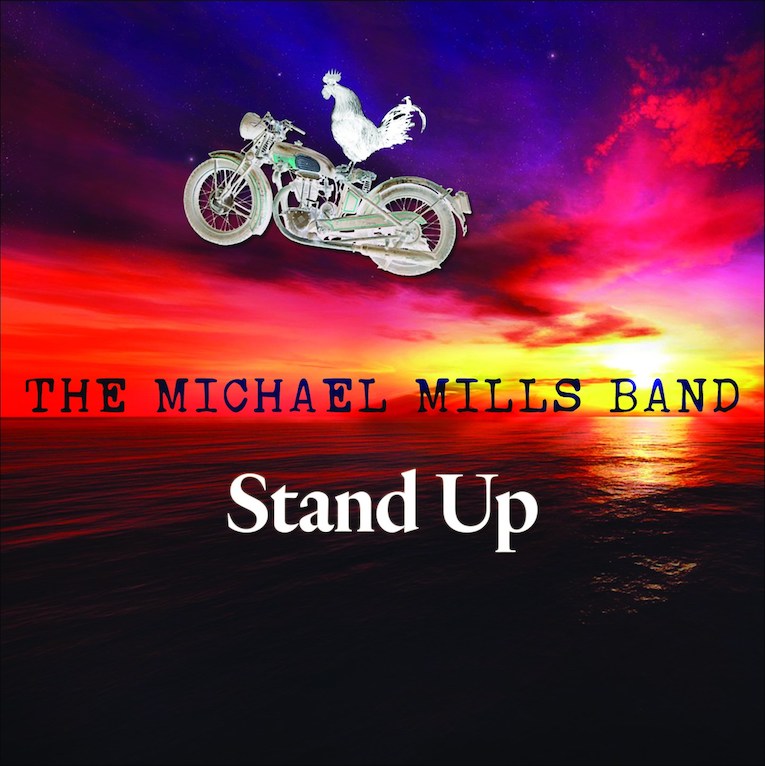 By Mike O'Cull
The Michael Mills Band sparks a blues/rock firestorm on its brand-new album Stand Up, which is set for a March 20th, 2020 release via Sony/Orchard. It's a super cool set full of extremely well-written songs and top-flight playing from some of the finest musicians on the USA's West Coast that's certain to light up the speakers of roots music fans the world over. The group as a whole is quite adept at crossing genres like blues, rock and roll, funk, and R&B in its songs and the resulting sound is danceable, accessible, and memorable. TMMB shows the influence of major artists like Eric Clapton, Joe Bonamassa, The Delgado Brothers, Tedeschi Trucks, and SRV but has found its own style and mode of expression that makes this new record a fresh and exciting ride from start to finish.
Working out of Huntington Beach California, Mills and his cohorts have built a solid reputation as one of the best blues bands in The Golden State. The group's music is regularly heard on hundreds of radio stations and media outlets around the globe and they regularly play headline shows at quality venues like The House of Blues. The present lineup of Michael Mills (lead vocals, guitar), Ron Ravicchio (drums), Scot Campbell (bass), Mark Weisz (Hammond organ), and Jesse Godoy (guitar) is tight and capable with an obvious internal chemistry that makes Stand Up the group's finest hour yet.
The title track, "Stand Up," opens this show with an upbeat garage rock-inflected groove and a lively lyrical sentiment. Jesse Godoy contributes the first of many stellar solos here on top of an ultra-strong pocket that gives him all the backup he needs. The next song, "Feel It," shifts gears completely into a gentle, romantic R&B/soul song that evokes the deep emotions of real love. Mills shows us the softer side of his vocal style on this one and turns in a performance that's genuine and smooth.
"Real Good Thing" starts off with some nice resonator slide licks before launching into a low-down, swampy blues groove that builds and builds its intensity but never boils over. It's the sort of hooky roots gem that Keb' Mo' excels at and could well push Mills into that same level of commercial success and respect. "One More Alone" brings Mills back into the soul style he sings so well and also features Godoy delivering some gorgeous clean-toned guitar playing and one especially-cool pedal lick in his solo that all the guitarists out there will have fun figuring out.
"Big Black Car" is supremely funky and syncopated, which we like, and also has a most happening saxophone solo that ices its cake. The rhythm section truly shines on this cut and, if this doesn't get your backside moving, nothing will. It's all too easy to imagine how this one goes down in a TMMB live set and gets the joint jumping. "Love Is Ahead Of Me" is a beautiful ballad that rests on an acoustic guitar groove and gets done up into a showcase of lead and backup vocal ability. It has epic crossover potential and could easily reach far beyond the normal blues/roots crowd and go mainstream. In a different era, this song would sell millions of copies. Be sure to also spin "Chasing These Blues" and "My Baby Drives."
Stand Up is The Michael Mills Band's best effort to date and should win the group a whole lot of new fans. You don't need to be a blues purist to enjoy the record and that's a big part of its charm. This crew loves playing this music and it shows. Be sure to put this one on your Spring listening schedule.
Michael Mills Band Online