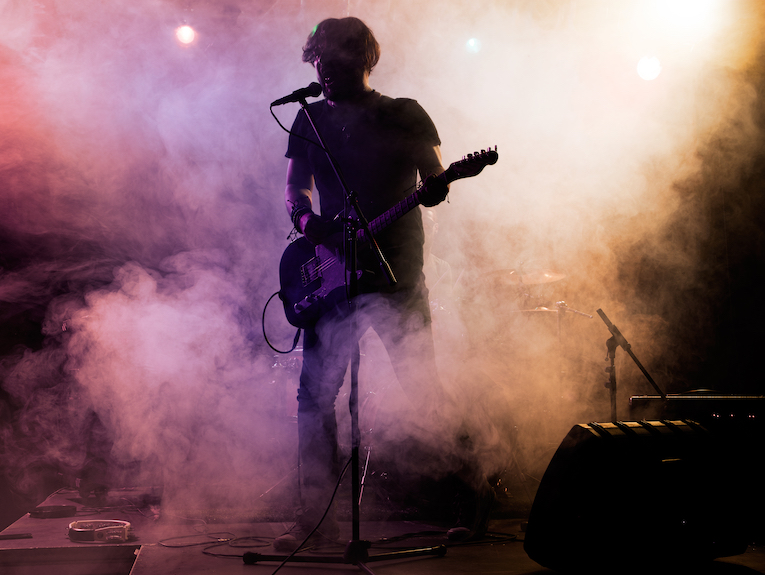 By Mike O'Cull & Martine Ehrenclou
The ongoing COVID-19 pandemic has dealt a devastating blow to the live music business that has required both artists and venues to close up shop, at least for now. This means lost income, lost momentum, and an entire industry unsure of what to do next.
Many musicians have decided to swap the road for the internet and are scheduling livestream concerts and/or lessons to attempt to keep working and remain connected to their fans. Bands and artists are preparing to perform for the camera from the safety of their homes, studios, and rehearsal spots and let listeners tune in, jam out, and donate what they can via PayPal or Venmo for the show. This probably won't match the pay or intimacy of playing live to throngs of adoring fans but is a way to ease the anxieties of watching clubs go into lockdown and summer festivals becoming uncertain, at best.
Live-streaming isn't a new idea but it may be the only game in town right now, especially for independent blues and rock musicians who depend on each and every gig to keep body, soul, and instrument together. These difficult times are making artists create and innovate new ways to keep earning a living, playing live, and advancing their careers. This could very well be a transformative moment for an industry in which doing business as usual is just not possible right now.
Some music-related businesses are thinking along these lines, as well. The Relix Channel fosters the live music community by connecting directly to music fans. They give fans access to the people who make live music happen and are one of the major voices of the live music community. They are putting on a free live stream of a rebroadcast of "A Tribute To B.B. King" filmed at the Capitol Theater Friday, March 20 at 8pm EST, feat. Buddy Guy, Bobby Rush, Bob Margolin, Derek Trucks, Jimmie Vaughan, Ivan Neville, John Scofield, Kingfish, Robert Randolph, Shemekia Copeland, Warren Haynes, William Bell and more. See here for info.
Morrison Hotel Gallery, the international leader in fine art music photography, is expanding its 'Behind The Lens' format with a new Instagram Live/IGTV series that will be streamed directly from a featured photographer's home or studio. Each episode merges elements of storytelling, conversational Q&A, and the cultivation of a global music culture. The first show will be March 19th at 5 PM EDT and will spotlight Mick Rock. Check MHG out on Instagram at @morrisonhotelgallery and visit here for more information.
Artists are using a variety of streaming platforms to get their music to the people and each has its ins and out. Some, like Facebook Live, Instagram Live, and YouTube Live, are instant, ready-to-go situations that let artists start broadcasting whenever they're feeling inspired, although some performers are scheduling events in advance. They make money by using a PayPal or Venmo link as a virtual tip jar. Other services, including StageIt, allow users to schedule advance ticketed events behind a paywall. Periscope has been providing musicians with streaming capabilities for some reason time and is perfectly integrated to Twitter. Twitch is the single most popular platform of all but is known as a gaming site even though a lot of musicians are also using it.
Indie music platform Bandcamp is waiving their revenue share on all sales this Friday, March 20 from midnight to midnight PST to support those impacted by the Covid-19 pandemic. The goal is to put some much needed money directly into artists' pockets. See here for info.
Neil Young will be presenting a series of streaming shows called the 'Fireside Sessions'. The performances will be low key, with his wife Daryl Hannah handling the video. They will be streamed from his website.
Willie Nelson, Paul Simon, Lucinda Williams, and more are putting on a live streamed show for free called 'Til Further Notice' on Luck Reunion website, Twitch.TV, and the Luck Reunion Facebook page.
U2 vocalist Bono wrote and released a new song called "Let Your Love Be Known" on March 17th inspired by the social media videos of people in Italy singing together from their balconies while under quarantine. Visit the U2 Facebook page to listen.
Blues guitar queen Joanna Connor will perform with her band this Saturday March 21st, 2020 on Facebook/Instagram Live from 8:30-9:30 PM CST. A Q&A session will follow that'll let fans chat live with Joanna and the other musicians playing with her. Click here for details.
Guitarist Mike Zito and his band cut their European tour short and are now home under a 14-day quarantine, during which they will write and record a brand new album. Work began March 16th and will conclude March 30th. Zito will be posting live video updates as things progress to allow fans to share in the process. He has also launched a GoFundMe campaign to help offset the loss of the tour. Visit his website here for more info.
Blues/rock guitarist Dennis Jones is performing new material on his Facebook page for fans to enjoy.
Guitar heavyweight Johnny A. (Yardbirds, Peter Wolf, Bobby Whitlock) is doing Facebook Live videos that are turning out quite well. Click here to enjoy them.
Southern rock legacy Devon Allman is preparing to play a series of live solo acoustic shows online to keep the music going and hang out with his fans. The shows will be interactive, loose, and fun. Details will be forthcoming on his Facebook page.
Jason Ricci will be streaming his own blues harmonica session on his YouTube channel March 21st at 5 PM CDT live from New Orleans. The stream is free but Ricci is accepting donations before, during, and after through his PayPal account jasonricci1@gmail.com.
Texas blues guitarist/vocalist Carolyn Wonderland will kick off a weekly Facebook Live event, Wednesdays Live From Wonderland, March 25th at 8 PM CDT. The first show will feature A. Whitney Brown's Little Big Picture and The Carolyn Wonderland Banned. The shows will be informal, done from her living room, and pajamas are encouraged. Questions will be answered and requests will be taken. Support can be shown through PayPal at PayPal.me/wonderchicken and through Venmo at @Carolyn-Wonderland.
Guitarist/vocalist/songwriter Ally Venable will be streaming live, one-on-one guitar lessons on Skype for all you aspiring pickers out there. She will be doing How To Play Lessons teaching her most popular original songs and Blues 101 Lessons covering foundational topics like basic blues patterns, technique, vibrato, and slide guitar. Visit www.allyvenableband.com/lessons for complete information.
California guitarist Alastair Greene is also offering Skype lessons. Contact him about time slots and rates at alastairgreene@gmail.com or through his Facebook fan page.
Soul singer Morgan James has a series of shows already set up on StageIt  for March 18th, 21st, and 25th and April 1st, 4th, and 8th that will feature themes like standards, Memphis, and Beatles. Tickets are available here.
Rolling Stone has launched a new IGTV music series 'In My Room.' New episodes will launch three times a week at 3pm EST. See here for more info.
Rufus Wainwright will perform daily shows from his home in a  series called 'Musical Everydays' from his Instagram page.
Bruce Springsteen is doing his part to keep people rocking during the pandemic by releasing his 2009 concert film London Calling: Live in Hyde Park on YouTube and Apple Music for the very first time. The show was recorded at the Hard Rock Calling Music Festival in London in June of 2009 and features The Boss covering The Clash classic the film is named for as well as many of his most famous songs. You can find it on his YouTube page.
The Alternate Route created "Touring In Place," a very cool roots magazine that's collecting info on live streams from great artists. See their website here.
American Highways will also be doing live streaming "Live Music from the Quarantine" from their Facebook page. Artists include Aloud, Nicholas David, Michelle Malone, Jeremiah Johnson, and more.
Many major artists, including The Rolling Stones, Beth Hart, and Tool, are in the process of rescheduling their tour dates as of this writing. Important festivals and events like the New Orleans Jazz & Heritage Festival, Northern California's BottleRock Festival, and Tennessee's Bonnaroo are doing the same.
These are just a few of the musicians who will be exploring the live-streaming experience in the weeks to come. Expect to see all genres of music jumping into the streaming scene and many unique and unprecedented performances going down. Is playing online gigs the future of live music? It's way too soon to tell at this point but it certainly seems to be the present. Be sure to investigate how your favorites are negotiating this unexpected crisis and do everything you can to support independent music. It matters now more than ever before.