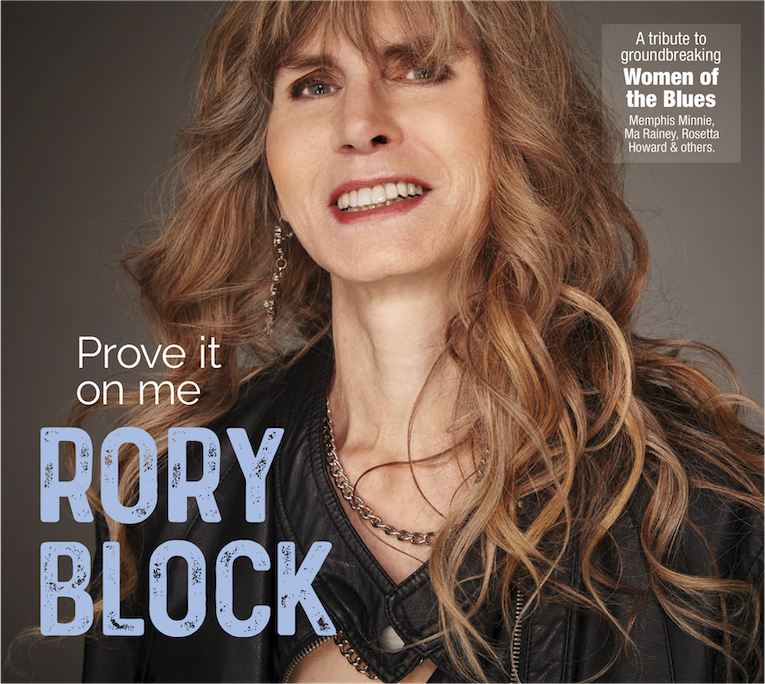 By Mike O'Cull
Six-time Blues Music Award-winner and supremely talented acoustic guitarist Rory Block takes us all to school once again on her new album Prove It On Me. The set comes out March 27th, 2020 on Stony Plain Records and is the second installment of Block's "Power Women of the Blues" series, which spotlights the music of female performers from the blues' formative years. Many of these women were under-represented in the blues boom of the 60s and others simply disappeared, lost to the sands of time. The record captures Block at the peak of her powers paying tribute to some of the groundbreaking blues women of days gone by including Memphis Minnie, Ma Rainey, and many others.
Rory Block is widely considered the finest interpreter of acoustic country blues in the world and came up as a kid in the middle of the New York City folk music scene in the early 60s. Her father ran a sandal shop in Greenwich Village then and she was encouraged by locals like Peter Rowan, Maria Muldaur, and John Sebastian to learn guitar. When she was 14, she met noted fingerstyle player Stephen Grossman, who introduced her to Mississippi Delta blues. She left home at 15 to learn from the remaining masters of acoustic blues in the traditional manner and soaked up knowledge directly from genre icons including Mississippi John Hurt, Reverend Gary Davis, and Son House. She's gone on to release 36 albums, tour the world, and become the modern day voice of acoustic blues guitar. Block is a ferocious player with a velvet touch and world-class skills on both fretted guitar and bottleneck. She was born to do exactly what she's done.
Block begins this session with a lively romp through Helen Humes' "He May Be Your Man" that's full of bawdy innuendo. Humes is mostly unknown to present-day blues fans but replaced Billie Holiday in the Count Basie Orchestra back in 1938. The song is built on a driving descending bass line that keeps the pocket moving along and allows Block's soulful vocals and hot guitar to sparkle. "If You're A Viper" is an ode to the pleasures of cannabis originally recorded by an obscure Chicago-based singer known as The Viper Girl Rosetta Howard. Block's fingerstyle playing snaps and her vocals intoxicate the ears delivering this tale of a dream "about a reefer five feet long." Block is deeply connected to this old-school material in a way no one else really is today and pulls out every nuance and color it has to offer.
Block breathes new life into Ma Rainey's "Prove It On Me," which is a bold song of same-sex attraction from an era where that sort of thing wasn't often publicly discussed. It's an honest glimpse into the life of someone who admits to being who she is but still tells the outside world that it hasn't caught her at it yet. Memphis Minnie's "In My Girlish Days" is a laid-back delight and features Block turning in some sweet slide playing. Both of these songs exist far outside the lyrical world their male peers were in at the time and speak a far more personal truth than songs about railroads and hot tamales.
"I Shall Wear A Crown" is another lesser-known gem originally done by blind gospel singer Arizona Dranes. Block switches gears into this inspirational song smoothly and turns it into a thing of gentle beauty. She also includes one of her own songs here called "Eagles" that addresses her actual life story and allows her to exist alongside all of these women from the distant past whose stories she's singing. Rory Block is a national treasure and every note of Prove It On Me extends her amazing body of work. Listen, then listen again.

Rory Block Online