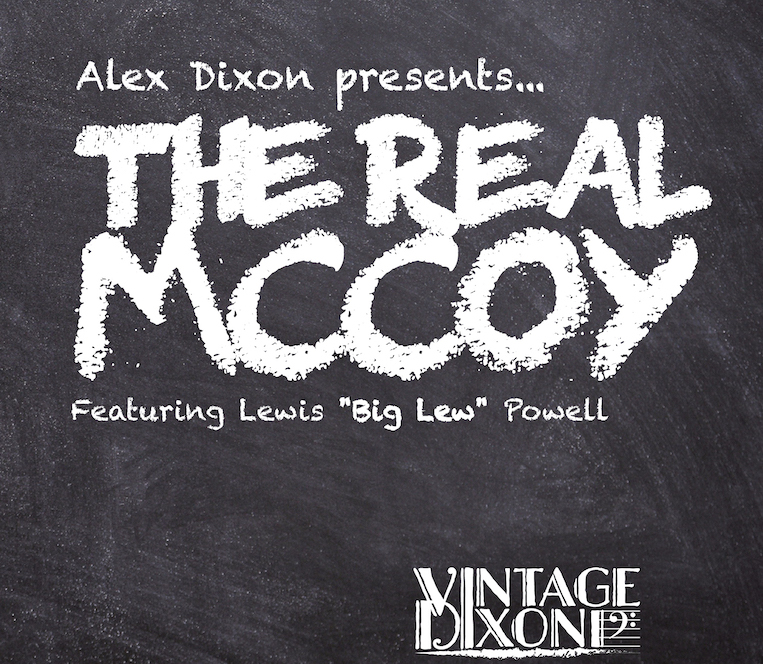 By Kevin Porter
Alex Dixon, grandson of Blues titan Willie Dixon, delivers The Real McCoy on March 24th, a terrific no-nonsense Chicago-style blues album on Dixon's label, Dixon Landing Music. Alex is a renowned musician in his own right, having played with his grandfather and other legends such as Chuck Berry, Koko Taylor, Bo Diddley, and B.B. King. He co-wrote 40 songs with his grandfather, including some on his grandfather's album Hidden Charms, which won a Grammy for "Best Traditional Blues Album" in 1988.
Dixon produced and wrote five of the eleven songs on The Real McCoy, with the other six songs covers of his grandfather's. Dixon also assembled an all-star team of veteran Chicago-style blues musicians, including harmonicaists Steve Bell (son of harmonica legend Cary Bell) and Sugar Blue (Rolling Stones, Bob Dylan, Prince); guitarists Melvin Taylor (Pinetop Perkins, Legendary Blues Band); Joey Delgado (Delgado Brothers); Rico McFarland (Lucky Peterson, Sugar Blue, and Albert King); and Gino Matteo (Robert Cray, Jonny Lang, Buddy Guy); and drummer Alvino Bennett (Cash McCall, Muddy Waters, Mighty Joe Young, Koko Taylor).
Of particular note is vocalist Lewis "Big Lew" Powell, a drummer normally, but who makes his vocal debut on The Real McCoy. And what a debut—Powell turbocharges these songs with gruff vocals that are trademarks of Chicago-style blues, sounding very much like some of the old blues masters. Something tells me that Powell will not be returning to his drum set anytime soon after people hear this record.
The album kicks off with "Nothing New Under the Sun," with Powell's growls and shouts practically leaping out of your speakers. He's joined by another singer making her debut, Alex Dixon's 13-year-old daughter, Leila Dixon, while Steve Bell rips off a Little Walter-style harmonica solo.  This is classic Chicago blues at its finest and is emblematic of that old saying, if it ain't broke, don't fix it. Sugar Blue assumes harmonica duties on "Spider in my Stew," a Willie Dixon song that Buster Benton scored a hit with in 1973.  Guitarist Rico McFarland unleashes a stinging yet economical guitar solo.  Melvin Taylor also turns in a scorching guitar solo on another Willie Dixon composition, "Groanin' the Blues."
Other highlights of The Real McCoy include "When I Make Love," a Willie Dixon composition, which was first covered by Margie Evans in 1973. No doubt Willie would be proud of this modern version. The mostly instrumental "Chi-Town Boogie" gives the full band a chance to shine.  Over a thumping shuffle, Bell gives his harmonica an extended work-out while Bennett takes a chance to turn in a short drum solo.  Dixon funks it up with "10,000 Miles Away," where Powell expresses his sadness over his lover being so far away over a funky and chunky guitar lick. Dixon's bass playing stands out here, as he provides a foundation for each song without being overly flashy and attention-seeking. On "10,000 Miles Away," for example, Dixon plays only a minimal number of notes, leaving a lot of space for the funky guitars and percussion.
Alex Dixon proves it's in the DNA with The Real McCoy. The album is a reminder of why people were drawn to Chicago-style blues in the first place, with tight, compact songs that explore the joys and frustrations of life with enthusiasm. It is early in the year, but don't be surprised if The Real McCoy shows up on many best-of lists at year-end.
Listen to "Nothing New Under The Sun"

Alex Dixon Online