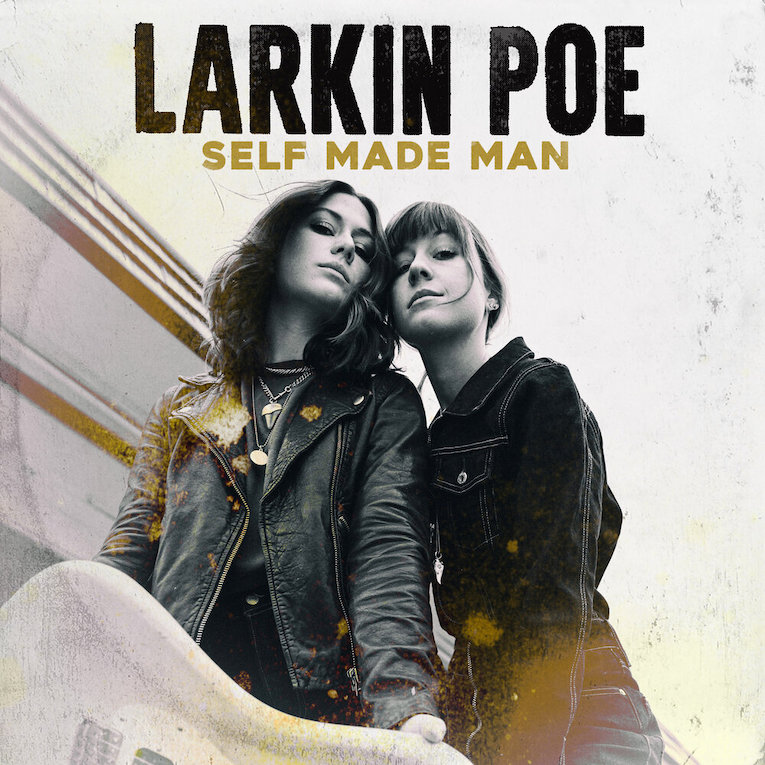 Larkin Poe have released a new video, "She's A Self Made Man," the title track from their upcoming album, Self Made Man out May 1st  via their own Tricki-Woo Records.
Larkin Poe is one of our favorites. These sisters are so talented and have stayed committed to their own blues-based roots-rock sound. Their last album, Venom & Faith earned them their first Grammy Award nomination for "Best Contemporary Blues Album."
Returning with their self-produced Self Made Man, the Nashville duo—Rebecca and Megan Lovell's new video rocks with powerful vocals, guitar and lap steel riffs, and a roaring rhythm section. Self Made Man will see the duo still rooted in their American Southern heritage, but pushing boundaries and their message.
Rebecca Lowell says, "Life is all about balance. Sometimes it's sweet, sometimes it's sour. With 'She's A Self Made Man', I wanted to write a song about the up-and-down ride that Megan and I have been on for the last 10 years of building Larkin Poe. It's hard to know who you are and it can take time to figure out what your purpose is, but I feel thankful that in recent years, my own feelings have started to click and make sense. Knowing and accepting yourself: that is empowerment."
Watch "She's A Self Made Man"

Since forming in 2010, Larkin Poe has proven a formidable duo both in and out of the studio. In 2014, producer T-Bone Burnett enlisted Rebecca and Megan for Lost On The River: The New Basement Tapes, a project that also saw contributions from Marcus Mumford (Mumford & Sons) Elvis Costello, Jim James (My Morning Jacket), Taylor Goldsmith (Dawes), and Rhiannon Giddens. 2017's Peach showcased the Lowell sisters' mastery in orchestrating, harmonizing and breathing new life into the musical heritage of their upbringing, earning a Blues Music Award nomination for "Best Emerging Artist Album" alongside international critical applause.
Steeped in the traditions of Southern music but determined to create their own modern-day depiction of blues-based roots rock, Larkin Poe have been hailed for their confident, soulful live performances, including performances at such esteemed festivals as Glastonbury (twice) and Newport Folk Festival, stints both supporting and backing Elvis Costello and Conor Oberst, and tours alongside the likes of Gary Clark Jr. Rebecca and Megan were also members of the all-star backing band for the 2017 MusiCares Person Of The Year tribute honoring Tom Petty (also organized by Burnett) alongside Jakob Dylan, Jackson Browne, Elle King, Lucinda Williams, Gary Clark Jr., Don Henley, and Randy Newman.
Larkin Poe will tour the upcoming album in Europe, the UK and the US.
Track Listing Self Made Man
She's A Self Made Man
Holy Ghost Fire
Keep Diggin'
Back Down South (feat. Tyler Bryant)
Tears of Blues to Gold
God Moves on the Water
Every Bird That Flies
Scorpion
Danger Angel
Ex-Con
Easy Street
Pre-order Self Made Man
Larkin Poe Online